Decluttering And Organizing The Children's Rooms
Welcome to Day 20! Today we are going to tackle the kids' rooms.
Depending on how old your kids are, you can ask them to help you with this project. Let their age and skill level dictate which tasks they can help you with making sure you give a positive light to the project, the outcome and "what's in it" for them. They'll be much more inclined to engage and do the work if they see the benefits.
Let's Get Started!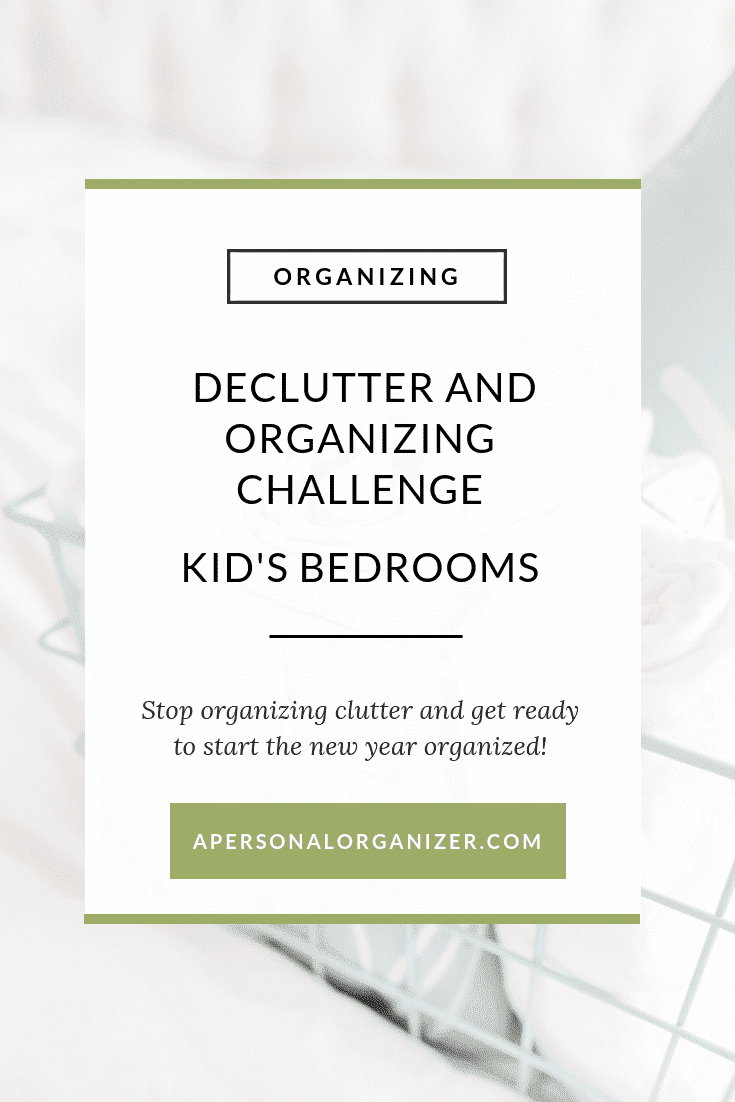 How To Declutter And Organize Kid's Rooms
Set up bins, bags, or boxes labeled "toss" "donate" "keep" and "repairs".
Now, let's talk about storage. Storage is one of the most challenging issues in kid's rooms because there are always so many items that live in these rooms. And this will be your challenge in the children's room: to declutter and reduce the amount of stuff that will stay. By now we can all agree that decluttered rooms lead to calmer spaces and that has a direct impact on our well-being. There are also important studies showing us how clutter affects kids. My favorite book on this topic is Simplicity Parenting.
The trick to getting control of the situation is to tackle one group at a time, sort it, declutter it, then organize it.
Between clothes, toys, books, art and craft supplies, there are many categories or groups of things that need to be stored. Define zones for each activity (think like a pre-school teacher!) and identify how much storage you have for each group. Some groups will self-define, like "sleep" is where the bed is, clothing goes in the closet and "study" relates to a desk and chair.
Clothes are first up on the list. Take everything out of drawers and closets and get rid of anything that is torn, ripped, too faded or plain small. If there are things that are too small decide if you will donate these, or store them for a younger sibling or family member. Store any out of season items in totes that can be kept in the closet or in an attic or storage room.
If you have a lot of "hand me downs" separate everything by age and place each age in a separate container. Label the containers by age.
Next, sort toys. Again, begin by taking out all of the toys. Go through and get rid of anything that is broken or missing pieces. Next sort like with like. Remove everything you know your children are not using and for everything that will stay, consider creating "rotating groups". You can have 3 groups and rotate them every month or so. The room will be decluttered and the kids will always feel it's Christmas when the new group comes out!
Knowing how many toys you're keeping, you should have a good idea of what needs to be stored and what kind of storage will suit it best. Cubes or shelves that hold baskets and cubbies are always great for kid's rooms.
Next, let's tackle the big mess maker and dust collector of all: stuffed animals! Sort through these, get rid of any that are not well-loved, and consider keeping them in lidded containers so they don't become a "bag of dust".
Now take a look at books and any craft or drawing items that may be in their rooms. Again, sort through books and donate any that your children are grown out of or don't care for. Consider narrow shelves with a lip to store books in a front-facing position so younger kids can choose books by their covers. Group art and drawing supplies in a neat container on a table or desk.
Spending time in a neat and organized space will bring a sense of order and control to your kids.

Children's Rooms Decluttering And Organizing Checklist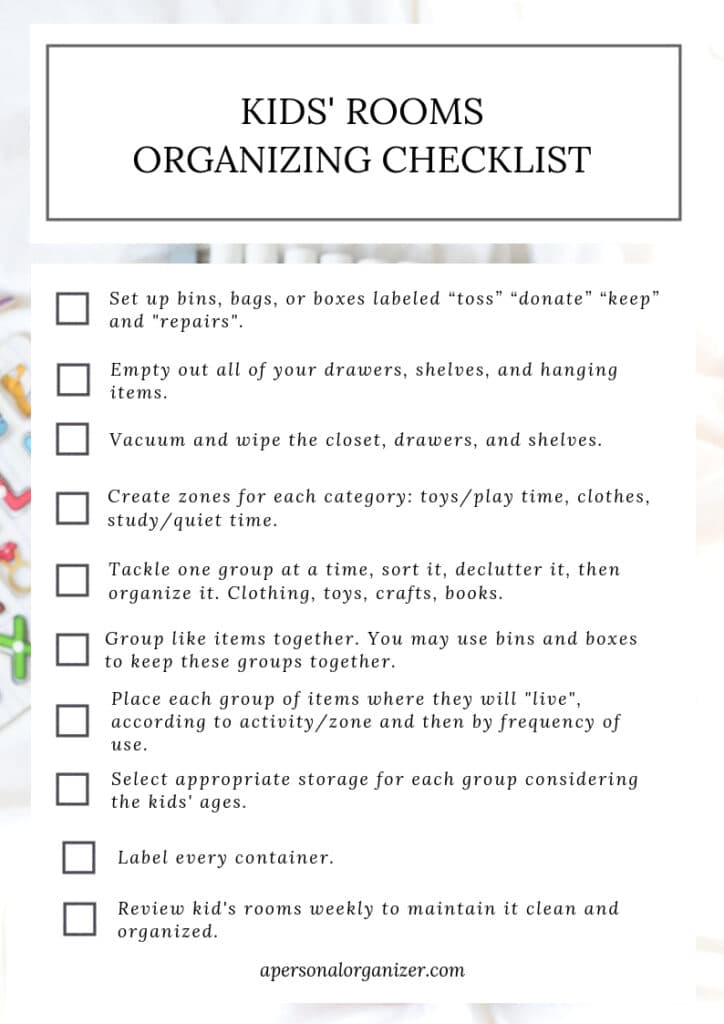 Once you break it all down it doesn't seem so bad, right? Grab your Kid's room declutter and organize checklist and get started   

Day 1: Declutter And Organizing Challenge-with Free Printables!
Day 6: Laundry Room and Mudroom
Day 8: Creating a Home Management Binder
Day 21: Creating a House Care Binder
Day 23: The Playroom
Day 24: The Garage
Day 25: Creating a Disaster Kit
Day 26: Protecting Your Valuables