Decluttering And Organizing The Master Bathroom
We are back in the master area again today-did you sleep well in your newly freshened master bedroom last night? Today we are organizing the master bathroom. If you don't have a master bathroom, do this part of the challenge on your most used (or only) bathroom.
Let's jump right in today and get started!
Set up a trash bag, a bin to catch anything that doesn't belong here and clear your counters to use it as a staging place.
Empty out all of your drawers, clear off the shelves, and take everything out from under your sink cabinet.
Wipe all of your surfaces-selves, drawers, cabinets.
Start throwing out all of the things that you don't use or are expired. Make-up that is more than 3-6 months old should be discarded. Get rid of anything with broken nozzles and one drop of liquid left in them.
Now, begin grouping your items: make-up and beauty items, appliances, first aid, etc. Use baskets and drawer separators where you can.
When you are finished decluttering and organizing, everything should have a home and your counters should be completely clear.
Now wipe your counters and your mirror and marvel at your clean and sparkling bathroom!
Establish a day of the week to review the space and maintain it clean and organized.
Declutter And Organizing Bathroom Checklist
Grab today's Bathroom Declutter Checklist and let's get started!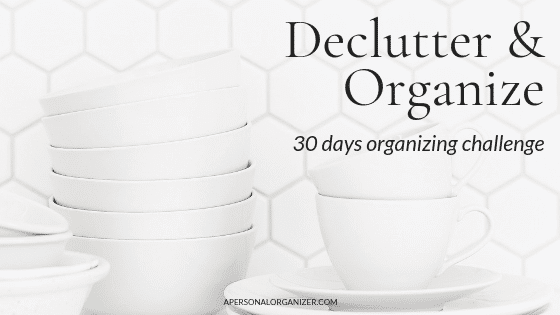 After you grab the free printable each day, don't forget to share your process and progress on  Instagram, Facebook, and  Twitter with the hashtag #APONewYearChallenge for a chance to win a free copy of the Life-Binder Purposeful Life Planner!