Kitchen Organizing Tips
Organizing the kitchen to make it a beautiful and functional space can be fun and will bring many benefits to your daily life. From saving time when prepping your meals, to saving money when shopping for it, that are many reasons to tackle the organization of your kitchen. My favorite reason, however, is to make me feel good every time I walk into my kitchen. Silly me!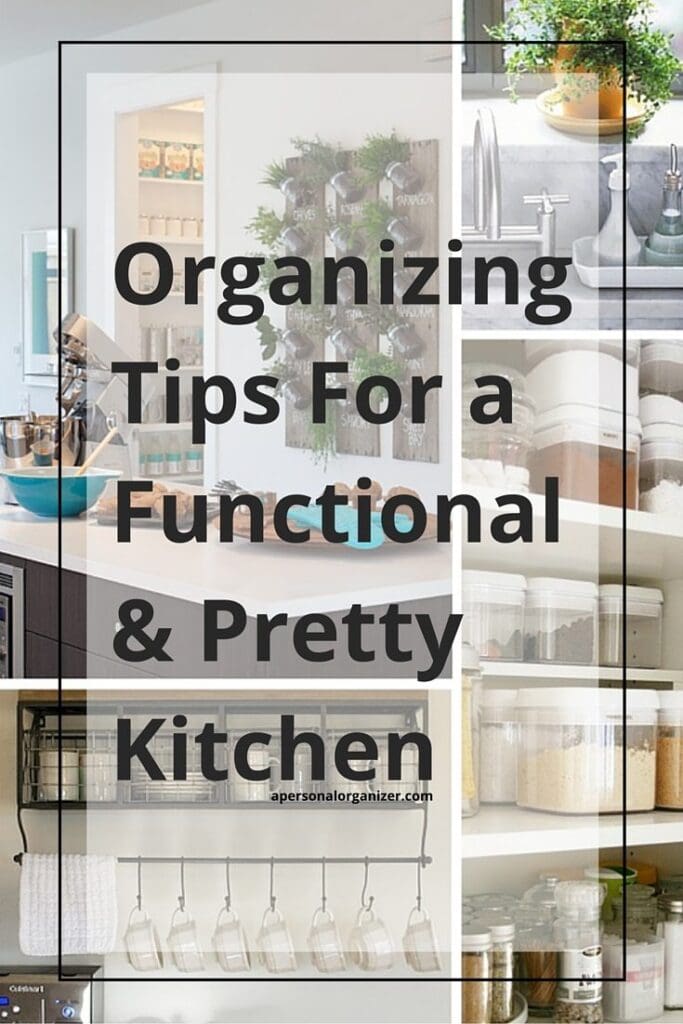 1. Think Outside the Drawer
Be creative when organizing your pots and pans.
This niche in the kitchen was painted in black (chalkboard paint?) and with nice, uniform, modern looking hooks a whole new industrial looking "pots & pans corner" was created.
Additional shelving made the best use of the space, creating storage for containers. Place your most used ingredients here for easy reach.
2. Decorate and Save Money on Your Groceries.
A fun organizing project that will have great effects on your health, finances and yes, will make your pretty kitchen, prettier.
Building your very own wall mounted mason jar planter can be a great weekend DIY project you can do by yourself or with your kids. Don't want to build your own? Buy yours here or here!
3. Use Open Shelving to Store and Show Off
The white shelves over the classic subway tile allow your accessories and jars to shine.
Show off the items you love and use the most and save time (and steps) in the kitchen.
4. Bring Charm to Everyday Items
The kitchen can be a source of great pleasure or headaches (if you don't love cooking). By bringing beautiful accessories and organizing this space with charm, you'll make it just the way you like it and enjoy being here so much more.
Use a beautiful appetizer dish or tray to corral all you need by the sink (or cooking area). Place your dish soap in beautiful containers and voilá, you have a pretty station.
5. Put the Pantry in a Drawer
Using uniform food containers you can organize your pantry in a drawer and place all your grains, flour, sugar, pastas next to your cooking station.
The jars in this image look a lot like IKEA's 365 Food Storage Containers. Ranging from $1.99 to $3.99 makes this an affordable kitchen organizing project.
Identify each container with labels placed on the lid.
6. Do You Love Coffee?
Create "activity related" stations to simplify daily life. If you love coffee and work a lot from home, like me, you can create a cute and practical corner with all you need for your coffee break.
And, if you loooove baking, organizing a baking station will make your creating your next batch of yummy cupcakes and cookies even more fun.
Show off that gorgeous mixer and bowls of yours and bake on.
Ready for Cakes, Parties & Pies.
7. Don't Stack, File.
Instead of stacking serving platters, baking pans and sheets, file them using shelf organizing tools that are both inexpensive and easy to install.
8. Who Needs Cabinets in a Small Kitchen?
Installing IKEA wall organizers (don't you love them?), like shelves and bars with hooks, this chef made the best use of the wall when organizing a small kitchen.
9. End the Corner Torture
Organizing deep shelf pantry and shelves can be painful and will always make you reach "all the way in", to reach for that can of beans.
A simple and easy solution for that is to place turntables on your corners, making it super simple to grab whatever you need.
10. Use Uniform Containers
By removing all packaging and using uniform containers even a small cabinet can become a very functional pantry.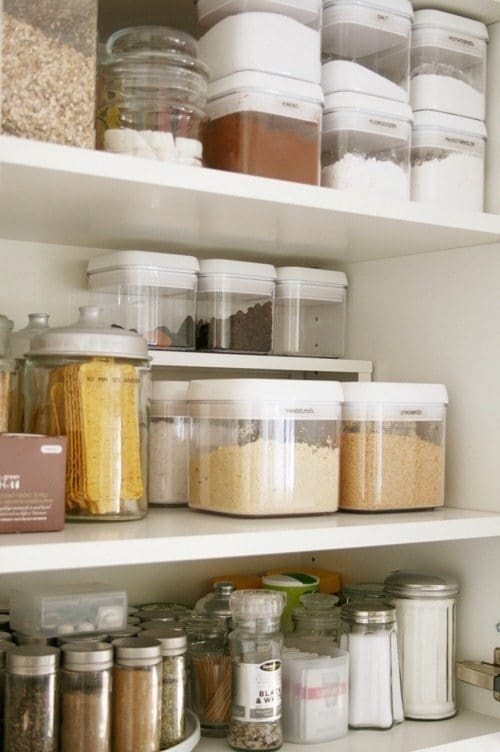 What's your favorite kitchen organizing solution?