Decluttering And Organizing The Family Room
Hello, and welcome to the fourth day of the declutter and organizing challenge!
How are you doing on the challenge so far? Do you love coming home and welcoming guests in your newly organized and refreshed entryway and formal living room? Great! Let's keep going with the challenge.
Today's challenge will focus on the family room. I know what you are thinking, yikes. If you think this is one of the messiest and most cluttered areas of your home, you are not alone.
Unlike the formal living room, the family room is a space we live in. Much clutter and may messes can gather here.
Our declutter and organize checklist will help you get rid of unnecessary things in this space so any messes that happen moving forward will be a breeze to get under control.
Feel free to alter the tasks on this checklist a bit to fit the age of your children and the kind of "stuff" they have in this space.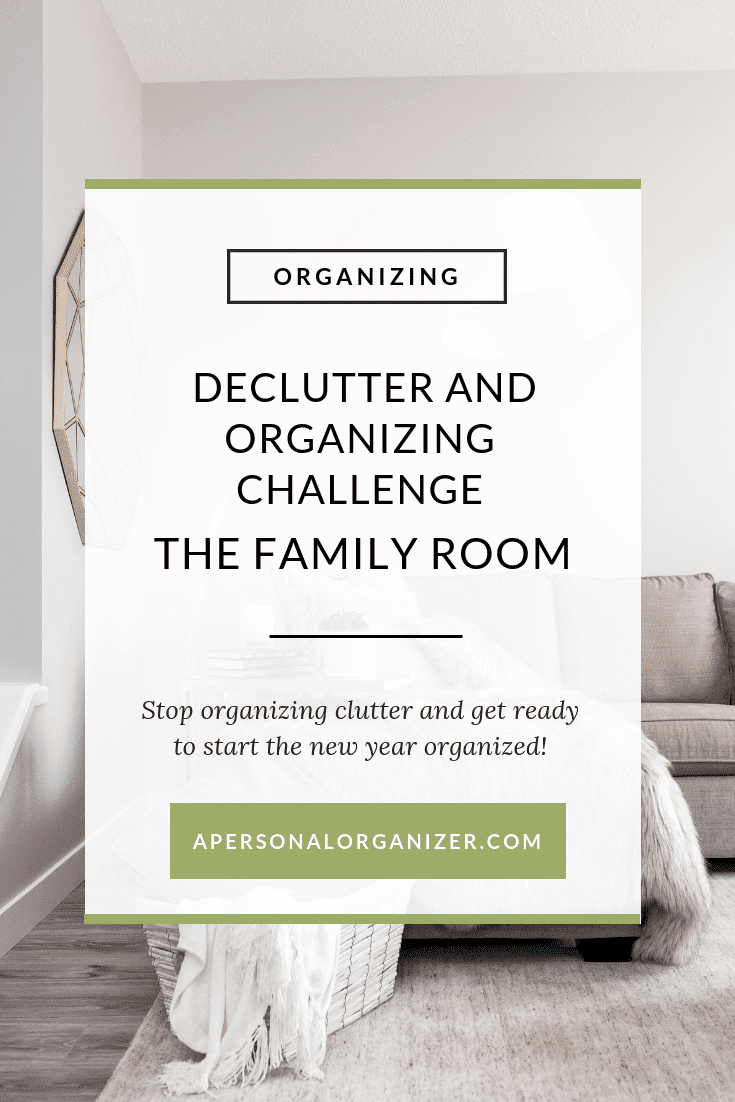 Some of the links in this post are affiliate links. This means if you click on the link and purchase the item, I will receive an affiliate commission at no extra cost to you. All opinions remain my own.
How To Organize The Family Room
Let's get started with the family room declutter and organizing checklist!
Set up four totes or boxes and label them "Toss", "Donate", "Keep" and "Relocate". Place items that will stay in the family room in the "keep", items that need to be put away in other rooms go into "relocate", the "Toss" bin is for items you no longer need, and Items you want to donate will go into the "Donate".

Once your bins/boxes are set up, begin in one area or your room and work your way through it, emptying and sorting. As you do this, remember to be very strict with what you want to keep. Do you

really still

need those toys that your kids have pretty much outgrown and hardly ever play with? Do you even have a VCR anymore to warrant all of those movies in an outdated format? Is that board game still functional with so many pieces missing? You get the idea.

Once you have each area cleared and sorted, go through the family room and wipe and dust all the surfaces.

Vacuum and/or sweep the floor

Now you are ready to put the things you are going to keep in the family room back where they belong. Empty your "toss" tote and move your "donate" tote to your car trunk-better yet, go ahead and drop it off to the donation center today (we've all had

that

box or bag in the trunk for way too long, right?) Rehome the items in the "relocate" bin.
Family Room Organizing Checklist
Grab today's Family Room Declutter Checklist and let's get started!
After you grab the free printable each day, don't forget to buy your Life-Binder Purposeful Life Planner!
---


---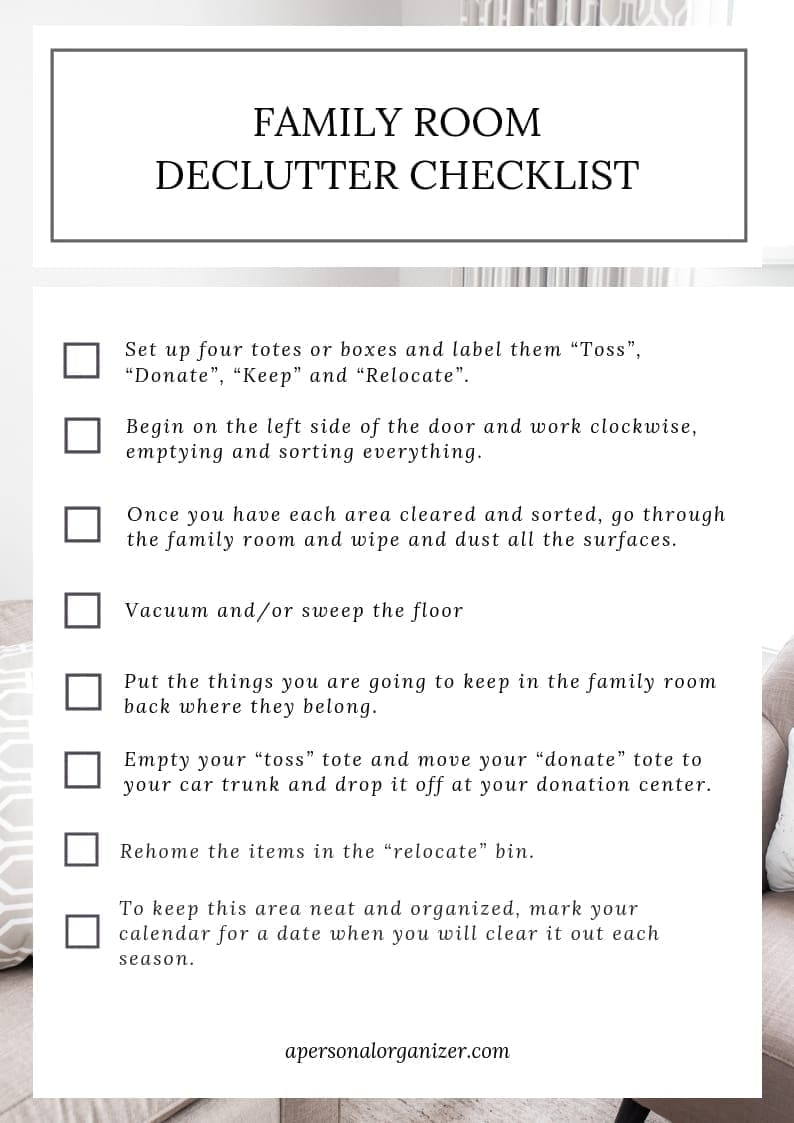 ---
Want more great tips on how to keep the most used rooms in your home decluttered and organized?