Decluttering & Organizing The Laundry And Mudroom
Hello, and welcome to the sixth day of the declutter and organizing challenge!
So far we've decluttered and organized the front of our homes, one of the most popular rooms, the family room, and even the dreaded junk drawers (s). I hope you are feeling lighter already!
Today's declutter and organize challenge will focus on the mudroom and the laundry room. Because these rooms are used so often, they can get cluttered and disorganized quickly.
Taking the time to get these rooms in order ( and putting habits in place to keep them that way!) will save you time every single day.
Let's jump right into day 6!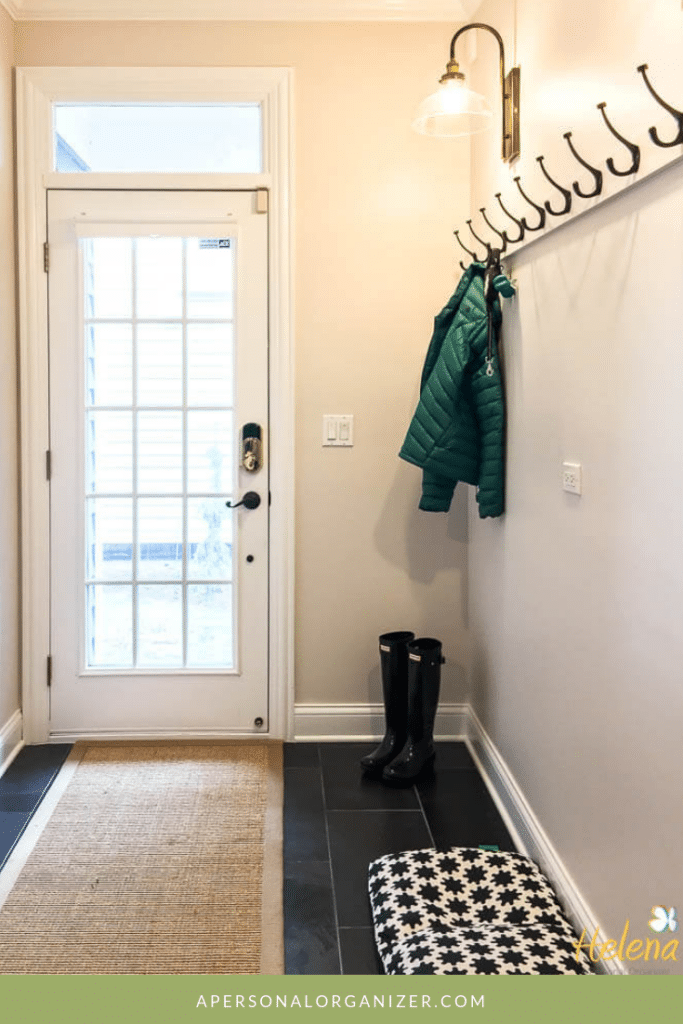 Some of the links in this post are affiliate links. This means if you click on the link and purchase the item, I will receive an affiliate commission at no extra cost to you. All opinions remain my own.
How To Organize The Laundry And Mudroom
Begin as we have been by clearing all shelves, surfaces, and closets of everything. Use bins, bags, or boxes labeled "toss" "donate" "keep" and sort your items. While this can sometimes seem overwhelming it is the only way to truly declutter a space. I promise it will be worth it!
Give all your surfaces a good wipe down. Clean your washing machine by running it with 2 cups of vinegar and then run another cycle with plain hot water. Clean the surface of your washer and your dryer and empty your dryer's lint trap.
Now, we will organize all of that stuff. Even if your laundry room is separate from your mudroom or entrance area you can use your laundry room to store out of season items like gloves, scarves, and hats in Winter, or towels, swim, and beach toys in Summer. Large baskets on shelves are great for these items.
In smaller baskets or a drawer system, place your detergent, dryer sheets, stain sticks, etc. If you have pets, you can store their food and care needs in large plastic bins with lids to keep everything neat and easy to access.
Depending on how your home is set up and what your family's needs are, you will probably find yourself with some items that are not on this list that you need to store and organize in this space. Start by thinking of how often you use each item and then use some baskets or other storage and store them accordingly.
Laundry & Mudroom Declutter Checklist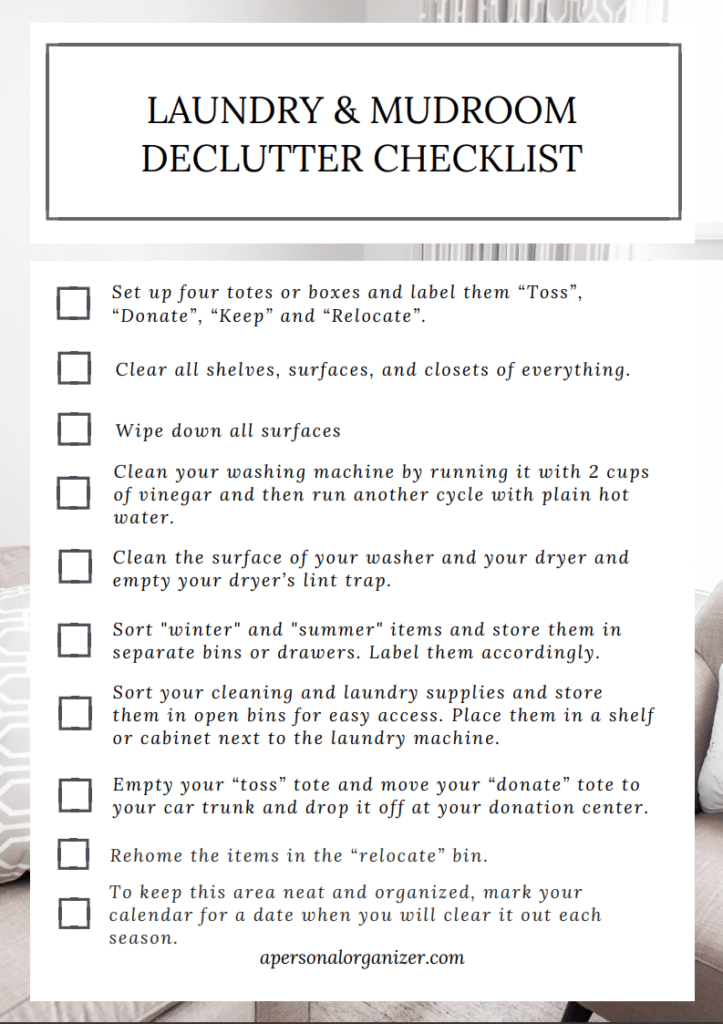 Grab today's Laundry and Mudroom Declutter Checklist and let's get started!
Love Printables? Buy your  Life-Binder Purposeful Life Planner!
Want more great tips on how to keep your laundry and mudroom organized?