This post may contain affiliate links for your convenience. If you click on the link and purchase the item, A Personal Organizer, LLC. may receive a small commission at no extra cost to you. 
How We Decorated & Organized Our Small Guest Bathroom
My good friend and mentor, Geralin Thomas, always says: if you're going to start an organizing project, start with the fridge! Organizing a small space will give you a quick sense of accomplishment and energize you to tackle what's next. With that in mind, when we first moved into our new home, organizing our small bathroom and decorating it was one of the first items on my long to-do list.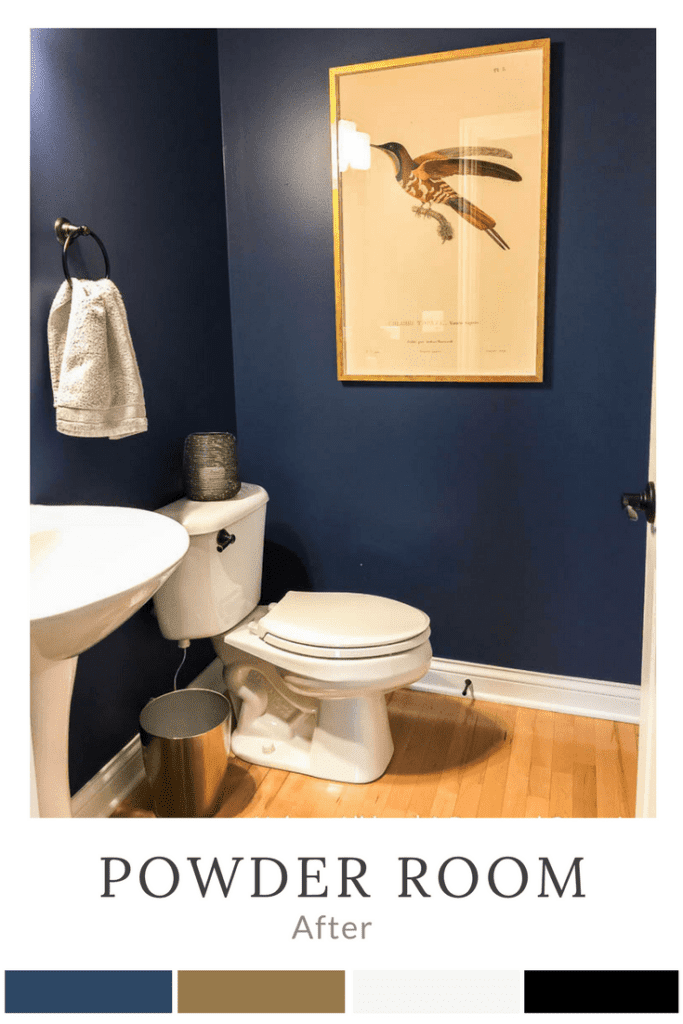 There are affiliate links in this post and I may receive a commission at no cost to you if you use these links and make a purchase.
This small bathroom is located on our first floor, next door to the laundry and adjacent to the living room. This powder room also works as a guest room and holds our utility closet in what one day will become a shower.
As we have plans to fully renovate that bathroom and make it into a "real" guest bathroom, with a shower stall, initially, I wanted to keep that closet empty to avoid moving things around over and over.
However, where to place everything that we frequently use, if the laundry room next door doesn't have adequate storage for bulky items, like the vacuum cleaner, brooms or the tall cleaning product bottles?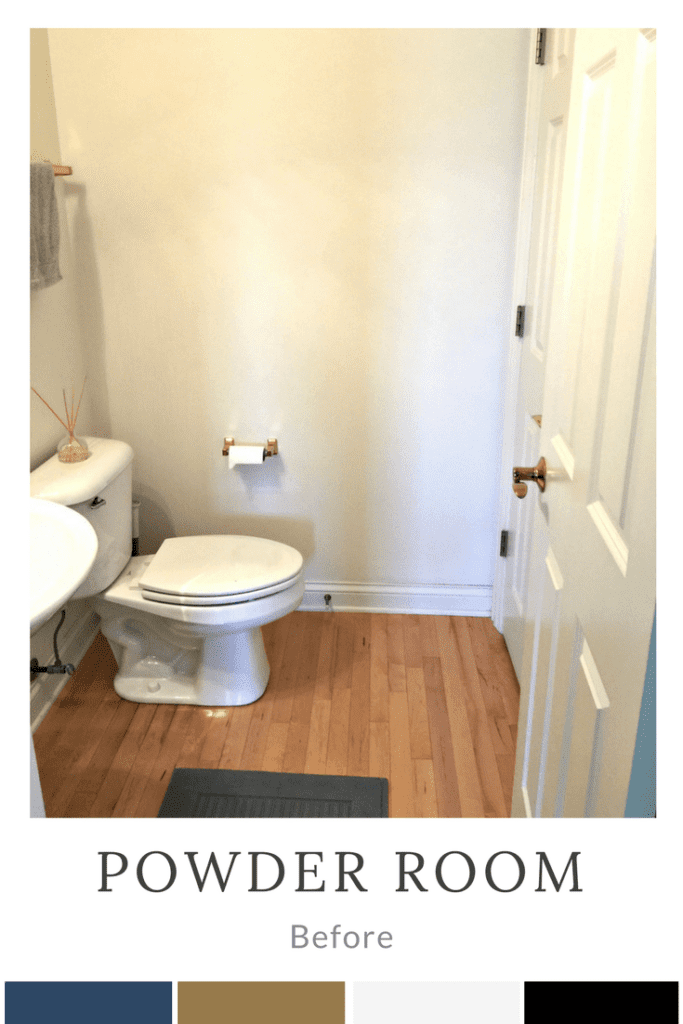 I didn't want to place these items in the basement – too far! Nor in the garage – too cold! As we didn't have the budget to renovate the laundry room/mudroom right away, this future shower was the most convenient place to store all cleaning supplies and tools, as well as other items I'll show you soon.
Another important consideration is the fact that this is the official "powder room" of the house and I wanted to tie it in with the living areas. So, the least costly and quickest way to do it was with a can of paint and some small changes.
Color Selection
As I shared with you in this post, we wanted to try something completely different from our previous home, back in San Diego. That house was beige with white trim from head to toe, and we were ready to try something more exciting. We decided to use Indigo Batik as the main color in some areas and as an accent color in the adjacent rooms.
Considering that this is such a tiny bathroom with only 24 square feet, I thought any choice would be a low risk and easy to change one if we didn't like it. So, we went for it!
We had the wall painted in Indigo Batik, which is a dark but rich, almost velvety blue. We paired it with pure white trims and the ceiling in Simple White.
Another important decision was regarding the hardware. The original hardware – the door handle, faucet, toilet flush handle, towel holder, door stopper, hinges and air vent- was all gold or brown. It was also old and in many cases, it was chipped or rusted. It was time for a change!
We decided to go with rubbed oil fixtures and the contrast with the white and with the blue is gorgeous.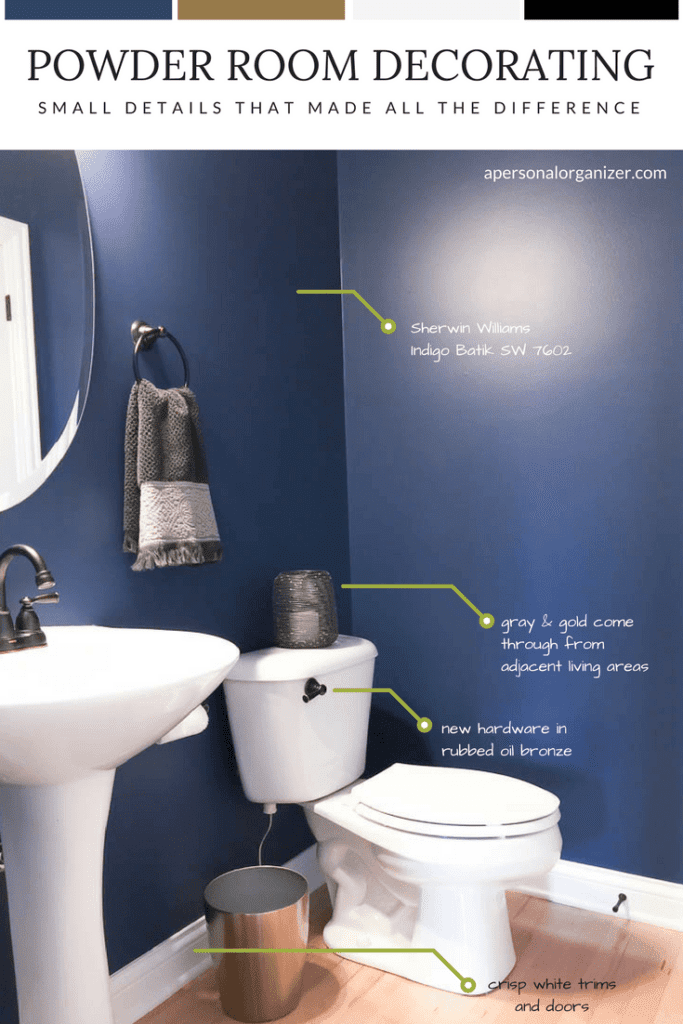 To carry the colors you'll see in the decor in the living areas of the first floor, I used a metal candle holder that has delicate, small gold dots, as well as a beautiful trash can and a gray hand towel – all from Target. When we have guests I lit the candle and it looks so delicate!
The framed art is another great find from Home Goods. Can't beat them!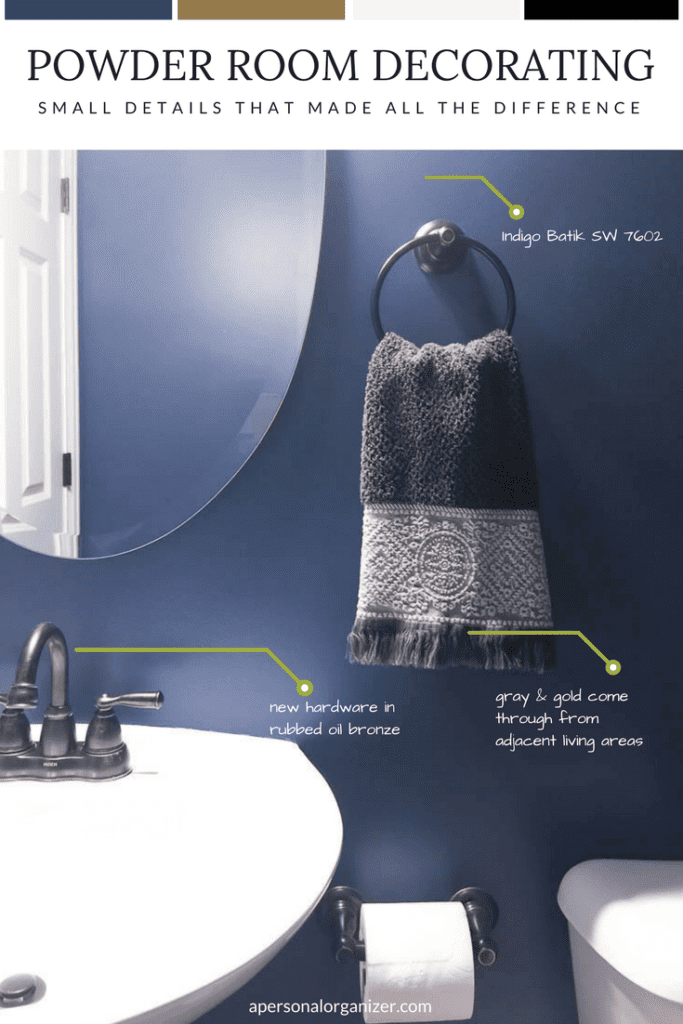 There are many options of fixtures in rubbed oil bronze on the market these days. Research for a style that matches your taste, but also take into consideration the quality and your budget. If you are planning on renovating anytime soon -even if it's 2 years from now, don't invest in the most expensive ones as you may decide to change the sink or even the toilet and the fixtures may not match the new ones.
In our case, to change the sink and the toilet didn't make sense as we will renovate this bathroom down the road and we just wanted to spruce it up.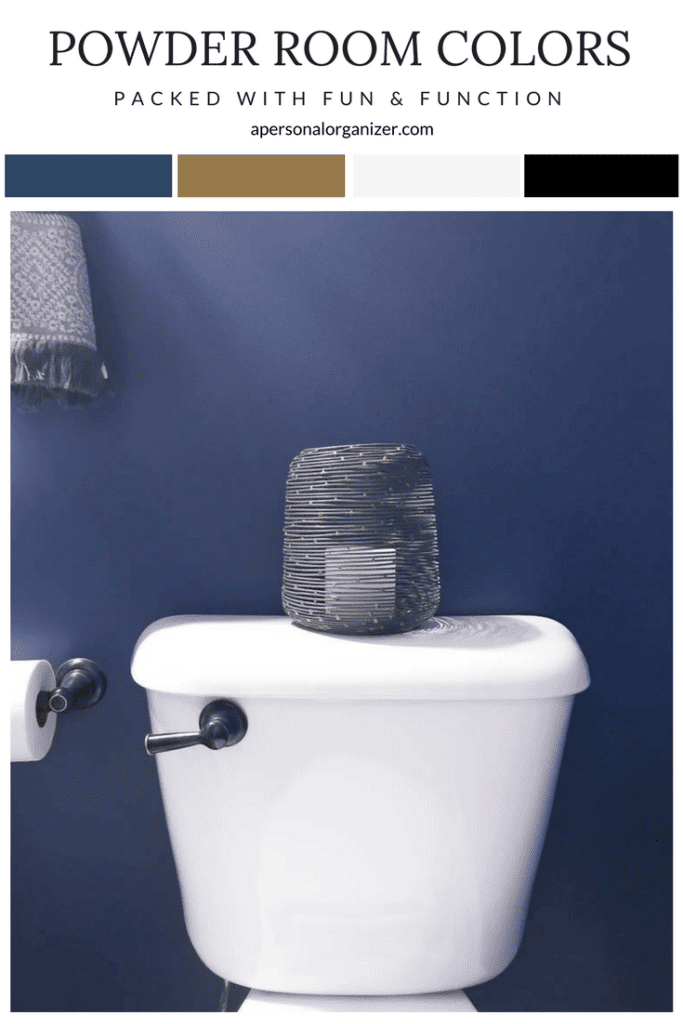 Accessorizing The Guest Bathroom – Less is More
I tend to hang less stuff on the wall and have less decor around the house these days.
Maybe it's a change in taste as I enjoy having "white space" in our home, maybe it's wisdom -I know how much work it takes to keep everything clean. The fact is that I haven't felt the need to add anything above the toilet tank as you'll usually see in other homes.
I also skipped changing the mirror as I haven't found anything striking and as I know that down the road we'll renovate the space to include a vanity and a new mirror.
So, I'm keeping it quite simple with the items I described above.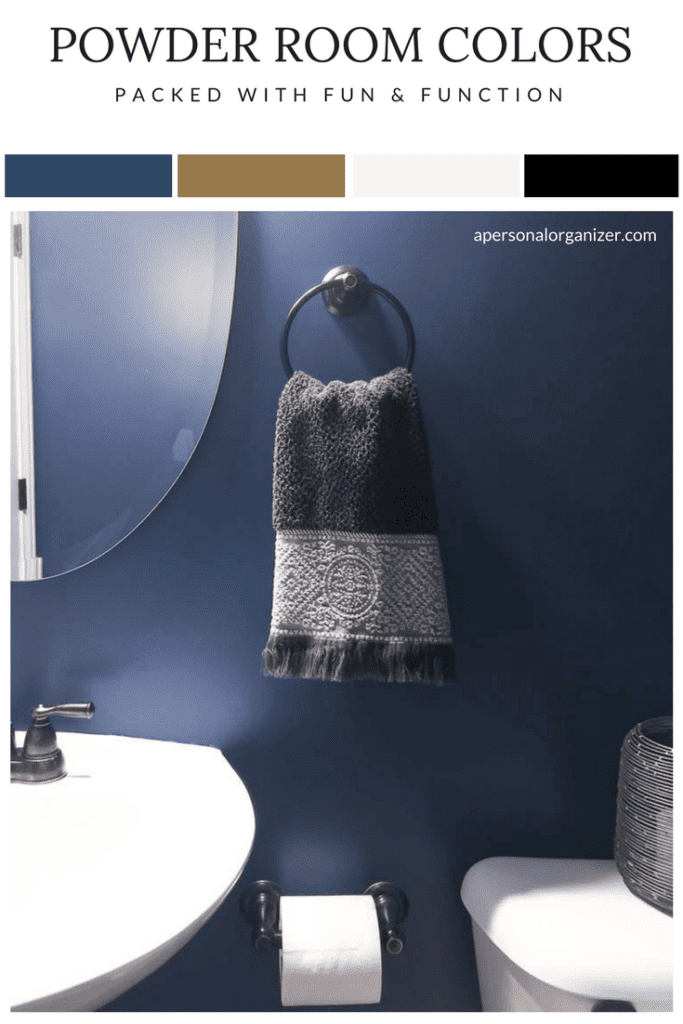 Organizing The Utility Closet
The space for the future shower is small and we hope to find more space for it in an enclosed area next to it. For now, we have a small closet with wire shelving and good lighting.
It has 2 feet 6″ x 3 feet so for a utility closet, it works quite well.
However, because it's located in our powder room, I wanted to make sure it's not screaming "cleaning supplies" when guests open that door.
Again, I didn't want to spend a lot of money here so I invested in these gorgeous baskets by The Container Store to store not only cleaning supplies but also bathroom items like extra hand towels, toilet paper and a basket with convenience items I keep for our guests.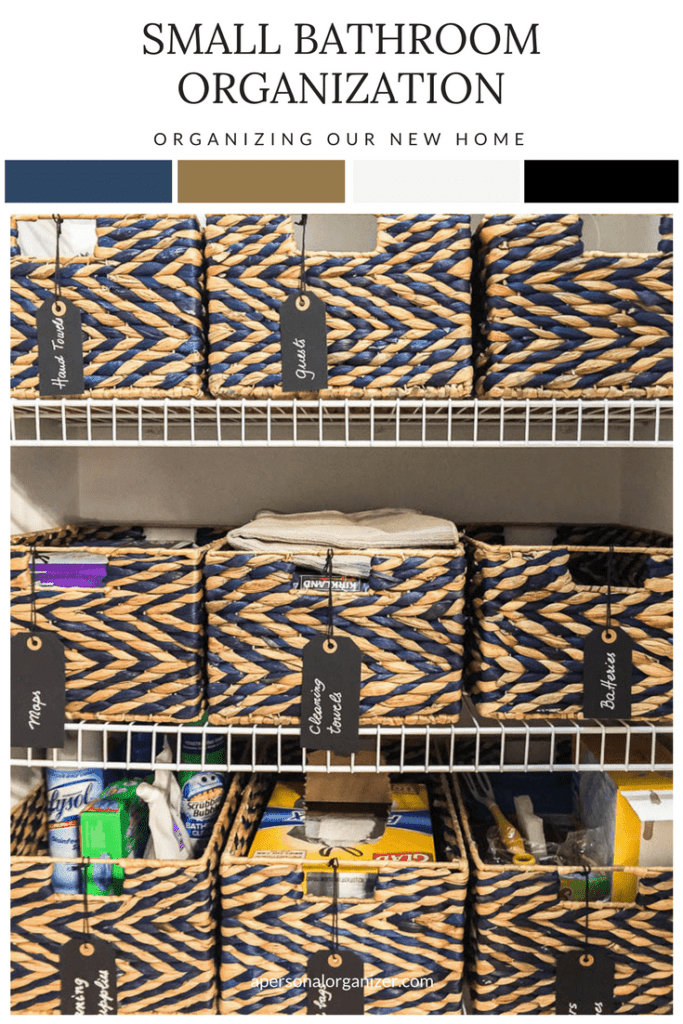 To protect the floor from spills or scratches, I used Elfa shelf liners to line the floor.
I still have to install wall hooks to hold the broom, mop, and other items, but that's coming soon.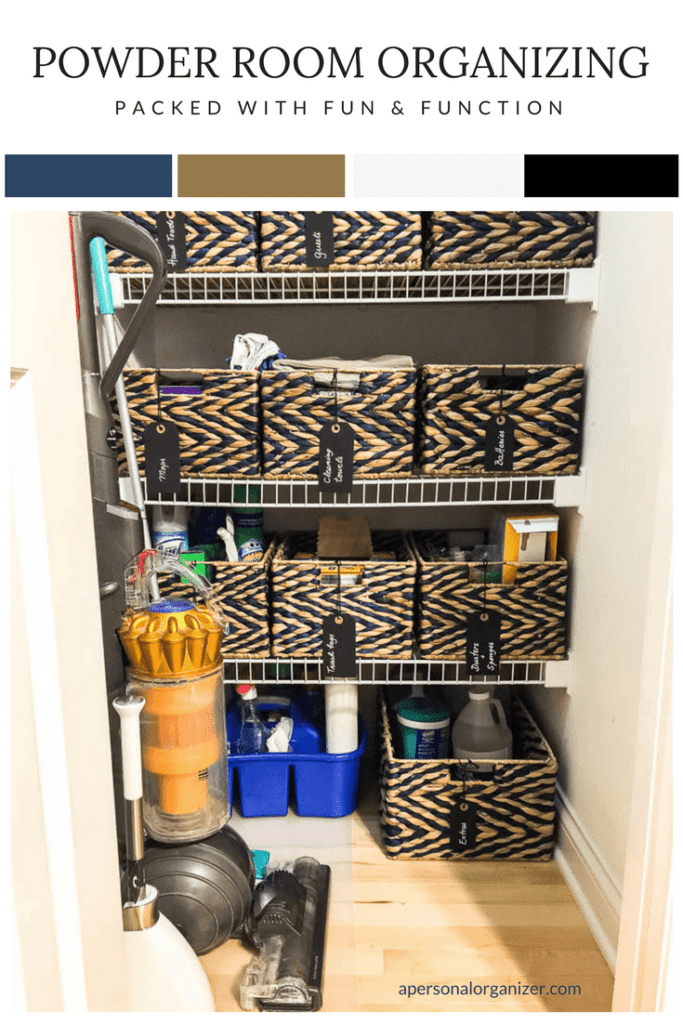 Here is a list of what this small bathroom closet holds. As you can see, it has an important function in our home!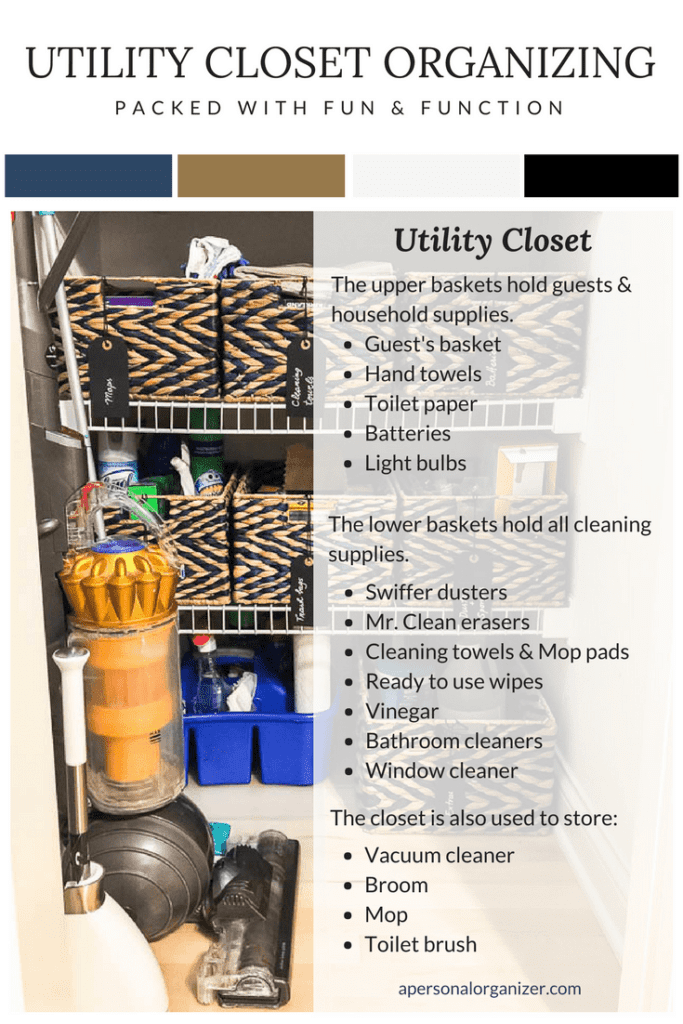 I couldn't be happier with the transformation of our powder room. It's a pleasure to walk by it and see the beautiful color and details, it's also a pleasure to find everything we need for the cleaning and maintenance of our home here. I love this mighty space!
Want to organize your bathroom? Download this checklist and get started!
Do you have a bathroom in need of a little TLC? Have you recently organized your small bathroom? Share with me in the comments below!