A Christmas Dinner Party to Enjoy
This time of the year can be immensely stressful as so many things are added to already stretched "to-do" lists. On top of all of your daily activities, school, and work well, now you have to tackle the long holiday planning list!
However, the most important thing to keep in mind is that the holidays and Christmas are all about spending time with family and friends. It's the time to share the joys of the season, and what better way to do that than not hosting a Christmas dinner party for your friends?
We love entertaining, and having friends and family over really makes for happier days in our lives. We have just hosted my husband's large family for Thanksgiving, which was a great success! So, here are a few tips for planning the perfect Christmas dinner party for the holidays.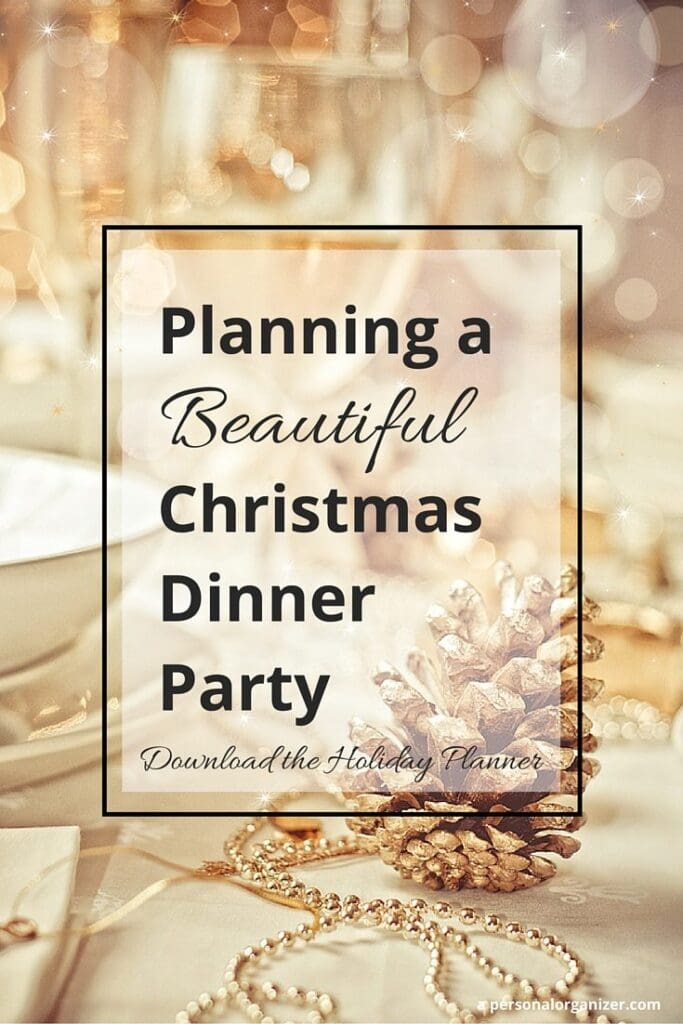 A Christmas dinner party can be a more elegant affair than your regular dinner party with friends. Take the opportunity created by the colder weather, this special time of the year, and bring a more formal atmosphere to your party. Your girlfriends will thank you for the opportunity to dress up!
1. Invitations Go Out
Invite guests in advance.
The Christmas engagement calendar fills up fast, and you want to get your dinner party on the roster. Host a Christmas dinner party for your office department. For a dinner party that is purely personal, invite friends and their dates or spouses. Although we never exclude the children from our gatherings with friends, if you prefer, specify on the invitation that it is for adults only. This will give everyone time to find a sitter for their children.
2. What to Serve
Plan the menu.
If you're inviting colleagues or friends you usually don't host, ask if anyone has any special dietary concerns. The group could have vegetarians, but we are more concerned with food allergies or other health conditions. Plan the food courses accordingly so no one feels left out.
3. Checking It Twice
Managing the Guest List
If everyone hasn't responded a week before the Christmas dinner party, contact them with a quick message in case they forgot. For sit-down formal dinners, having an accurate head count is necessary to be sure there is enough seating for everyone.
Also, make sure you are preparing enough food. Calculate at least two pounds of food per person attending the dinner party as a standard rule of thumb.
4. Who Will Cook?
Budget and preferences permitting, decide on cooking or catering. There is nothing wrong with catering a dinner party for a larger group of friends.
Cooking can be an all-day affair, and no one wants to be left out during their own dinner party because of the work in the kitchen. As the host or hostess, I am sure you want to mingle with guests and enjoy your time.
If you decide to cook, keep the menu simple and opt for a buffet presentation instead of table service, allowing guests to "help" you this way.
5. Get That China Out!
With your menu in mind, pull out the serving platters you need and ensure they're clean and in good shape. A good idea is to use sticky notes to mark what food will go in each dish.
6. Decorate and Make It Yours
Set up the table and decorate a day in advance.
This will give you time to purchase whatever is missing to make your table and rooms look beautiful. I love to include flowers and lit candles in every room.
Leave glasses until the last minute so they don't gather lint and dust particles overnight.
After setting the table, check around to ensure everything is clean, especially in the areas where guests will mingle.
7. Open Bar
To make your life simpler and make your guests comfortable, prepare a table with a beautiful tray with glasses, napkins, and the drinks you'll be serving.
Serve your guests' first glass to welcome them and let them know they can help themselves at any time.
8. The Lou
Make sure you check your powder room and include a small candle or flower arrangement in there.
I also like to place a small basket with items guests may need, from personal care to over-the-counter pain relievers.
9. Make Yourself Pretty
Get yourself ready a good hour before your guests are set to arrive.
The last thing you want after so much preparation is to look stressed out when welcoming your friends and colleagues in.
10. Have Great Fun
Have fun, take pictures, and enjoy the evening!
An elegant Christmas dinner party is a nice way to get to know co-workers away from the office or to relax with friends you don't see much of during the year. Everyone has a chance to show off their best holiday clothes and share good laughs.
I hope you have a wonderful holiday season and opportunities to enjoy family and friends.
Download the Christmas Planner and enjoy an organized holiday season!
HOLIDAY Planners
Christmas Planner
Say goodbye to the days of frazzled nerves and hello to a confident, beautifully orchestrated holiday event that perfectly reflects your love for family and friends. Get ready to dive into a stress-free, delightful celebration, leaving your loved ones in awe.
Tips and ideas to help you prepare and enjoy this special season with your friends and family.