There is no better way to start the new year than to get your entire home decluttered and organized. As our homes have an important influence on how we feel, it's only natural we extend this "out-with-the-old-in-with-the-new" attitude to our home as well. After all, nothing says "Hello, New Year" like a house that's clean and free of clutter. And, as the end of the year is upon us, now is the ideal time to organize your home.
Today I'll share home organization tips so you can get on a fresh blank slate for the year ahead.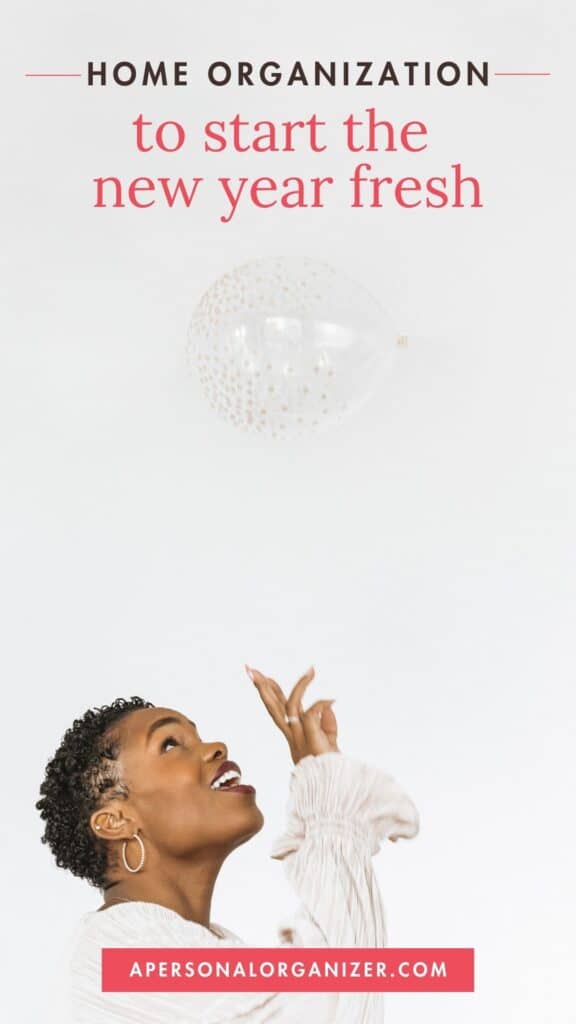 So, to get us started, let's get something out of the way: 'Cleaning is not organizing."
Home Organizing is about creating sustainable systems that leave no room for a mess to reappear. It's about making the best use of the space and creating organizing solutions that you can maintain. Keeping that in mind, let's dive into ten home organization ideas you can use today to get your home is organized and clutter-free before the new year.
Estimated reading time: 9 minutes
Planning Your Home Organization
Get Yourself a Planner
While many of us became great fans of all things electronics, I'm a firm believer in the combo electronic + paper planners.
I suggest getting the kind of planner that comes in the form of a book where you can write down your lists of things to do.
The act of making a list of your home organization chores and scratching out each task as it gets done is so much more satisfying than using an electronic planner.
Make a Decluttering Checklist
A decluttering list is a to-do list to help you determine what you need to do to create spaces you love.
Here's how to make a decluttering checklist:
Pick a project area – this could be a drawer, a linen closet, storage space, or even your home office.
Brainstorm and write down everything you must do to achieve your goal and create a great place you love. Now is the time to write down that great idea you spotted online to create extra storage for your cleaning supplies or kitchen cabinets!
Break your list down into small, manageable tasks, considering the time it should take for each of them. This will make a massive difference in understanding the unique challenges each space has. For example, in your home office organization, it could look like:
Declutter desk drawers,
Declutter office space,
Declutter storage area,
Declutter closet or coat rack.
Cleaning
Do a Deep Clean
Organizing an entire home is hard work, but it becomes a daunting task if your home is very dirty and covered in dust.
If that's the case with your house right now, I encourage you to give yourself the gift of a whole home deep-clean. It will also save you valuable time and energy when you get to organize your belongings and
Whether you are a DIYer or an outsourcing kind of person, this step will instantly change how your house feels. If you have family members, this is the time to engage everyone.
A deep clean includes sweeping, dusting, mopping, scrubbing, vacuuming, removing cobwebs, cleaning window sills and glass, wiping baseboards, door frames, and the works. The best way to approach this step is to create a checklist, so you don't skip a step and tackle specific areas separately.
Here's one way of going about it:
Dust in high and low places to get rid of all of the old year's vibe and grime. While you're at it, get rid of any cobwebs and dust the fans as well. If necessary, buy an extendable rod to be able to reach high areas and chandeliers.
Vacuum the floors and carpets.
Vacuum the upholstery
Remove bedding, pillow covers, and throws and put them in the laundry
Mop the floor.
Consider opening the windows and letting in some fresh air and light.
Repairs
Attend to Minor Repairs You Have Been Putting Off
An essential part of having a home that works and requires little effort to maintain is staying on top of your home organization and repair projects.
These are little things that might not impact the way you go about your days, but that linger on your mind and become mental clutter. They can also become negative self-talk on how "you never take care of…" If there's one thing we don't need, it is a nagging negative voice in our heads.
Remember that leaky faucet you keep promising yourself that you will take care of? Now is the perfect time to attend to that and other repairs like:
Burnt-out light bulbs
Squeaky doors
Leaky faucets
Roof repair
Clogged garbage disposal
Caulking jobs
Painting jobs
Decluttering
Clear Away Clutter
Start small and get rid of clutter. You can deal with one drawer or a closet at a time until you make your way through the entire room.
I suggest you create a drop zone where you'll place all the clutter you will remove from your home. Once that space is full, it's time to make a trip to your donation center, where you can get a receipt for your donation. Each trip will clean up the floor space and give you a break to tackle a new area.
Not everything you'll find in a room that needs to be removed is clutter. Often, things that belong to another room end up in the space you're working on, and instead of coming and going from place to place, use dollar store bins to create "move out" containers for these items. This will make a massive difference in the speed you work and give you easy access to these items once you're ready to organize them.
If you're not sure where to start, here are some things that you can let go of right away without any guilt:
Old magazines and manuals
Old electronics like headphones, charging cords that don't work, and toys
Clothes you have not worn in a year or that don't fit.
Old coats and shoes that don't fit.
Expired medicines
Old or stained towels, old pillows, extra blankets
Different mugs and serving dishes, and old dishes you don't use.
Unused home décor/craft supplies and gift bags.
Unrecognizable or old items in the freezer/fridge.
Broken chairs, unusable tables/desks, and other furniture
Old decorative objects you don't use anymore.
Tackle All Storage Areas
When decluttering your home, you might focus on the junk drawer or spaces like the dining room or the master bedroom and end up forgetting about attics, lofts, and storage rooms. If you have this kind of space in your home, include them in your planning.
Take out all the old storage boxes and go through every item, old paper records, letting go of anything you can.
Get Everything You Want to Dispose of Outside Your Home.
An essential part of finally decluttering your home and getting it in tip-top shape is to get everything you don't want anymore out of your home.
Once you have a big pile of everything you want to discard or donate, it's time to move it out as soon as you can. First, because more often than not, people feel tempted to "visit" those bags and boxes, thinking of creative ways to find good places for what was junk a minute ago. Second, your home will look much cleaner and tidy once all the clutter is out.
You will also have a better view of every room of the house, what space you have left and how you can best use it.
You can hire a junk removal company to get rid of everything – a reliable removal company will ensure all your junk is disposed of safely – or you can make trips to your donation center.
Organizing
Give a Place for Everything You Own.
Here is my organizing mantra "everything has a family and every family has a home."
This truly is an essential rule of home organization: every item in your home must have a designated spot. That means socks with socks, and all socks go in a bin or drawer. The "socks" are the "family," and the "bin or drawer" is the "home."
Having an address to everything you own makes it infinitely easier to maintain your home organized.
Clutter happens for various reasons, but in many cases, it's because people don't know where to place things, so they pile or stash them somewhere, hoping they'll find a home for it someday.
Once every item in your home has a designated address, you'll be inclined to put it back after you use anything.
If you are too attached to an item but don't have space, look for a less loved duplicate or similar object. And from now on, before you buy something new, stop and think, "do I have room for this?" "what can I let go before I make this purchase?" or even better, place that item in your cart and come back to it in a couple of days. I find most people give up on their purchases by doing this. 😉
Get the Kids Involved
Get your kids to keep their room organized by teaching them 1. what it means to have an organized space and 2. by teaching them how to organize their bedrooms.
I have worked with many families that expect to have their kids clean and organize their spaces but have not invested the time to teach the children how to clean and organize their rooms. Without this step, this can become a frustrating battle where parents have high hopes and the children feel they can never achieve.
Provide them with the teaching and the supplies they need to clean as well as organizing products like bins, wire baskets, shelf riser, and other storage solutions to contain and organize their belongings, considering, of course, their age. Remember that organizing is a skill we can all learn, and your positive participation as a parent is the most crucial part and motivator in this process! Their age will dictate not only their attention span as well as their ability to follow your instructions.
If your kids' closets are bursting to the brim or their storage bench won't close because of the number of toys in there, encourage them to give away clothing and toys they don't use, want, or have space to keep. Having a play space free of clutter and decorated the way they like will be an excellent reward for their efforts. Craft supplies are a real clutter magnet so keep an eye on these too.
Use bins in the laundry room for laundry products and miscellaneous items like mismatched socks. You can use storage bins in any room to store just about anything.
Back to Square One
Our final tip is to keep track of all your home organization chores in your planner. Have a command center to keep a binder with all the lists and papers you need to manage your home. Strike off each item/chore as you complete it. Once it's all done, don't get rid of the planner. Use it through the coming year to keep your home organized and clutter-free through the year.
If you want to simplify this process, you can get your Home Management Binder with a special discount right here! It includes the current year calendar and lists, checklists, and forms to manage your home.