Preparing Your Home for Holiday Guests
An organized bathroom can save you from many headaches and rushes throughout the house to help your guests during the holidays.
Now, with the holiday season just around the corner, I am in the process of organizing the house to receive my husband's family and our friends, and the spaces that receive my highest attention are the kitchen, bedrooms, and bathrooms.
With plenty of time to get ready ahead of us, here are my quick tips for getting your bath ready!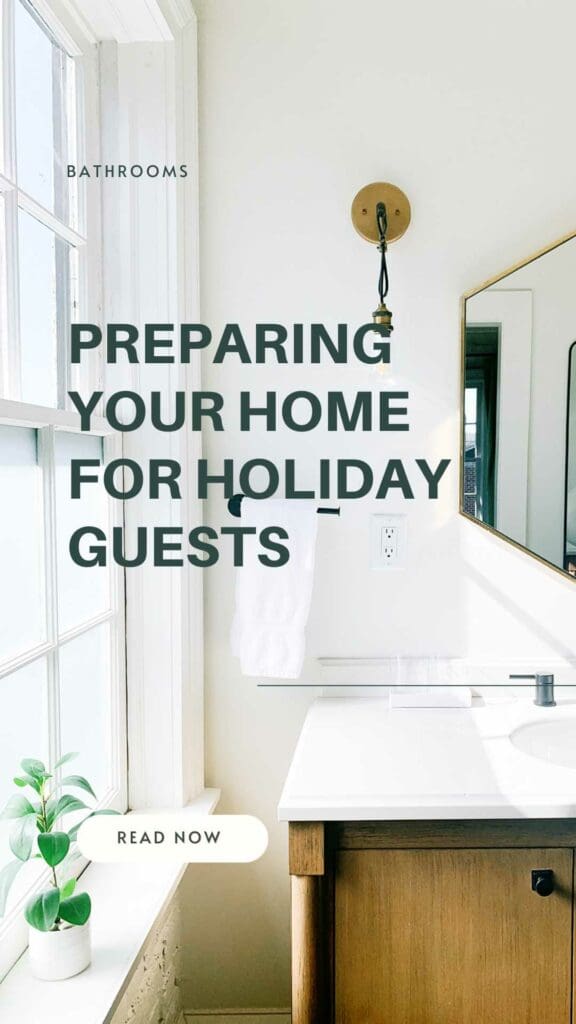 Follow these 5 simple tips to get your bathrooms organized for the holidays:
Step 1:
Gather your working "tools": clean cloths or paper towels, multi-purpose cleaners, toilet and shower cleaners, trash bags, and a laundry basket.
Step 2:
Collect all items from your bathroom drawers and cabinets so you can start sorting. That means everything from the vanity top, drawers, and medicine cabinet, including the linen closet.
Sort everything into four different groups —keep, toss, give away, and then an "I'm not sure" pile to go through again at the very end.
Step 3:
Clean everything. With all your items out of the drawers and cabinets, this is a good time for a deep cleaning. Once you place all your belongings back in place, take the time to wash down the countertops and sinks.
If you have an old toothbrush lying around, use it to scrub around faucets and drains.
Clean the mirrors, wash the windows, and clean the tub and toilet areas.
If you have knick-knacks sitting in your bathroom or pictures hanging on the wall, get them down and also give them a good washing-off.
Step 4:
It's time to put everything back in place.
Start with the easiest space first -the medicine cabinet where I suggest small items and daily used ones can be placed for easy reach.
Once you get things put away there, you can move on to the drawers, linen closet, etc.
If you want to get really organized, now that you have done a good purging is a great time to purchase some drawer dividers to keep things such as makeup, shaving supplies, and nail care products neat and accessible.
Extra items can be placed in clear plastic containers with lids, labeled clearly, and tucked away under the sink or in the linen closet.
If space is limited and you have a very small bathroom, you can use tall baskets or decorative containers with lids and place them on a rack over the toilet to store things like hairbrushes, soaps, and other toiletries.
Step 5:
Make it pretty.
Every space can look nicer with a small painting, a glass jar filled with soaps, or neatly rolled towels on a shelf.
An attractive, well-organized bathroom will be a joy to use and a nice way to tell your guest how much you appreciate their visit!
To keep your newly organized bathroom looking good, you'll also need to have a plan in place to stay organized. In the bathroom, that might mean taking an extra 5 minutes every morning to put everything away, wipe down the vanity, and clean the sink.
I keep all cleaning supplies handy like wipes to clean the countertop and toilet every night and products to keep the room fresh.
You can use a bin on the side of the toilet or inside a cabinet to keep things nearby.
I hope you enjoy these tips to have an organized bathroom, whether it's for a busy daily life or during the holidays!
Shop Bathroom Organization

HOLIDAY Planners
Thanksgiving Planner
Picture this: a stress-free, heartwarming Thanksgiving celebration filled with delicious homemade meals, cozy decor, and quality time with your family and friends. It's all possible with the Thanksgiving Planner.
Tips and ideas to help you prepare and enjoy this special holiday with your friends and family.