How To Organize & Style Your China Cabinet
Every year, when it comes time to organize my china cabinet, I have the most fun making it beautiful and practical to regularly use all our beautiful dishes because I have one "shopping sin": china! I adore dishes, serving platters, and everything that relates to entertaining. So, I learned to pay attention to what fits in our armoire, making sure I remove and donate something when something new comes in.
With my love for all things serveware and my desire to share it with you in mind, let's see how you too can set up a china cabinet making it so pretty you'll want to keep the doors open?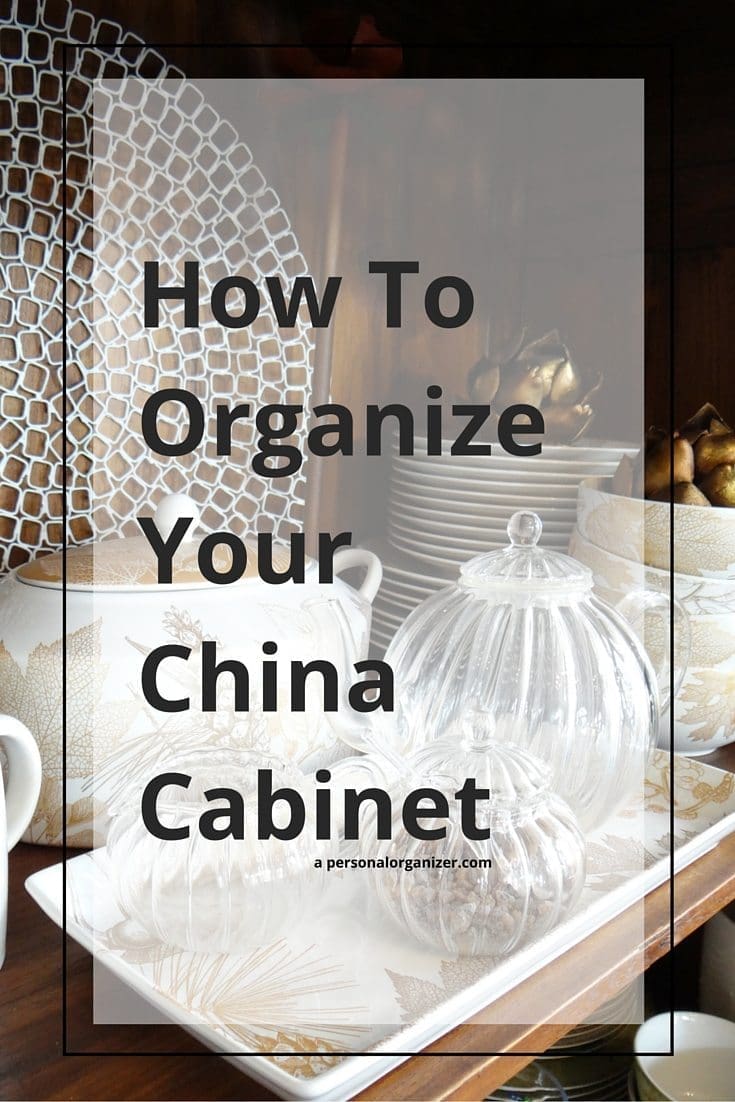 1. Keep What Love, Love What You Have
If you have a china set that you like to use on special occasions or received from a loved one, having it nicely organized will only show how much you care.
Keeping it in boxes in the basement for the future or the day you buy that "special dining set" is not how you'll enjoy it.
Let's get your beautiful china cabinet organized and start enjoying the beauty, the memories, and the charm that your favorite items can bring to any occasion.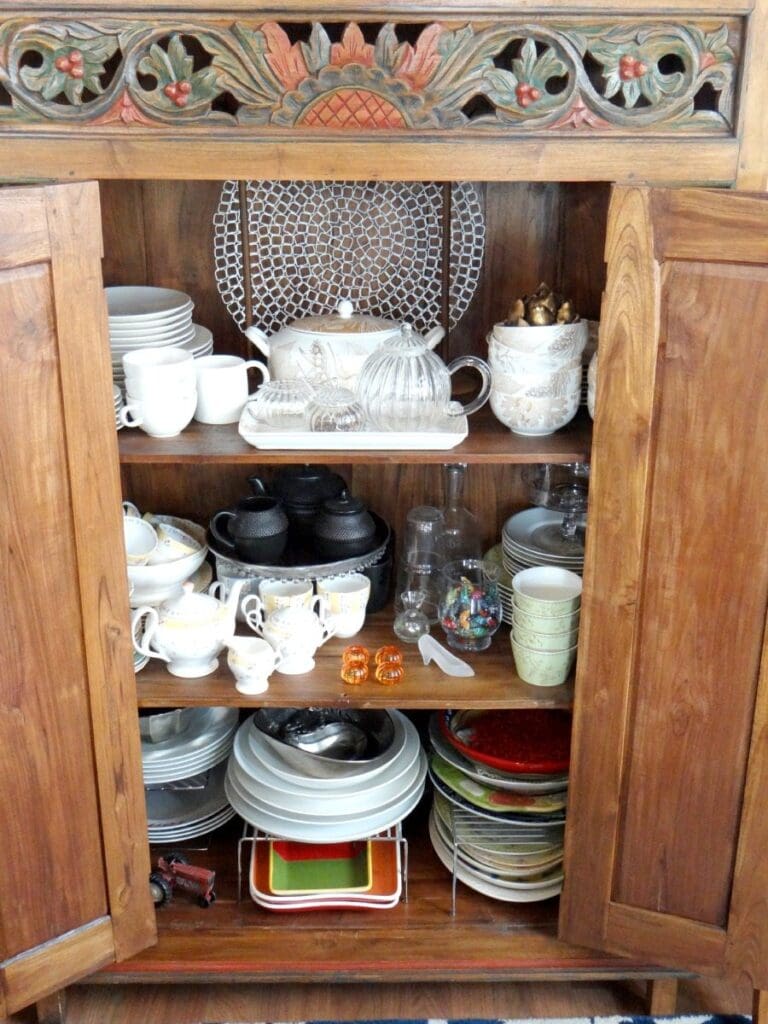 I keep most of our china and serving platters organized in this Bali china cabinet we purchased while living abroad, and I like to create small displays with the items that have a special meaning.
Only the large serving dishes are in a cabinet in the kitchen, but what we use most often (we love entertaining!) is here, close to the dining table where we use it.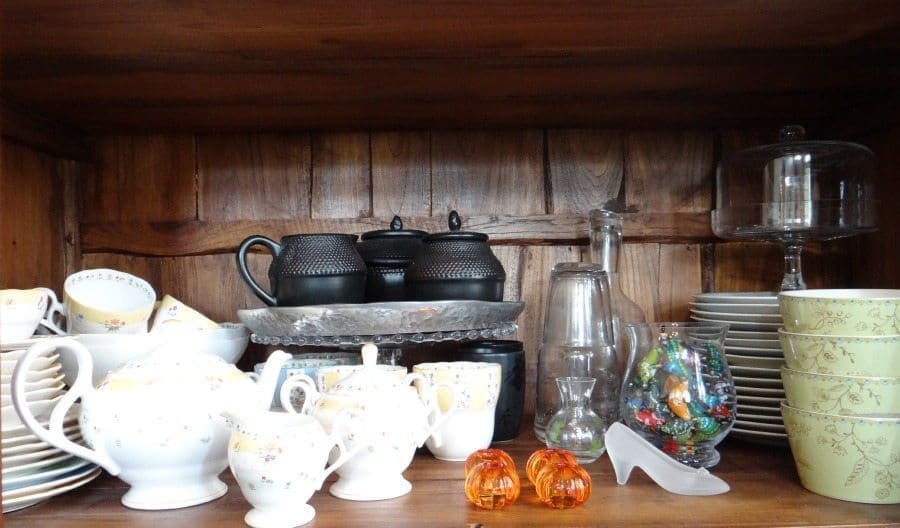 Use trays to group items together and style your china cabinet.
For example, my dad gave me the Cinderella shoe you see in the pictures when we first went to Disney, and my sister gave me the dark tea set when she first visited me here in the US after I left Brazil.
I cherish each of these items, and I like to think that by displaying them in a beautiful way and in a place that I'll see every time I use the china cabinet, I'm honoring my loved ones.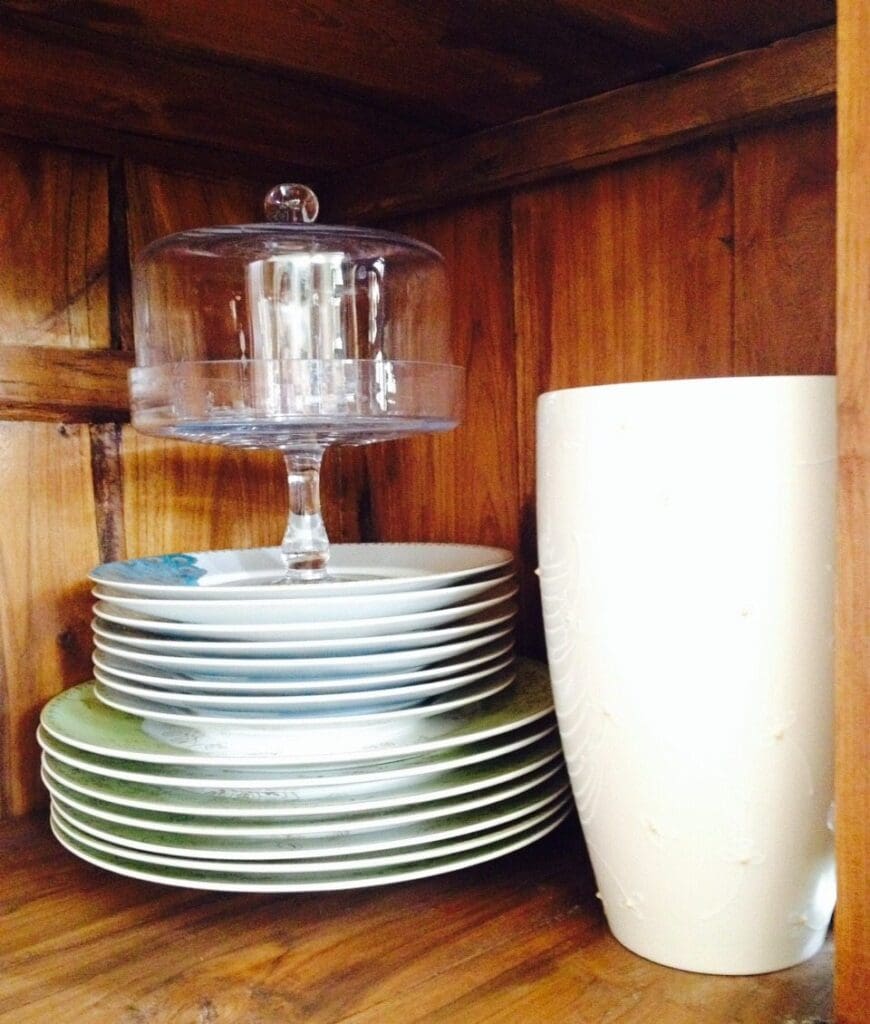 We bought this vase while living in Japan, and this set of china has my favorite colors!
2. Looks Are Good, And Function Is Awesome
So while the cabinet can look good, it needs to be organized to be functional and a pleasure to use what we have.
Believe me! If I had to dig through dusty boxes in our garage every time we wanted to use a china set, you can be sure we'd never (ever!) use it. I'd forget them, and one nice day I'd say: if I haven't used this set in the last X years, I most likely don't need it, so it should go.
Sad right?
After all, you or a loved one invested time and money to purchase your china set, and I'm a firm believer that we should use everything we own or just let it go.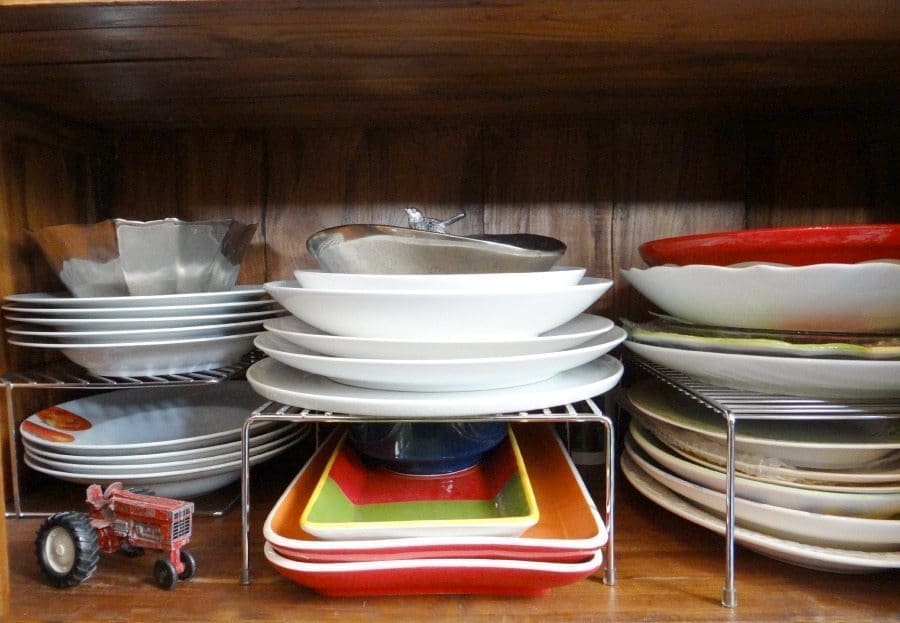 Pasta dishes are deeper and wider than regular ones. Use corner shelves to store them.
So to keep my platters and dishes organized, I use the same tools I use to organize kitchen cabinets: shelf riser
, corner shelf organizer
, trays,
and cake stands
.
In the image above, you can see that I increased the storage on the bottom shelf of the cabinet by using shelf risers and can store most of our serving platters here.
By using this organizing tool, I also make it easier to pull out any of the platters. This way, I don't have to bring out the whole (heavy!) pile of dishes to get the one I want.
Tip: to avoid scratching the dishes, I use small towels (washcloths) or bubble-wrap between them.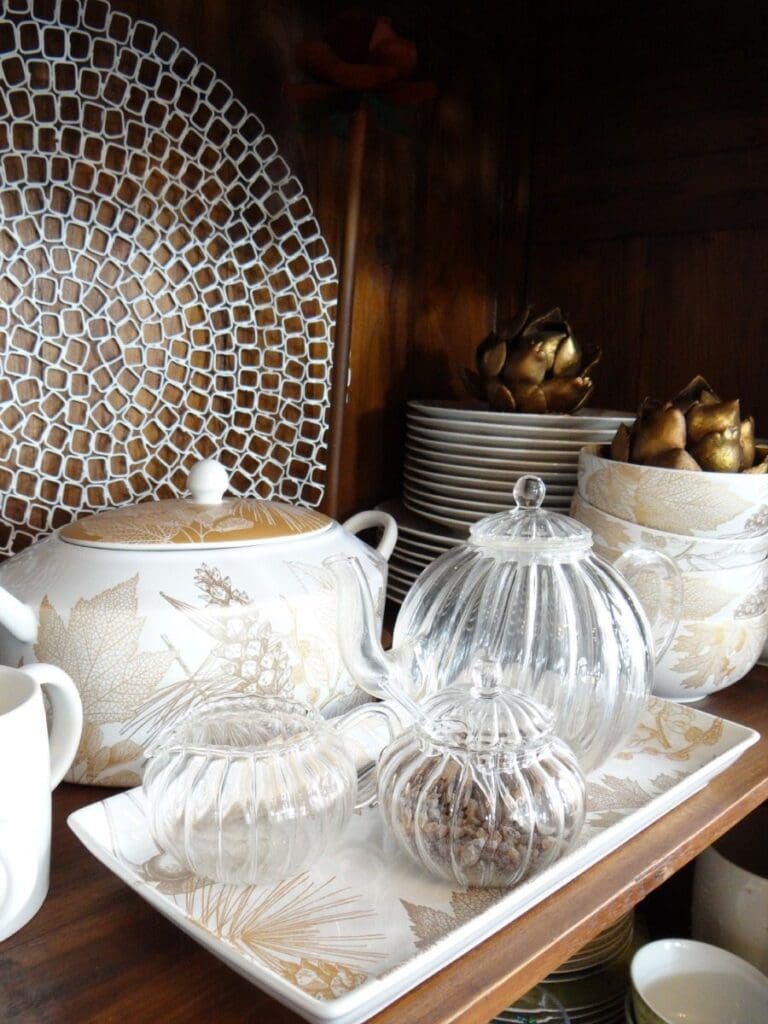 My favorite tea set is ready to go!
3. Have It Ready to Go
I love drinking tea and enjoy serving it in beautiful sets like this one.
My friends also enjoy the experience, and having everything ready to use is so much easier, giving me more time to enjoy my friends instead of digging through a cabinet.
Keep your favorite set on a tray and enjoy your favorite drink in style anytime you feel like it!
I hope these china cabinet organizing ideas help you get yours organized and styled the way you love.