Moms and dads are always at the top of everyone's list, except of course when you have kids 😉 But still, they are a priority and I personally take great pleasure keeping an eye out for gift ideas for moms and dads throughout the year. Yes, I'm a "year-long gift shopper"!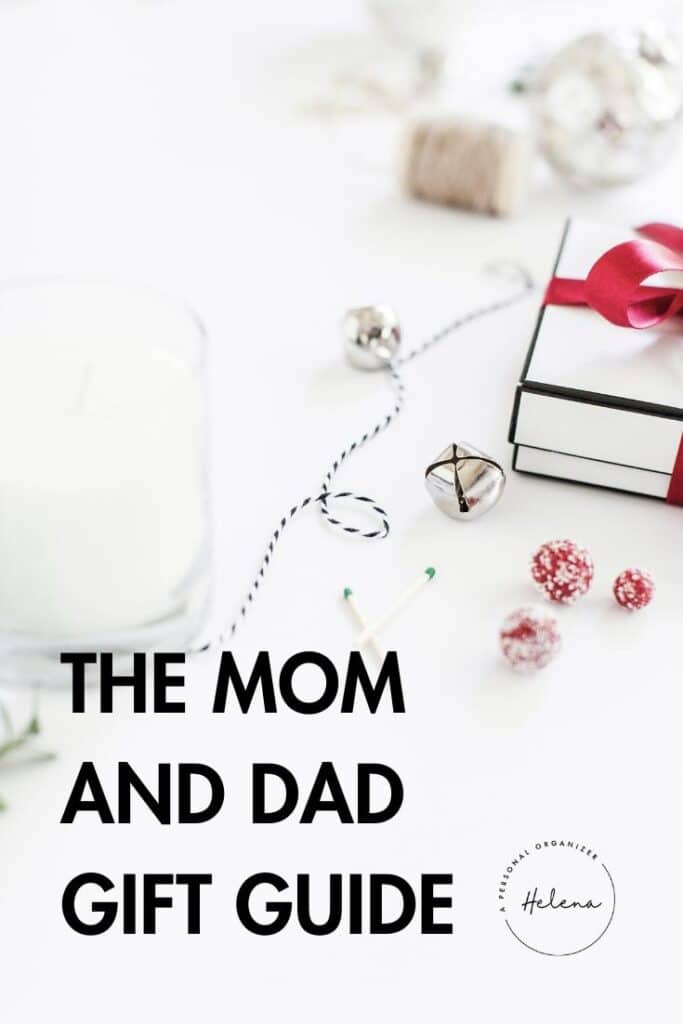 Since my parents live in Rio de Janeiro, Brazil, I buy their birthday and Christmas gifts whenever I see something special and bring it with me when I go to Brazil to speak at the annual Personal Organizer Conference or when we go on vacation with the boys.
This year, for example, I gave them a Hoka (aka, the most comfortable tennis shoe you'll ever wear!) among other gifts.
Whether your parents live far, far away or you're super lucky to have them close, here are some lovely gifts for moms and dads that will make them feel like the special people they are!
Something Special For Mom
My daily wardrobe consists of very basic and classic items that I can mix & match easily but when it's time to dress up, I like to have fun!
Here are some items you'd find in my "date night" closet. If your mom is using the "same old, same old" pieces to get dressed when she goes out on the town, I bet she would love a gorgeous new dress, skirt, or blouse to add to her go-to pieces.
Something beautiful to carry, some added sparkle around her neck, or a bold new lip color would all be very welcome gifts.

For The Mom That Needs A Break
Some moms are constantly on the go. Between taking care of the house, the kiddos, and working a full-time job, they never get a break.
If that's the case, treat your mama with a soft robe, a gift certificate for a spa, a subscription for ready-made meals, or even better, monthly cleaning services to lighten her load!
Consider subscriptions like HelloFresh, cleaning services or a monthly wine delivery service. Mom will love these gifts that will make her life easier throughout the entire year!

Gift Ideas For Dad
Some people feel finding the perfect gift idea for dad is hard. But it doesn't need to be! Finding the perfect gift for dad is sometimes as simple as thinking about what they like. Do they like to travel? Do they love shoes and accessories? Do they enjoy a smart cocktail at the end of the day?
No matter what the dads on your list are into, you can find the perfect gift for them. Remember to keep it personal to their tastes and they will definitely love what you gift them.

Wrapping It Up
Gift-giving doesn't need to be complicated or extravagant. At the heart of a great gift idea for moms and dads is the thought that you put into noticing what your mom or dad would really love to have that would make their day and their new year a little brighter.
Are you looking for some more holiday inspiration? We've got you covered! Check out our gift guide for the organization fanatic on your list, our tips on throwing a fabulous holiday party, how to host a brunch for friends, and grab our holiday organizing checklist!