How to Organize the Entryway
This week, we are going to focus on organizing the entryway and creating a space to take off and land each day.
Your entryway is the first thing people see when they enter your home. In addition to being the front piece of your house, it is also the main jump-off and landing spot for you and your family.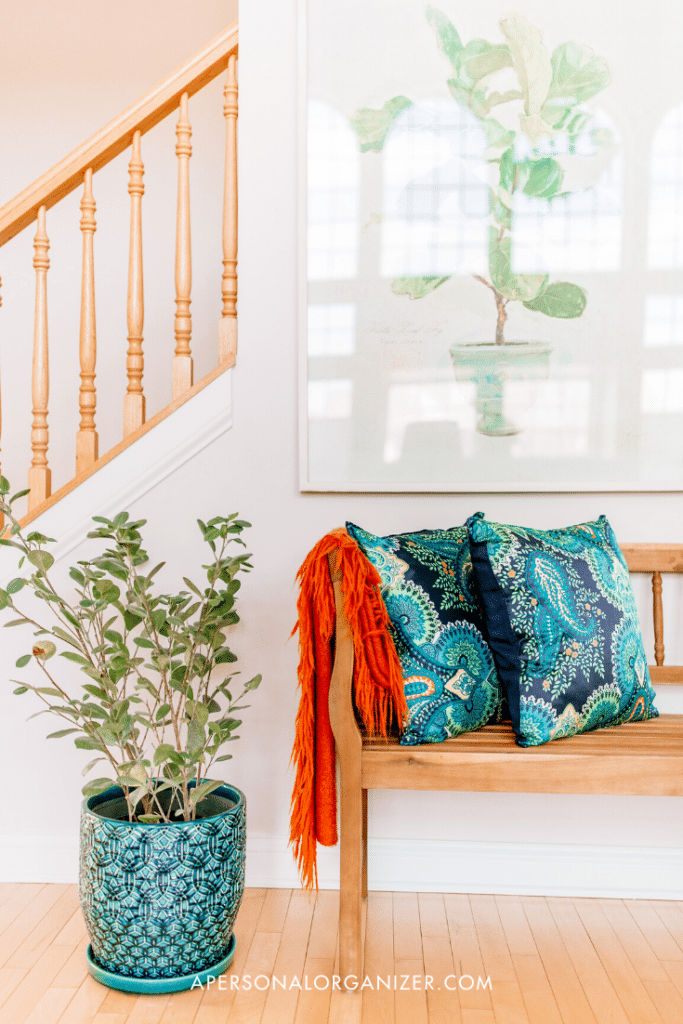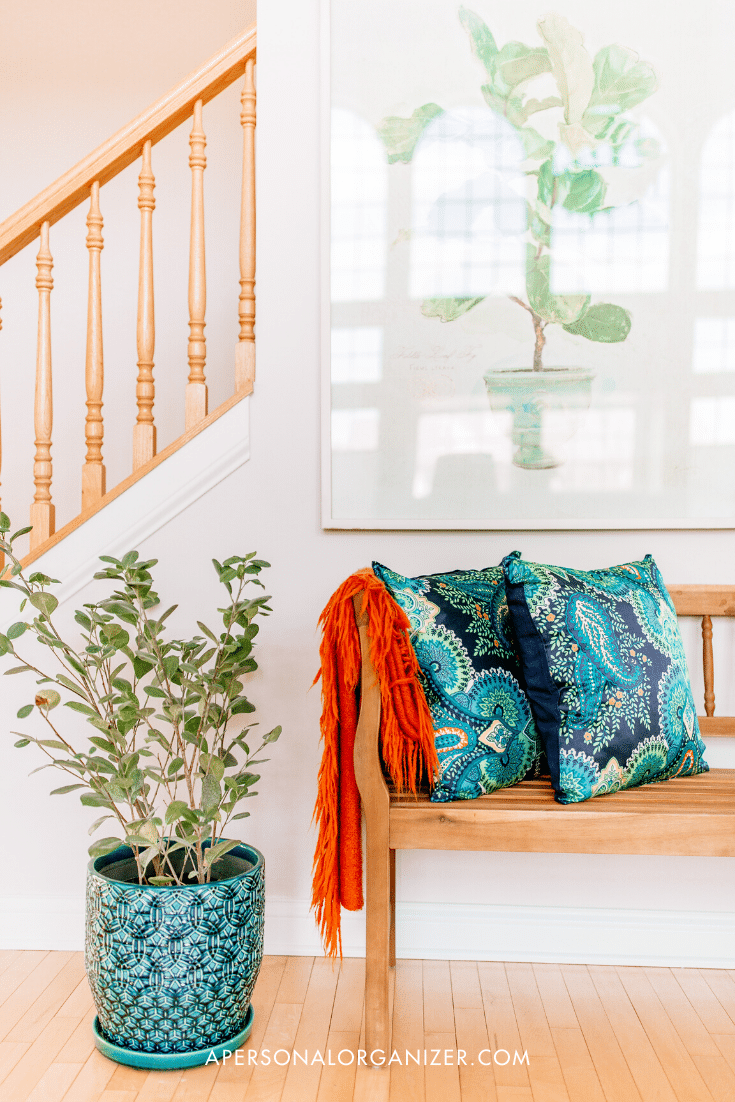 Your entryway plays many roles each day, for you and every member of your family.
As you leave and return from work and school, after-school activities, errands, and outings, it has to give you a place for everything you need. Because this area of your home needs to work so hard, you must have a way to keep it all organized and work hard for everyone.
To accomplish that, we will look at the different ways you can keep your entryway organized to get the maximum function out of it, no matter how big or small it is. Next, we will take a deep organizing dive into a specific part of your entryway, your front closet.
Let's get started organizing your entryway!
As always, begin this organizing project by taking everything out of your entryway. Next, sort through what you need to have there for your every day, as well as your kids and partner's daily landing and launching needs.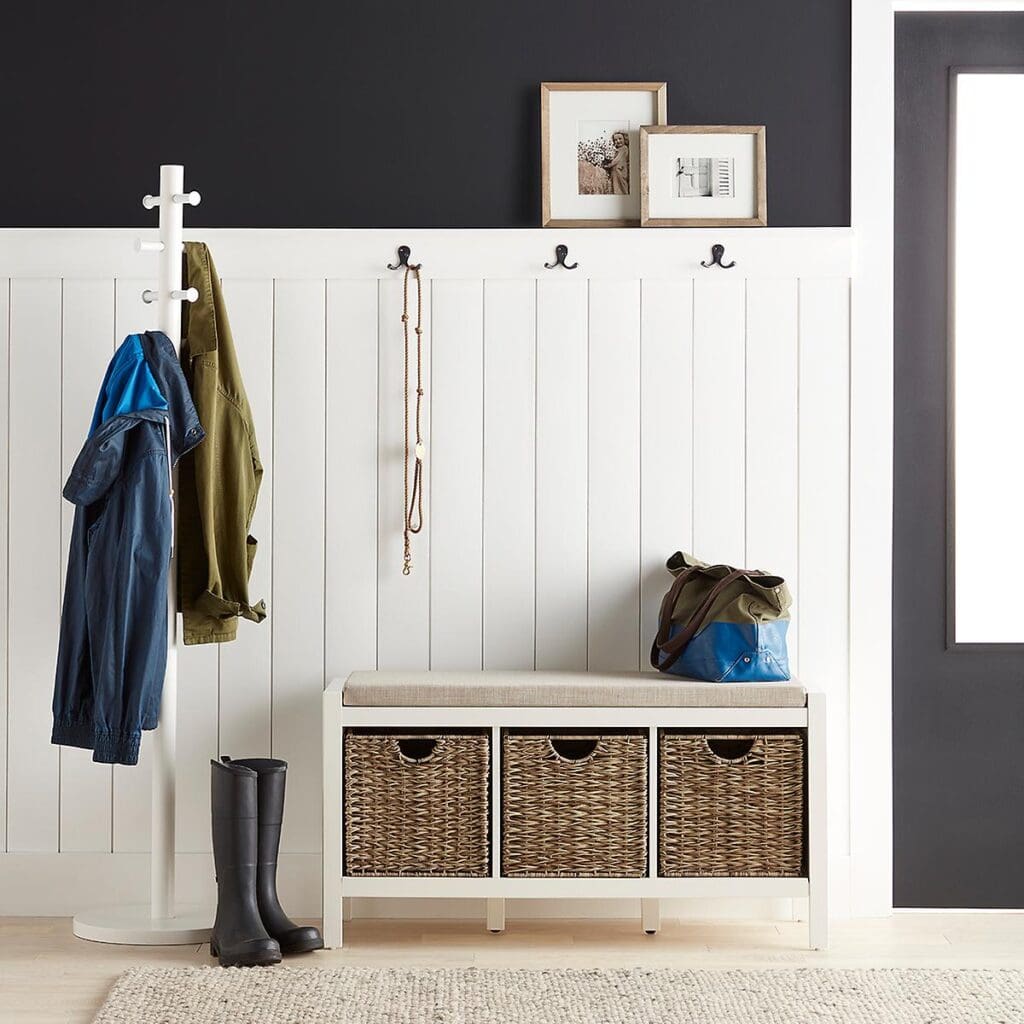 No matter the size of your entryway, there are some key components that we think every great entryway has.
Here's our list of entryway heavy hitters.
Great lighting is vital to bringing your entire home to life, and this is just as important in your entryway. If you don't have built-in spots to do the job, consider adding pop-up lighting for this space.
An entryway rug does more than add a beautiful design to your entryway; it helps keep dust at bay. Adding a rug to your entryway will reduce the dust we track from outside that accumulates in your home.
Having hooks and bins to hang bags, coats, and accessories is crucial to maintaining an organized entryway. If you are blessed with a roomy entryway closet, many of these things can be kept inside. But it is still nice to have some hooks and a bin or basket for a quick place to drop stuff off before they get fully put in their homes.
In the big picture, your entryway is a landing space for your home. We need to consider what we need this space to do for us. We need a place to drop keys, wallets, purses, mail, and shopping bags.
---
Let's look at some ideas to organize a narrow entryway or a small space.
Smaller entryways or foyers may lack built-in storage you need to stay organized, such as closets and shelving. The good news is that all you need is creativity, and you can create the storage you need. Here are our best tips for organizing a small entryway.
Add a bench and a mirror. If your space allows, adding a seat and mirror can give you a lot of bang for your buck. By combining these items, you have a place to check if everything is in place before you leave for the day,
Bring in bins and baskets. If space allows, you can add a bench, as we mentioned above, and choose bins that slide nicely underneath. Entryway baskets are excellent for storing hats, gloves, scarves, shoes, and other accessories.
Add a standing coat hanger or wall-mounted hooks. These can be used for bags, coats, umbrellas, and other things that work better when hung rather than in a basket or bin.
Consider a wall-mounted shelf if you don't have the real estate for a table in your entryway. A floating or mounted shelf will give you a place to store your keys and wallet.
Use the back of a door nearby to create storage for everything you need.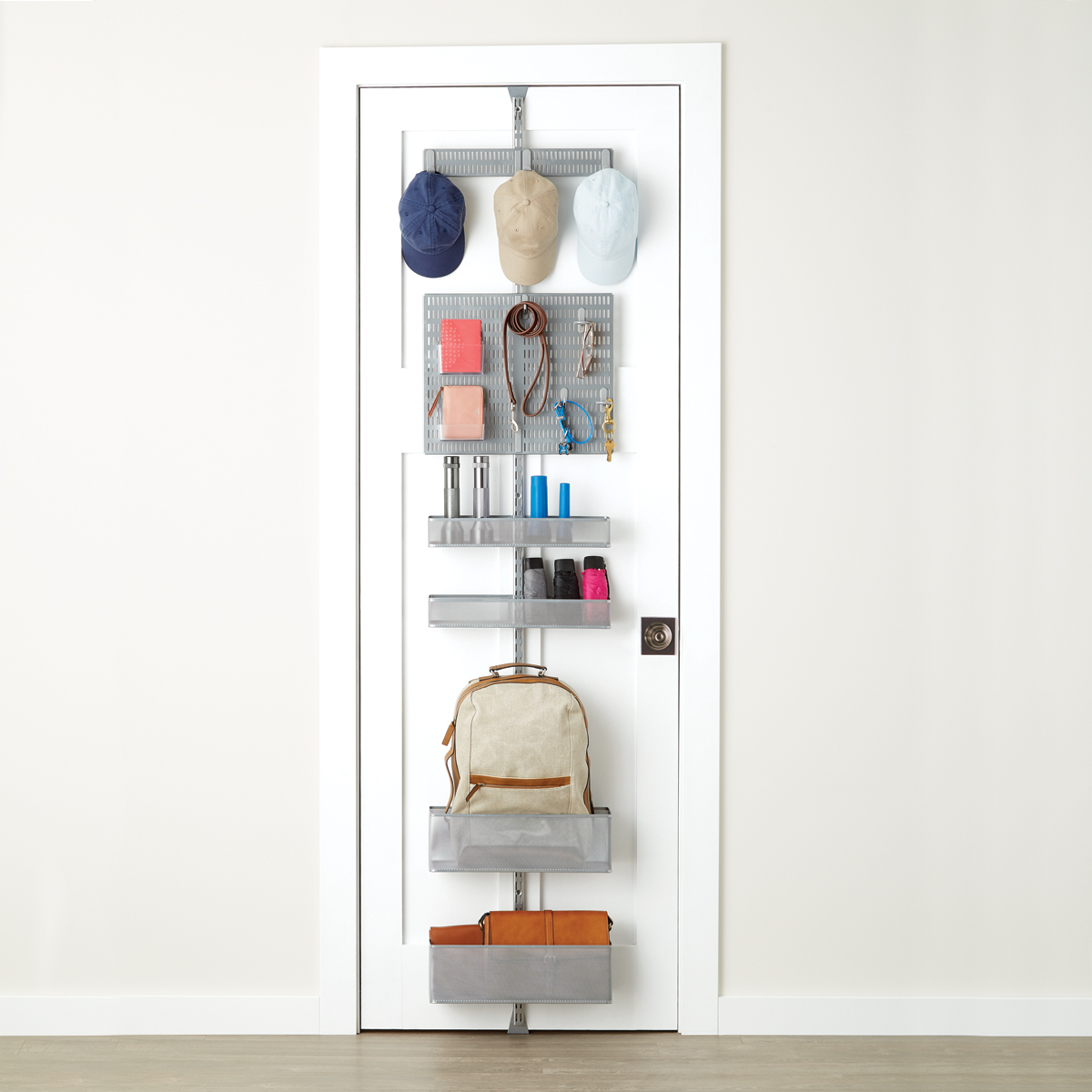 Now that we have looked at some of the best ways to create beautifully organized functions in your entryway let's look more specifically at your front or entryway closet. If you don't have a front closet, apply these organizing ideas for the closet where you keep items like coats, bags, sports equipment, umbrellas, boots, and shoes.
---
Organizing The Front Closet
First, we'll begin as we always do when decluttering and organizing by removing everything from the closet – coats, gear, shoes, scarves, gloves, and bags. When decluttering, it is essential to clear your space so you can later be intentional with what you put back.
Sweep or vacuum the floor of the closet and wipe down any shelving. Tip: I like to keep my vacuum cleaner ready to use when organizing a project. This way, it's easy to clean those areas while I already have everything pulled out.
Time to sort! Next, review what you removed and see what belongs here and can be rehomed to another area. To help you decide, think of how often each item is used if the answer is not that often, it may not need to take up space in the front closet.
You'll want to think of the best way to utilize your space there. Invest in some quality wooden hangers for coats, and see where you can use baskets or hooks for additional storage options. Add your items back into the closet.
Next, hang coats, put small accessories in baskets on shelves or the closet floor, and neatly hang bags from hooks.
Finally, to keep your front closet beautiful and functional, mark your calendar for when you will clear it out each season. Doing this a few times a year, like every changing season, will keep this area in a prime organized condition.

<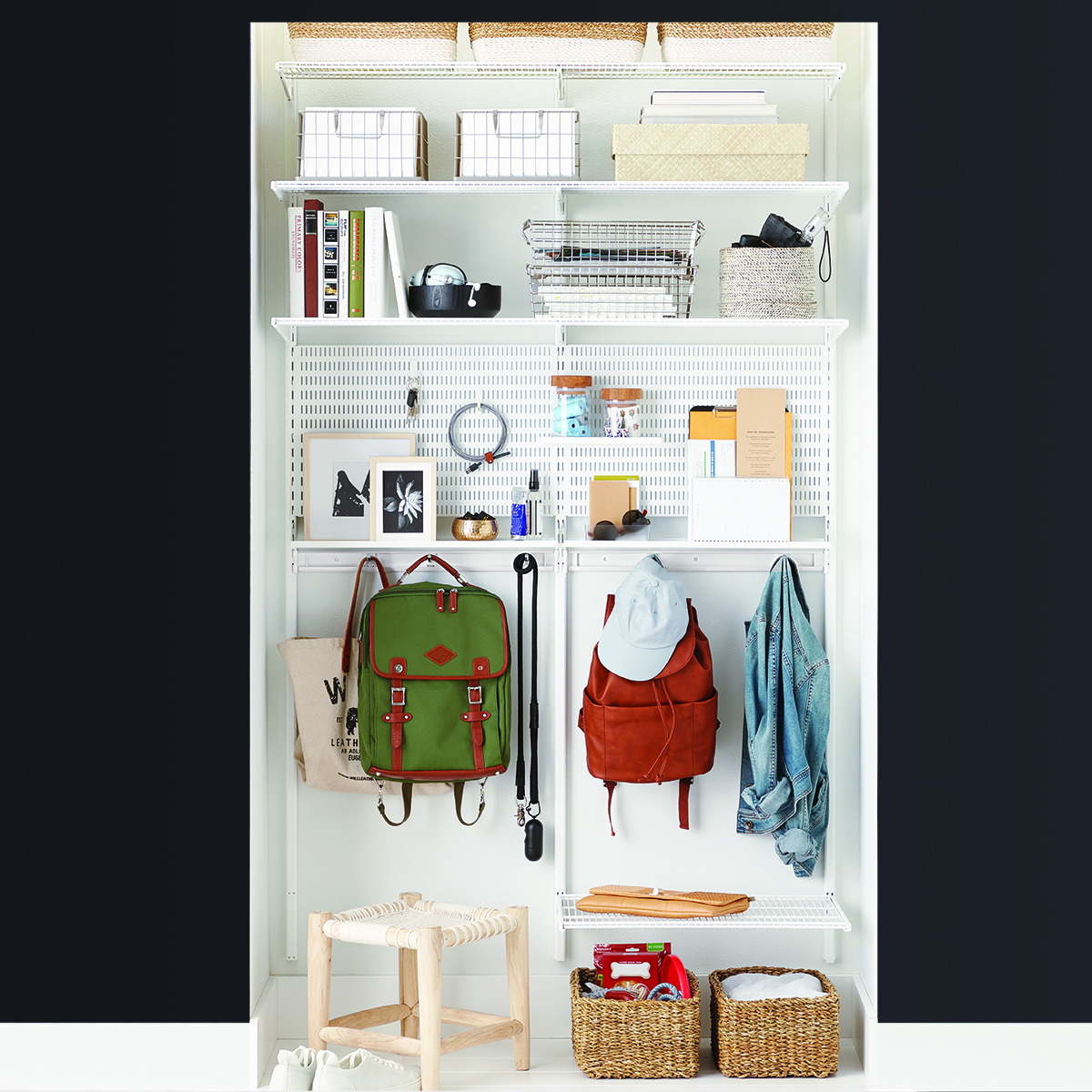 Wrapping up
By this time, your entryway should be looking and feeling fabulous. After a long day, you will love being sent off and greeted by such a streamlined and organized space.
Do you know what else you will love? The extra time you now have is because you are not running around looking for kids' backpacks, car keys, and wallets at the last minute as you are trying to leave the house.
Organizing Planners
Decluttering & Cleaning Planner
Kick overwhelm to the curb with all checklists and forms to organize your home from top to bottom and the cleaning printables to plan a cleaning routine unique to your family's needs and schedules.
Want more inspiration for organizing and styling your entryway? Check out these reader-favorite posts!
More Home Organizing Tips
Tips and ideas to help you prepare and enjoy this special holiday with your friends and family.
Entryway Organizing Products