It's the first week of The Home Organizing Challenge and we are off to an organized kitchen!
This week, we will focus on organizing the kitchen, which is the hub for the life and activities of your home. The kitchen is one of the most used, most loved, and essential rooms in your home.
Did you miss last week's post on How To Prepare For The Organizing Challenge? Click here to get those checklists and set yourself for success!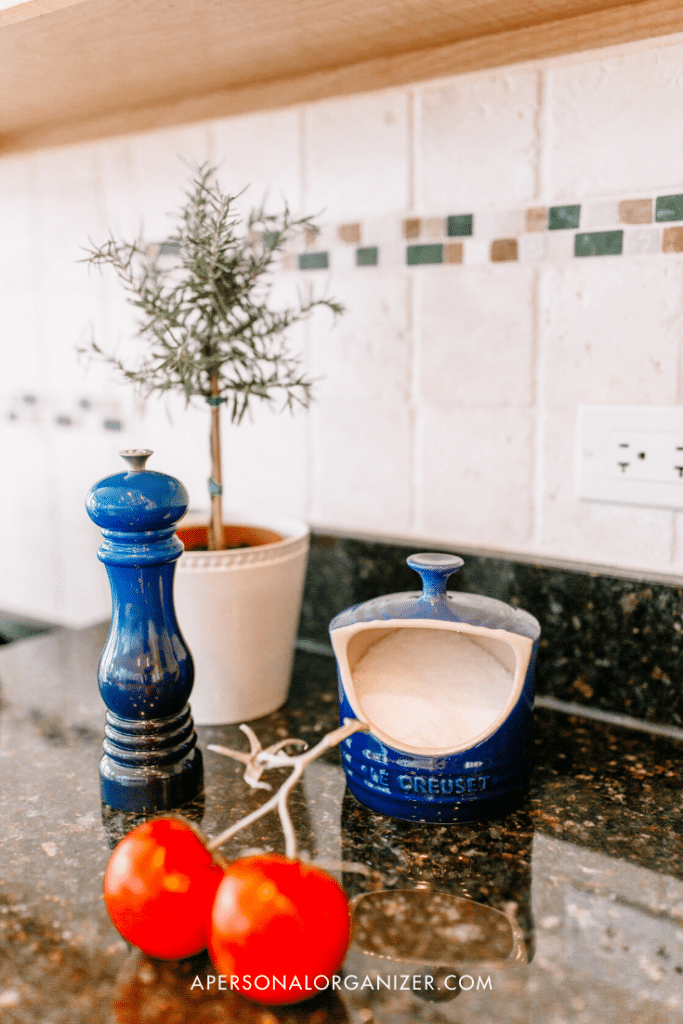 The kitchen is a hub for the life and activities of your home.
This most critical room creates three meals a day and countless snacks. It's a gathering place for friends and family and is the first place you visit in the morning. It's where we organize life and a meeting ground for everyone.
Precisely because your kitchen is so significant to your home and your family, it should always be decluttered and organized. Organizing it is how you can make it be the workhorse of a room you need it to be.
A space that gets so much use can get cluttered up and disorganized fast.
And this is why we are going to get started here!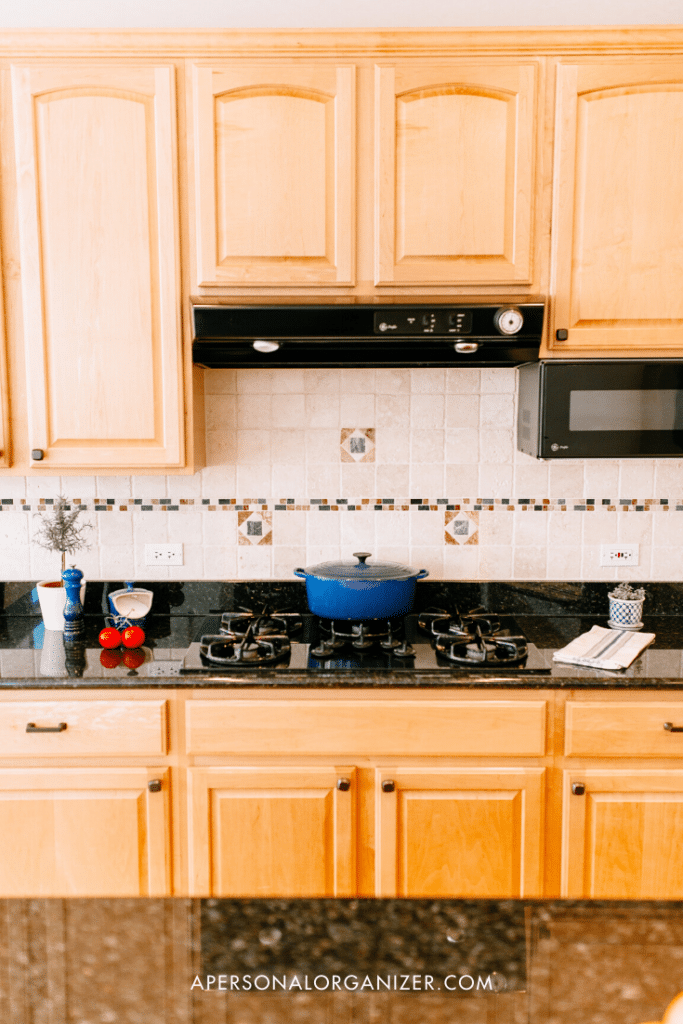 We will break down this week's challenge into the key elements to help you make the most out of getting your kitchen organized and running like a well-oiled machine.
Let's get started! First, we'll focus on getting your whole kitchen decluttered, cleaned out, and organized. Then we will take a deep dive and focus on cleaning out and organizing your refrigerator.
Follow these steps to get your entire kitchen decluttered and organized.
Set up a space for "keepers," donation, and a trash bag. You can see the Prep–Work list here.
Now is the time to be ruthless when it comes to getting rid of things that no longer serve you. Empty out every cupboard, wipe down the inside and the doors.
I like to have my vacuum cleaner ready to use when I declutter and organize. It's the perfect time to get to every corner and leave everything clean.
Next, go through the items in each and every cabinet. Get rid of anything that is broken, is missing parts and pieces, or you just do not use anymore. If it is supposed to have a lid and doesn't- get let it go.
In your silverware drawers again remove everything. Clean the drawer and the tray. Get rid of anything that you don't use, is broken, or missing pieces.
Your counter is up next. Take everything off. Wipe it down. Now, only replace things you use every day, like your coffee maker. Find a new home for those other small, occasional use appliances. You should have the room now in one of those cupboards you just cleaned out.
Go through your spices. Expired, stale, don't use it? Toss it. Now organize them in whatever way makes sense to how you use them. Some choose alphabetically, some by what they are used for.
Almost finished! Head to your under-the-sink cabinet and again remove everything out. Wipe it down, inside and out. Now put only the things you need back in an organized way. Use inexpensive tubs or bins to store cleaning products and sponges (remember to store chemicals up in an out-of-reach area if you have little children at home). Corral all of those plastic bags.
---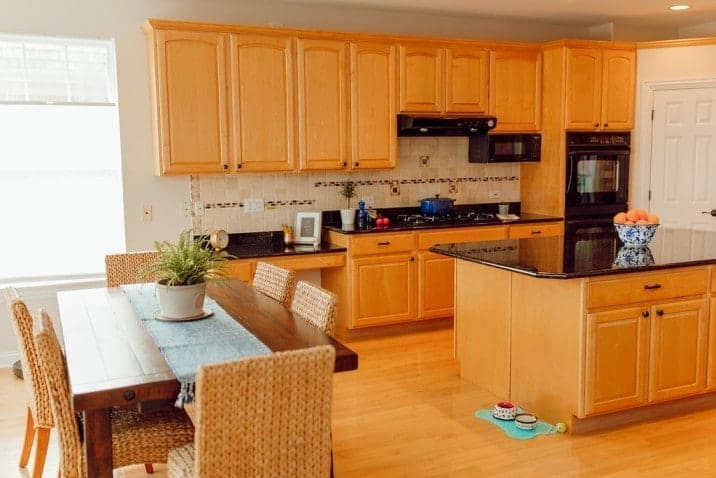 Breaking down a larger project: Organizing The Refrigerator
Now, let's take a deep dive into your refrigerator and break down how to declutter, clean out, and organize, this specific (and super important!) part of your kitchen. An organized refrigerator will save you time and money and help your whole family eat healthier. Sound great? Let's do it!
Start as we always do by clearing out. Take everything out of your fridge. Now go ahead and check the dates on your food and condiments, get rid of anything that is expired.
Take out all of the shelves, drawers, crispers, and trays and wash them as per their instructions. Wipe down the inside of the refrigerator and place all parts back.
Place the food back into your clean and sparkly refrigerator. Aim to organize like items together but you may prefer to create kits by mealtime, like breakfast, lunch, snacks, and dinner. Remember when you are organizing the best organization is the kind that fits the way you do things.
Now, repeat the same process of remove, purge, clean, replace with your freezer. A good rule of thumb with frozen food items is that if they have been in there for more than 6-8 months you should probably get rid of them.

I love these bins to organize the freezer into sections: raw meats, cooked meats, frozen fruits, and vegetables, and so on.

For the last step, you'll want to take everything off of the outside of your fridge and give the surface a good cleaning. Now, place only a few magnets back. This step is probably hardest for those with young kids, as the refrigerator easily becomes an art gallery. A good solution is to create another area in your home that is specifically for your kids to show off their artwork.

These frames are awesome to create a rotating exhibit of your kids' art and school work. It's amazing how much more organized your kitchen will look when the outside of your fridge is streamlined.


Now take a look around! Your kitchen is ready to start working as hard as you do.
For more on how to organize every little part of your kitchen, check out these reader favorite kitchen organizing posts:
Organizing Your Cookbooks And Recipes
Top 10 Kitchen Organizing Tips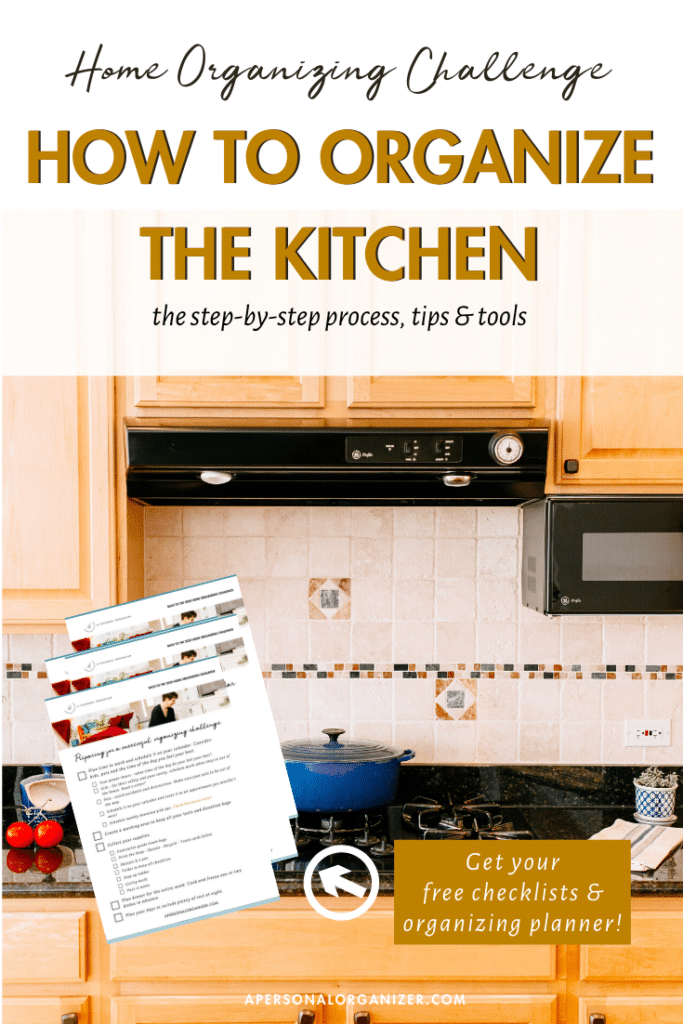 Remember to enter your email below to receive the 16-Week Organizing planner & all the checklists for the challenge!