In this week's challenge, I will be helping you organize your home office. If your kitchen is considered to be the center of warm family gatherings and buzzing day to day activity, your office is the brains of your home. Whether you work from home or use this space to pay bills and organize your family calendar, an organized home office is a must to keep your home and your routines running smoothly.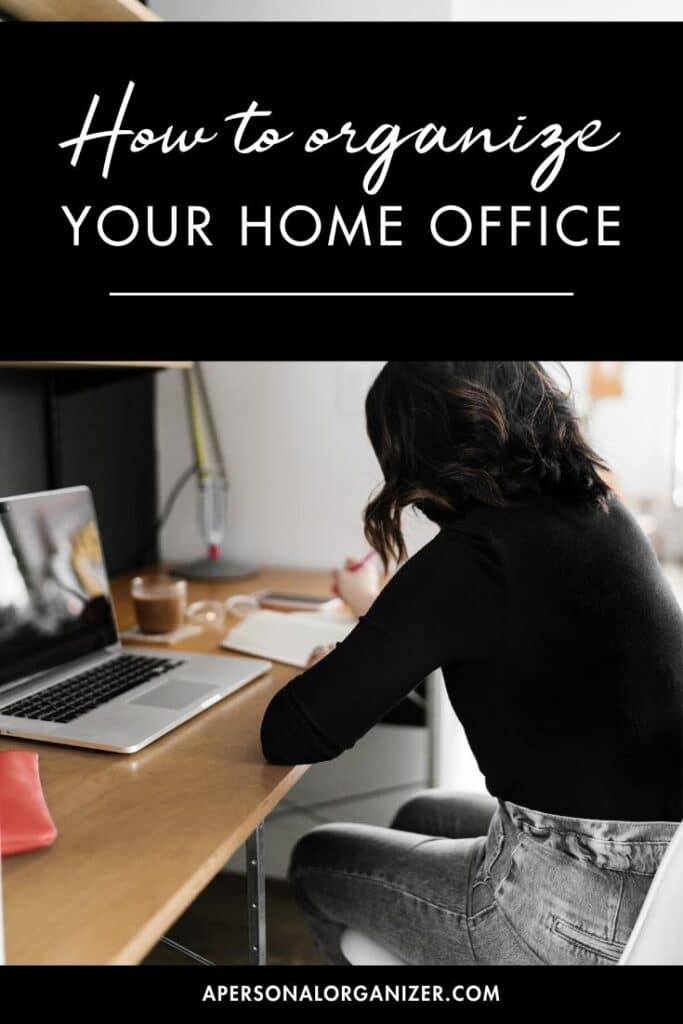 How To Organize Your Home Office
Before you start organizing you may want to take a trip to your local container store and office supply store and grab some items you might want for this project. Don't forget o measure before you go! Some things you might need to organize your office are:
Drawer separators or small boxes
File folders
Magazine racks
Paper trays
Lidded boxes
Tabs and labels
Pretty storage for the top of your desk for pens, pencils, small office items
New pens, pencils, clips
Now that you have some new tools and supplies, let's get started with the step-by-step of how to organize your home office.
Clear out the top of your desk
Clear out your desk cabinet and drawers and sort items into like piles
Don't put anything back until all areas have been emptied out decluttered and sorted
Wipe drawers, surfaces, and cabinets
Rehome everything that doesn't belong in your home office
Organize the contents of each pile and think where you would like to have them.
Organize your home office according to what you use most often. Put the items you grab for on the regular in desk drawers. Place less used items on higher shelves or in cabinets.
When organizing your drawers use boxes or drawer separators to keep all of these small items like paperclips, pens, and pencils, staples, etc organized.
Use magazine racks and file folders to hold items that you need but don't want to be visible all the time.
Make a habit of resetting your workspace at the end of each day so it is organized for you to start your next day
---

---
Deep Dive: Creating an office area in a small space
Don't have a dedicated office space? Not to worry. We are going to give you some ideas on how to set up an office space in a small space.

First, you will want to decide on the best place to create your office space. If you have young children and need to harmonize child care and work time, it may be helpful to create an office area in the hub of your home where you can pop in and out of your work throughout the day. Alternatively, if you have young children, work from home, and have regular child care, you may need a more separated area to get those work hours in. I have seen people make office spaces in their kitchens, in their family rooms, in entranceways, and even in closets.
Want to keep it super mobile? You can create a rolling office on a multi-shelved cart. Believe me, with the right tools and inspiration you can literally create an office space anywhere.
You only need a few things to make a small office space work. Here are a few things that will transform any area, no matter how small, that will help you organize your home office:
A surface to work on- This can be any kind of table or desk, whatever suits your space best
A place to hold papers and files– Here your space will dictate what will work best. If you are short on surface area, you may want to use wall-mounted options. If you have a larger surface area, you can use paper trays or magazine holders. You can also add a rolling or portable file cabinet to this space if it allows.
A calendar- Wall calendar, desk calendar, or pocket planner- whichever you prefer and fits best.
A corkboard, whiteboard, or any combination of the two- These items are great for making notes, displaying important lists, and keeping tasks organized.
Conclusion
Whether you have an entire room dedicated to your home office or a small space that you use for this purpose, these tips will help you keep the brains of your home and your work running smoothly. What kind of office spaces do you have? Do you like your office area blended in with the rest of the family spaces or do you need separation? I'd love you to share your office set-u pin the comment.
Don't forget to tag us with your home office transformations (or questions!) with #
We'd love to see how you organize your home office!
See you for next week's challenge!