This post may contain affiliate links for your convenience. If you click on the link and purchase the item, A Personal Organizer, LLC. may receive a small commission at no extra cost to you. 
Happy Home Binder: The Perfect Way To Organize Your Home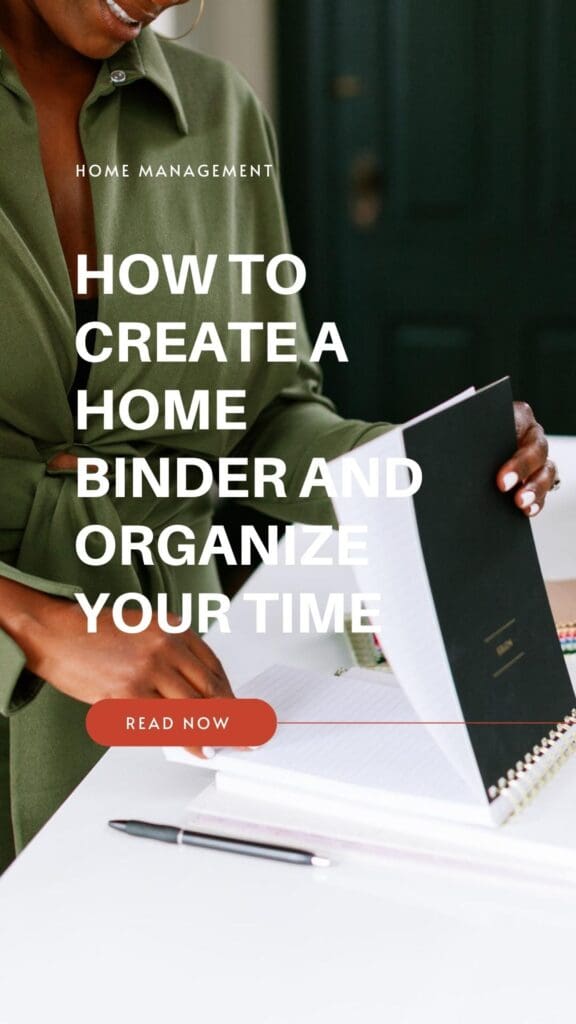 We have been talking about the benefits and the many ways a home binder can help you organize your family and life. Today I want to share with you how you can create yours, what sections to include, the materials you'll need, and the must-have information to make this the most helpful tool in managing your home.
There are many things and kinds of information you can include in your Home Binder: a monthly calendar with your daily schedule, weekly calendar, monthly meal plans, service providers, and copies of important documents like birth certificates and important papers. A home binder is a simple solution to create a central place, for easy access to the information you need on a daily basis for the management of your home, family, and life. It's a complete game changer and an absolute favorite of mine.
A home binder is one of the best ways to get organized. With each family member having different responsibilities and activities, it can be challenging to manage daily life, but a home organization binder makes sure nothing slips through the cracks.
It is easy to get overwhelmed when looking at everything you can include in your home management binder. But you don't need to build your binder all at once! This blog will break down the steps for creating your home binder and make it fun and easy for you to make. Think of it as a crafts project!
1. Gather Your Supplies
The first step to creating your home management binder is to gather all the supplies you will need.
You will want a physical three-ring binder that can hold large sections and be easily flipped through. Your binder should be durable plastic so that spills will not damage the binder. I particularly love this one from Staples which is durable and will resist the test of time. It comes in different colors and sizes allowing you to pick the one that matches your family's needs.
The binder will also need section dividers, divider tabs, and sheet protectors. I also like to include pages for business cards which is an easy solution to keep the contact information of local businesses in a centralized location.
You can place each printable sheet on the plastic sheets, a transparent plastic pouch that will keep your paper clean and from ripping.
When creating your own home management binder, gather regular arts and crafts supplies. A few of the items you may want to have handy are scissors, hole punch, pens, markers, and glue to ensure you have everything you need. A label maker is not a must but very good to have to create a clean look on your tabs. Also, to print your forms -if you are using free printables or a PDF file- you want a good printer.
2. Create Necessary Sections & Categories
Each family may have slightly different sections and categories in their binder, depending on what areas of your life you want to organize.
What is necessary for your binder also depends on your family life and the structure of your living situation. For example, you may or may not have kids, or pets, live with multi-generations or have chronically ill family members. However, there are a few common categories that can be helpful for all families.
These are the recommended categories, but you can pick and choose which ones you want to include and even create sections that fit your needs.
In any case, most home binders will include a cover page – you can have fun with this and create binder covers for each season!
3. Calendar & Personal Information
A family calendar is an essential part of your family binder since it will help you keep track of everyone's whereabouts.
The family calendar also makes it easier to manage driving schedules and plan where each family member will need to be, and what materials need to be organized in advance, like sports uniforms, musical instruments, etc. You can add events such as your children's sports practices, art classes, and other extracurriculars.
It is even helpful to add your events and responsibilities, such as work meetings, business trips, and plans with your friends. A family calendar makes it easy to spot schedule conflicts in advance, making planning easier.
4. Food & Meal Planning
Grocery lists and meal plans should also have their section in your home management binder.
A weekly meal planner makes it easy for you to efficiently plan out your shopping lists and use multiple ingredients more than once. This allows you to save money on groceries and decrease food waste. Keeping a grocery list in the family planner also makes it easier to know exactly what you are shopping for in the grocery stores.
You can also create your meal plans with the rest of the family so that everyone gets to pick a meal during the week. This helps involve all of your family members and keep them interested in the home organization.
Other lists you can include here to help you manage your menu plans are a pantry, fridge, and freezer inventory list. If you buy in bulk and keep an emergency pantry well stocked up, keeping this inventory is a must to avoid missing expiration dates and wasting food.
5. Budget
A home binder is also excellent for budgeting and keeping track of the family's finances and you can create a financial section in your household planner.
You can keep receipts in this section, store your physical bills, and track when payments are due. This makes it easier to write off work items during tax season or even track how much money you have spent in the month. Budgeting and being aware of your family's finances make it much easier to save money for your future.
Handy tip!
The best way to delegate chores is to manage who should do what chores each day in the family planner.
6. Chores & Home Maintenance Tasks
The best way to delegate chores is to manage who should do what chores each day in the family planner.
Having assigned chores written down makes it so that each person is responsible for their task. In addition, you could rotate the assignments so that each family member helps out with cleaning a different part of the house each week according to their schedule and abilities. This makes sure you won't be left with one person in your family doing all household chores.
7. Homework
Keeping track of when your child has to turn in homework and school projects can be challenging, particularly if you have more than one child. However, writing down due dates in the family planner helps everyone visualize when everything is due. This will help your children earn better grades since they will be on top of turning in their assignments which will help them get full credit. Having a homework section in the family binder will also help your children build good habits and learn to be responsible for their work and complete their assignments early.
8. Medical Information
Keeping your dental and health information handy will save you much time and grief when you need this information. Even if it's the basic stuff like primary care physician and dentists contacts, date of last visits, and copies of the kids' vaccination record in your household binder.
We usually keep these records on family files in a home file and if something isn't handy, we tend to postpone that phone call or fill out school forms because we know we'll have to dig for them.
9. Address Book
Nowadays, with nearly everyone having cell phones, address books may not be as common as before. But suppose you have younger children, or you want everyone in the family to have access to specific emergency contacts, it may be wise to include an address book or an emergency contacts sheet which is a great way to give everyone access to essential information.
An address book is also an excellent way to keep a physical copy of the contact information of your friends and family's phone numbers, addresses, and other important information. This way, you will have all the vital information if you do not have access to your phone or your phone suddenly dies.
Keep your Home Binder in a central location. The kitchen is an excellent place, as in most homes, this is where we all gather at the end of the day and where you can regroup and take a quick glance at what's coming up for everyone first thing in the morning or at night around dinner time.
Our Home management printables make it easy to create your home binder and family planner. For example, the ultimate home management binder includes menu planners, a weekly planner, a printable calendar, a daily cleaning schedule, and a chore list. That way, you and your family members can have all of your information, responsibilities, and chores organized.