The New Year Is Almost Here. It's Time To Talk About The Ultimate New Year's Organizing Challenge.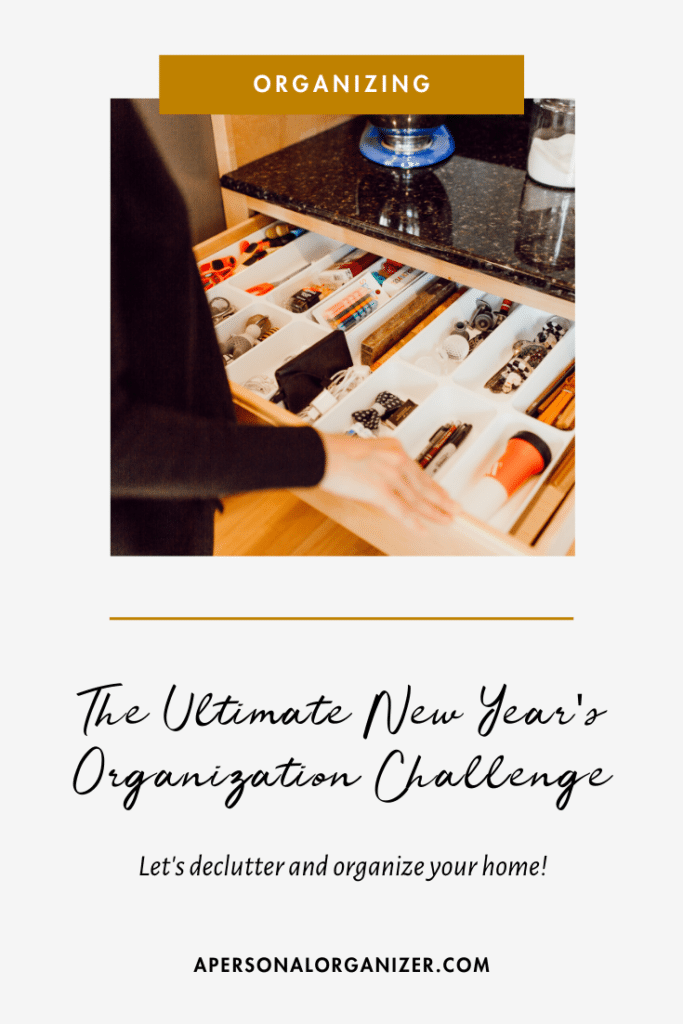 If you have made a new year's resolutions to get organized and stay that way finally- you are in good company. Getting organized is one of the most popular resolutions that people make come January.
And it makes sense. Everyone wants to start the new year on a fresh, decluttered and organized foot.
But genuinely getting organized and staying that way is not a quick fix. It is, however, totally doable, no matter what your current situation or level of order (or disorder) lies.
Real organization occurs when we begin by decluttering and then organizing our homes in a way that suits the manner we use it.
The final step? Creating and implementing a system that will allow us to maintain the order we created quickly.
If this all sounds exactly like what you would LOVE to do for yourself this new year, you are in the right place. Enter the 2020 Home Organizing Challenge.
[convertkit form=1156803]
This reader-favorite challenge has helped over 1,000 people to realize what it means to be an organized person finally! Here's a sample of what we'll be doing:
We are going to kick off January with a decluttering and organizing challenge that will take you well into spring with a completely decluttered and organized home.
Each week, starting in January, there will be a new printable-one for each area we are going to declutter, organize, and transform.
This challenge is for you if you are ready to end the cycle of organizing and re-organizing for good!
If you have tried something like this before, and it hasn't really made a difference, give me a chance to work side-by-side with you for the next month and get things done!
If your best efforts to get and stay organized just haven't worked, it may be because you are organizing clutter. And guess what? If that sounds like you, this challenge will be a complete game-changer.
This New Year Organizing Challenge will show you exactly how to declutter each area of your home BEFORE you organize it.
Each week we will focus on another area of your home. Every day will have a free printable for you to download so you can check each step off as you do it.
Are you ready? I know I am. This challenge is going to change everything for you, help you stick to that new year's resolution, and get every room in your home perfectly organized and show you how to keep it that way!
Share before and after photos of your organized room on Instagram or Facebook with the hashtag #apochallenge so we can cheer you up! Enter the giveaway below for a chance to win the awesome package prize!
a Rafflecopter giveaway
Giveaway Terms & Rules:
US residents only.
Must have participated in the 2020 Home Organizing Challenge by organizing at least one entire room and posting before and after photos with the hashtag #apochallenge
Online session to be used in May 2020.
Online session to be scheduled within 7 days of the winner announcement.
Prize expires at midnight, May 31st, 2020. Winner must reply to our email requesting information for shipping.
Non-transferrable.
May not be exchanged for cash.
The Home Management Binder and Planner is a digital file.
Know a friend who has also solemnly sworn to get organized this New Year? Please share this post with them and do it together. Tasks are so much more achievable when you have a buddy to keep you accountable!