Home Organizing Challenge
Welcome to week 4 of the Home Organizing Challenge, where we organize the laundry and mudrooms!
So far, we've tackled the kitchen, the pantry, and the entryway. Each week, we are looking at decluttering and organizing a whole area or room of your house and then taking a deeper dive into one component of each space.
This week, we will organize the laundry room and take a deeper dive into how to organize a mudroom to maximize its use for you and your entire family. Organizing the laundry room will help you keep this workhorse of a place decluttered and organized, so laundry is a breeze.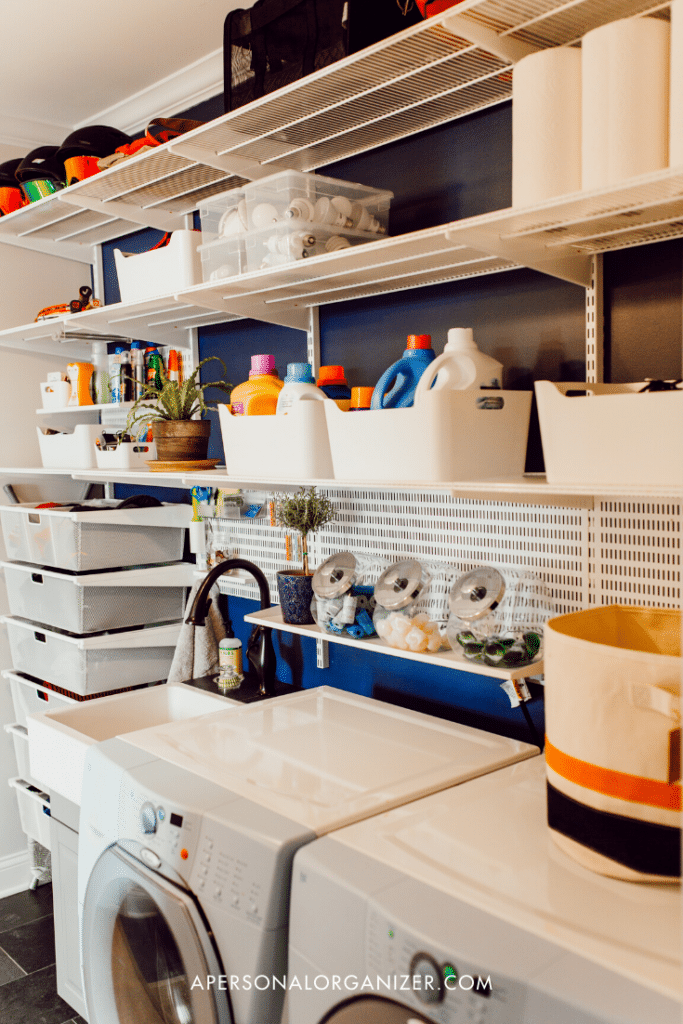 Let's Organize The Laundry Room!
Start as we always do by completely clearing out everything from your shelves and cupboards. Here in the laundry, we will also clear the top of your washer and dryer. Use bins, bags, or boxes labeled (the cards you downloaded with your freebies!) with "toss," "donate," "keep," and sort your items. While this can sometimes seem overwhelming, it is the only way to declutter a space truly. I promise it will be worth it!
Wipe down all of the surfaces in your laundry room. Clean your washing machine by running it with 2 cups of vinegar and then run another cycle with plain hot water. Clean the surface of your washer and your dryer, and empty your dryer's lint trap.
Now, it's time to organize it all. Even if your laundry room is separate from your mudroom or entrance area, you can use your laundry room to store out-of-season items. Think of things like gloves, scarves, and hats in Winter, towels, swim, and beach toys in Summer. Large baskets on shelves are great for these items. Storing some of these items in your laundry room can help keep your entranceway or mudroom more organized and less cluttered.
Place your detergent, dryer sheets, and stain sticks in smaller baskets or a drawer or shelving system. If you have pets, you can store their food and care needs in large plastic bins with lids to keep everything neat and easy to access.
Depending on how your home is set up, you may not find all the things you use on this list. No worries! Start by thinking of how often you use each item, and then use some baskets or other storage and place them according to the best way for everyone in your home.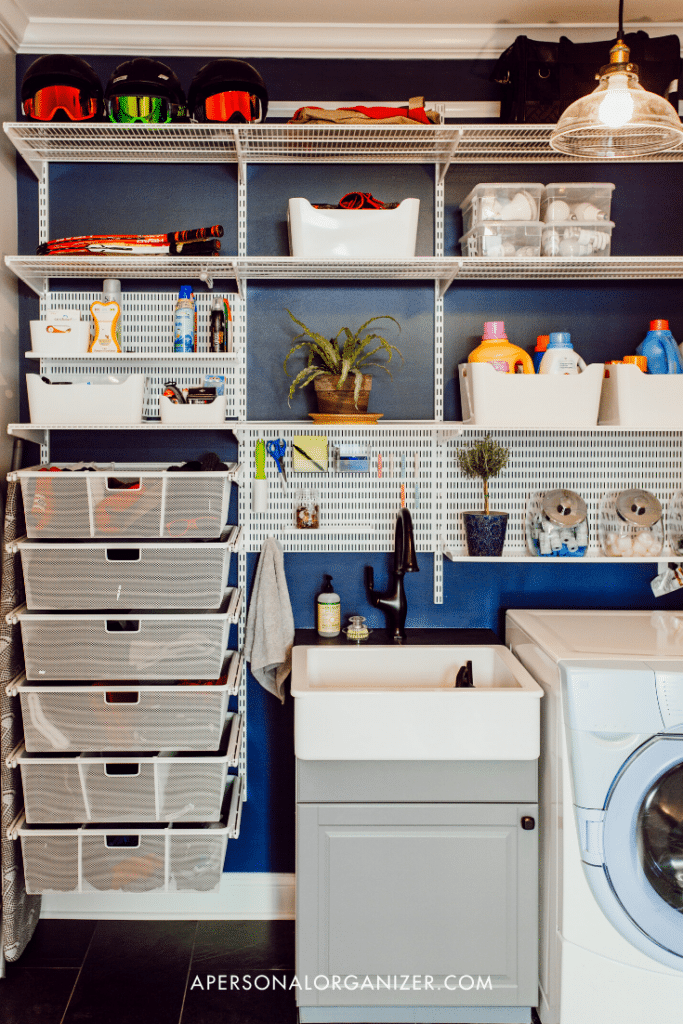 How To Organize The Mudroom
Now that your laundry room is decluttered, organized, and ready to work as hard for you as you do in it, let's take a closer look at your mudroom. Maybe you have a dedicated area that is a mudroom or maybe you wish to turn space at your rear or front entrance into a functioning mudroom.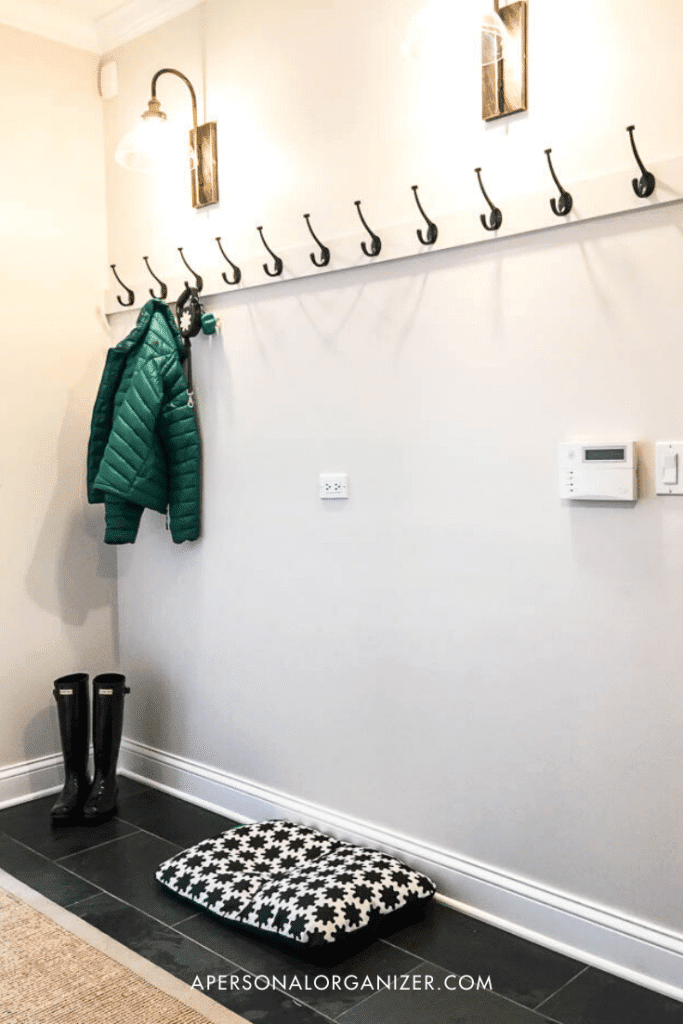 The Elements of Organizing a Mudroom
First, let's look at the main components you want in a mudroom. A mudroom is essentially an entryway that is organized so that you have a place to keep the things you need when you are coming and going each day.
Cubbies or shelves
Somewhere to sit
Boot or shoe mat and a rug
A coat rack or wall-mounted hooks
Bins or baskets to stash cold-weather gear, dirty items that need to be laundered, and items that need to be rehomed to another area of the house.
A sink area
These things are similar to those you will want in an entryway. The most significant difference in a mudroom is that this area may be connected to your laundry room.
You may have a sink in this space if you have a separate mudroom. This is primarily an area to keep things you need as you come and go and also to quell and deal with outside messes before they make their way into your home.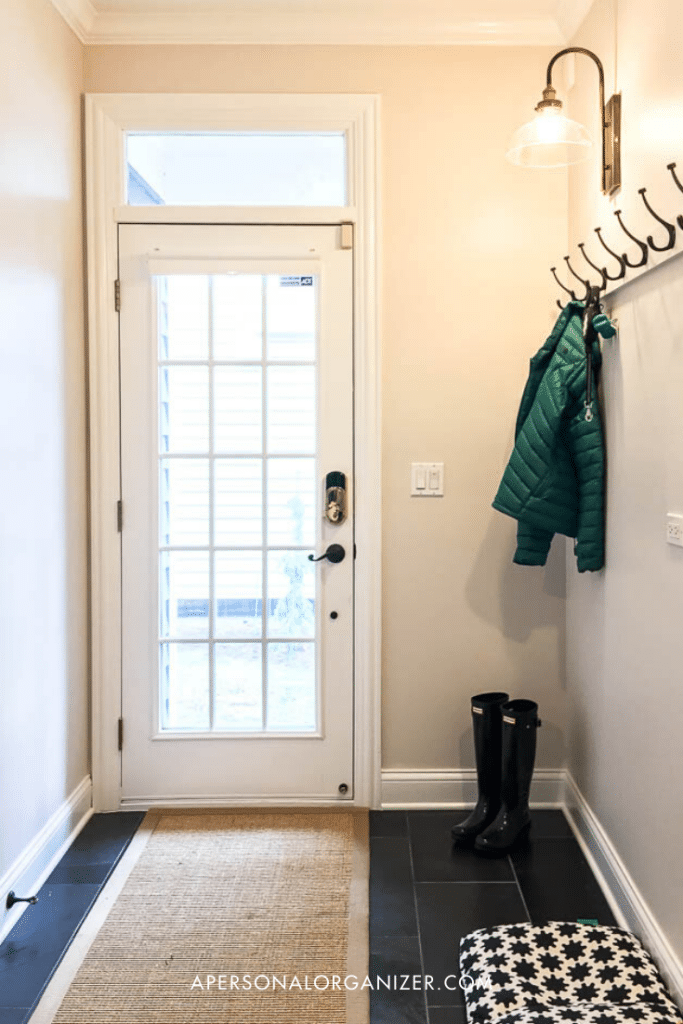 Here are some smart and creative ideas to organize and maximize the working power of your mudroom.
Cabinets, Cubbies, or an armoire. Adding a cabinet increases the storage and improves the function of your mudroom. It also allows you to hide everything behind closed doors neatly!
Bins and baskets for seasonal gear. Having bins and baskets to store seasonal accessories is a must in your mudroom. In Summer, you can store flip-flops, towels, and smaller outdoor game equipment. In Winter, swap out for gloves, hats, and scarves.
Hooks, hooks, hooks. Hooks are crucial in a mudroom. Keep coats, scarves, bags, purses, kids' backpacks, hats- you name it on these handy installed hooks or coat rack style helpers.
A basket for laundry. You'll want to keep a basket for things that need to go straight to the wash in your mudroom. If you have kids in outdoor sports, you know what I'm talking about! Having this basket handy allows you to keep the dirt from making its way into your home. Empty it to the laundry room daily to keep it under control.

Wrapping up! Organizing The Laundry Room and The Mudroom
Remember to print out the checklists to help you stay on track as you organize your laundry and mudroom. Once you have these areas decluttered and organized, you will be amazed at how much more time you are saving yourself each day when you leave for the day and do those loads of laundry. Keeping your laundry room in order will make it inviting for everyone in the family to pitch in!
Want some more ideas for your laundry room and mudroom? Check out these reader favorites:
Organizing Planners
Decluttering & Cleaning Planner
Kick overwhelm to the curb with all checklists and forms to organize your home from top to bottom and the cleaning printables to plan a cleaning routine unique to your family's needs and schedules.
More Home Organizing Tips
Tips and ideas to help you prepare and enjoy this special holiday with your friends and family.