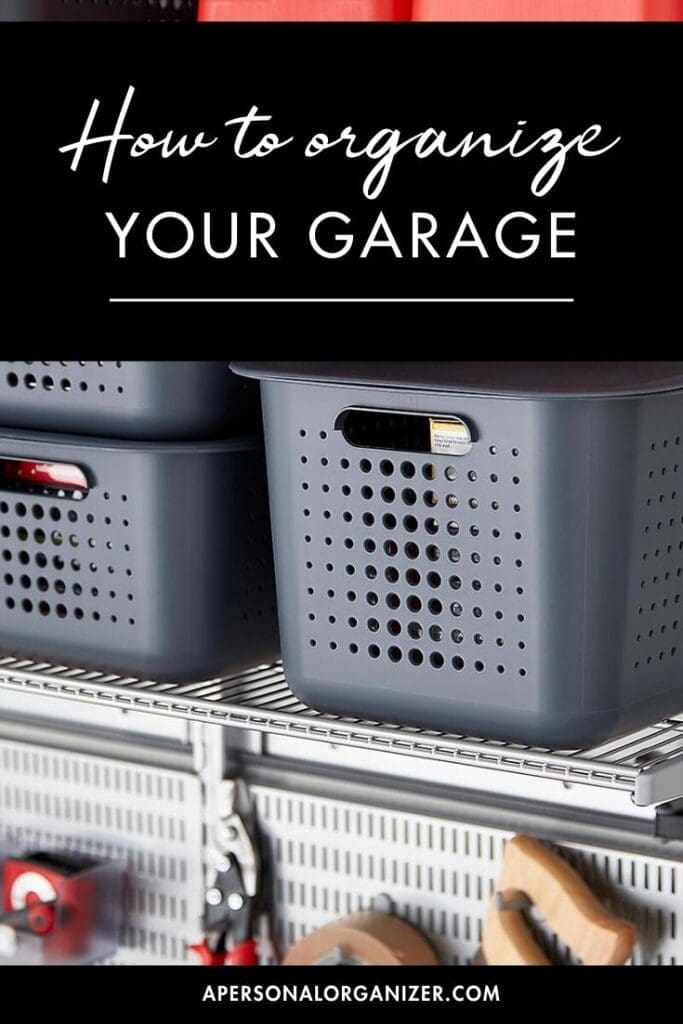 Organizing Your Garage
This week we are going to organize your garage.
Today is the final day of the organizing challenge! Give yourself some serious kudos for getting your entire home into shape with the 2020 Home Organizing Challenge.
Your garage probably holds a myriad of things, like sports equipment, holiday decorations, lawn and garden equipment, car maintenance supplies, paint, craft projects, the list goes on.
With all of this stuff piled up in the garage, there may not be able to even fit your car in there. But with our step-by-step organizing process, your garage will be super organized- and you may even be able to park your car. Imagine that!
Let's get started.
1. Make a plan
Start by mapping out what categories you want to store in your garage. Some ideas for categories are:
Luggage
Sports equipment
Bikes
Camping gear
Tools
Paint and chemicals
Holiday decorations
Before you organize your garage, create a map of where things will go
Look around and consider where you want the different categories to go. Think about what you use the most and what you may only need to access seasonally.
Keep this in mind when you make a plan of where to put each category.
Important: If your garage is too cluttered to do this step, move on to the next step and then come back to this step.
Get rid of all the clutter in your garage
Here is where you will sort through all the items in your garage.
Throw out anything that is broken, damaged, or you no longer use it.
To speed up the decluttering process, work clockwise and carry large contractor or heavy-duty trash bags with you as you work.
If the weather allows, open the garage door and move everything out onto the lawn while you declutter.
Clean it up and draw out your plans
If you could empty your garage, clean it all out by sweeping and wiping down your surfaces.
Now, draw up your space and label what categories will go where. Remember to keep in mind how often you use each category and organize it to optimize the function of your space.
Purchase needed storage items
You don't want to buy your storage right at the beginning of this project. You want to wait until you have completely decluttered and mapped out what is going to go where.
This way, you can see how much as well as what kind of storage you need. Be sure to measure and keep a list of what you need to store on hand while you are shopping.
Replace and organize
Now that you have decluttered your garage, mapped out where you want everything to go, and purchased or chose your storage solutions, it's time to organize by placing everything where it should go.
Keep in mind as you do this week's challenge that organizing even a half-full garage can take around 15 to 20 hours.
So don't get overwhelmed and think you need to finish it all in one shot.
In order to make organizing your garage more manageable you may want to plan a whole weekend or break it down into several sessions. It makes the whole thing a lot easier!

Deep Dive: How to prep for a yard sale
Our deep dive for this week is going to solve the problem of what to do with all of the stuff you got rid of while you were cleaning the garage. So this week I'll walk you through the steps on how to prepare for a yard sale.
When you are cleaning out your garage is the perfect time to organize a yard sale. Warmer weather is just around the corner and people love a good Spring yard sale!
Here are our best tips for preparing for a yard sale.
1. Make lists
Now, you will obviously want to include the items in your garage that you have just cleaned out. While you are at it, walk through your home and make a list of other things you can get rid of and sell in the yard sale.
2. Head into the kids' rooms
Your kids' rooms are always a mecca for things that can be sorted and decluttered. Clothing and toys also sell very well at yard sales
3. Plan your yard sale.
Not sure how to set up a yard sale? We have you covered. We have a weekend hourly to-do planner and weekend to-do list to get you completely ready for your yard sale. Before you put items out for your yard sale, you will want to launder all of the clothes you are selling and wipe down any trinkets, kitchenware, or appliances.
4. Advertise your yard sale
Don't forget to let everyone know you are having a yard sale. A few ways to advertise would be to put your yard sale on craigslist, take out an ad in a local newspaper, make signs in your neighborhood, and post in local social media marketplace groups.
Conclusion
And so…you did it!
Welcome to the end of The 2020 Home Organizing Challenge.
Working through an organizing challenge is a huge accomplishment, and you did it.
Warm weather is on its way, and you now have a completely decluttered and organized home- from the front entrance to the back of your garage.
How did you do in the challenge? I would love to see your favorite before and after moments from the challenge – Please tag me on Instagram or Facebook!
What was your favorite home transformation of the challenge? Please share in the comments!