Getting Your Home Ready for Holiday Guests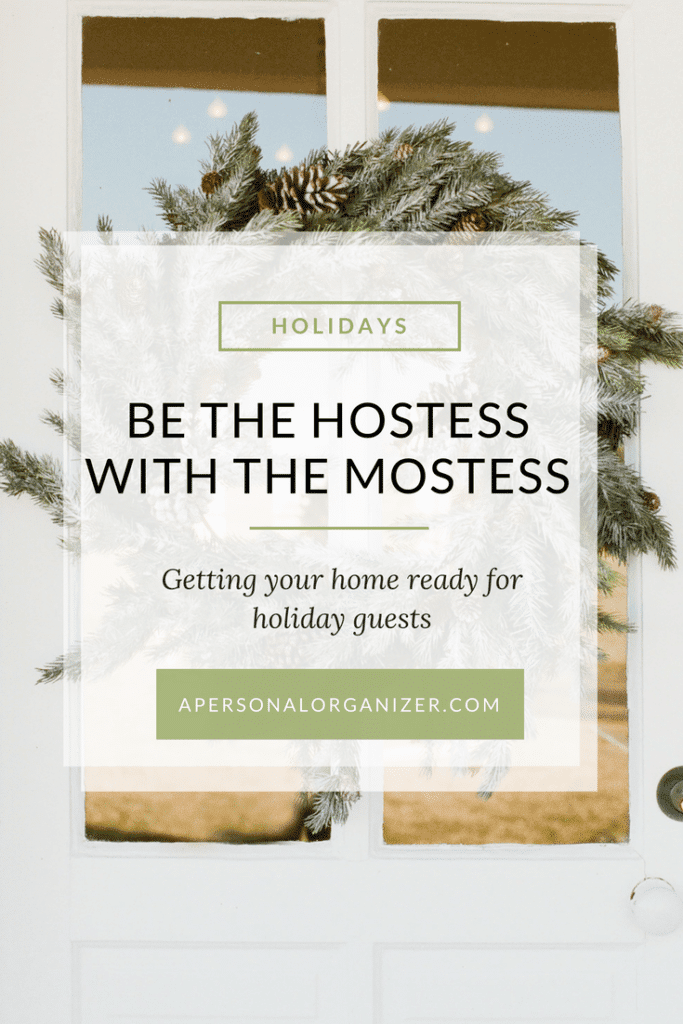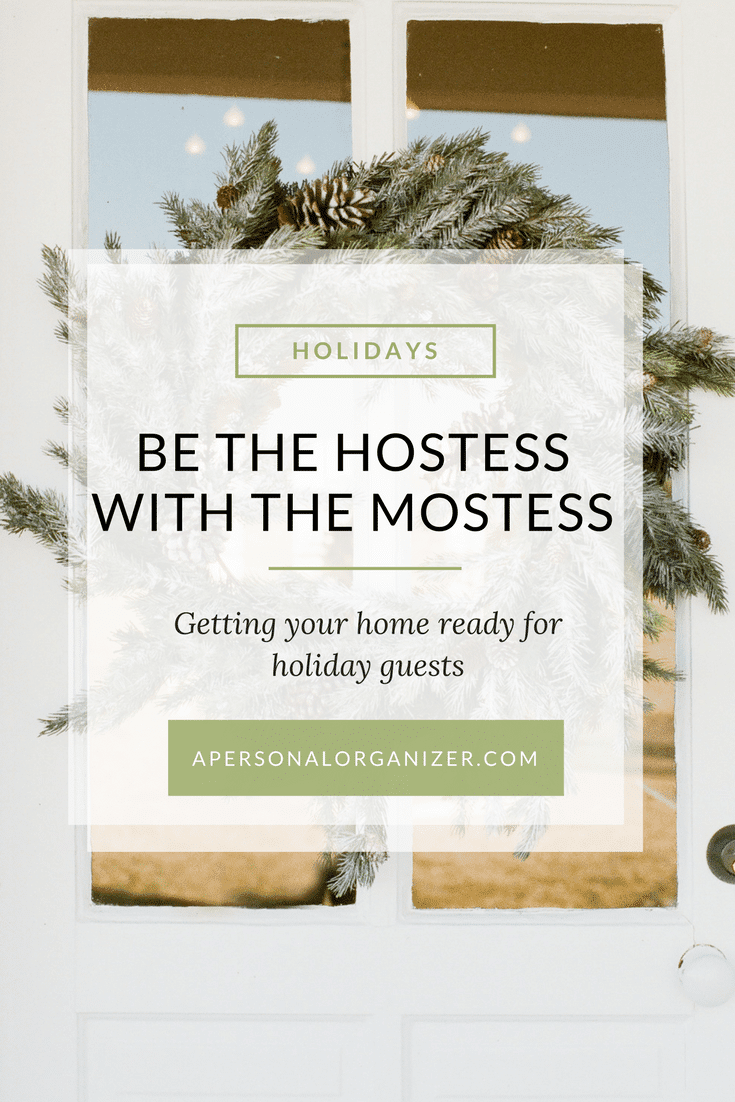 AAA reports that about 90 million Americans travel over the holidays. If you're not organized when guests show up, it can feel like all 90 million of them are staying at your house.
Getting your home ready for holiday guests will help you thoroughly enjoy your time with them, and, more importantly, it will help them feel at home.
Since this can be quite a busy time of the year, skip the sort-purge-organize process for now and simply do what needs to get done. Save your energy for your great time with family and friends and organize what needs to be done after the holiday season.
Get Started
Start by writing a room-by-room list of everything you'd like to accomplish before Aunt Martha arrives. Begin with the most important rooms, like the guest bedroom and guest bath, and leave less important chores, like organizing the laundry room cabinets, for last.
Pack anything your guest won't need -aka clutter- into storage boxes and store them in the garage. You can either bring them back inside or deal with sorting through them after your guests leave, but for now, just concentrate on making things easy for you and neat.
If you have a dedicated guest room that hasn't been dusted since the last time you had company, get out your vacuum. Use the accessory tools to get high up into corners, around the room's perimeter, and around windows. Wipe down baseboards and window sills.
If guests must share a bathroom with you, remove as many of your personal items as possible. Give them room to store necessities.
If guests are bunking in a den or family room where there's no closet, provide an over-the-door hanger or a portable rack, or put up some temporary hooks for their convenience.
Tidy up your home's entrance. A clean porch, a wreath on the door, and fresh flowers in the foyer will instantly make guests feel welcome.
Holiday Upgrades Upgrades
Serving guests is part of holiday fun, but close friends and family are more comfortable when they can be at least a little self-sufficient. With a little more organization, you can help them achieve this.
Place all the remotes and controls in a basket, including directions for using the television, stereo, or gaming components. Include a few holiday CDs or DVDs and leave the basket in the entertainment room for easy access.
Prepare a hotel-like welcome for your guests by placing bath towels, hand towels, a few bars of luxury soap or shower gel, and some essentials like toothpaste and cotton balls in a decorative basket on their bed. You can find beautiful and inexpensive options in stores like Home Goods.
Include an alarm clock, bottled water, and a selection of current magazines in the guest bedroom.
Check the window treatments where your guests are sleeping. If they don't provide the privacy you want in your own bedroom, consider replacing the drapes before guests arrive.
Stock the fireplace hearth with plenty of firewood and kindling. When guests ask how they can help with dinner, invite them to set the fire while you finish.
Don't Forget Food
Once your home is ready for guests, it's time to restock the pantry. Guests don't want to ask if there's more breakfast cereal. You don't have to count out every egg—just keep the staples on hand. Download this grocery shopping template to make things easier on yourself.
Getting your home ready for the holidays now will make your guests feel at home and leave thinking you're the hostess with the mostess.
To make Thanksgiving more enjoyable for yourself and your guests, some advance planning and preparation will work wonders.
Use these tips to make your holiday a stress-free, memorable occasion.
HOLIDAY Planners
The Holiday Bundle
The Ultimate Holiday Bundle – 4 Planners to plan, organize, and celebrate an unforgettable and stress-free holiday season with your friends and family. Get ready to conquer the holiday season and breeze through the season and the new year!
Tips and ideas to help you prepare and enjoy this special holiday with your friends and family.