Use These Strategies To Create A Routine You Can Stick To During The Holidays
The busyness of the holidays makes it seem like there is no place for any routine. But oh, the irony in that thinking!
There is no more important time to stick to a routine than during the holidays. While the chaos circles around us, our habits are like anchors that keep our minds peaceful and focused, our bodies rested, and our family and home life running smoothly.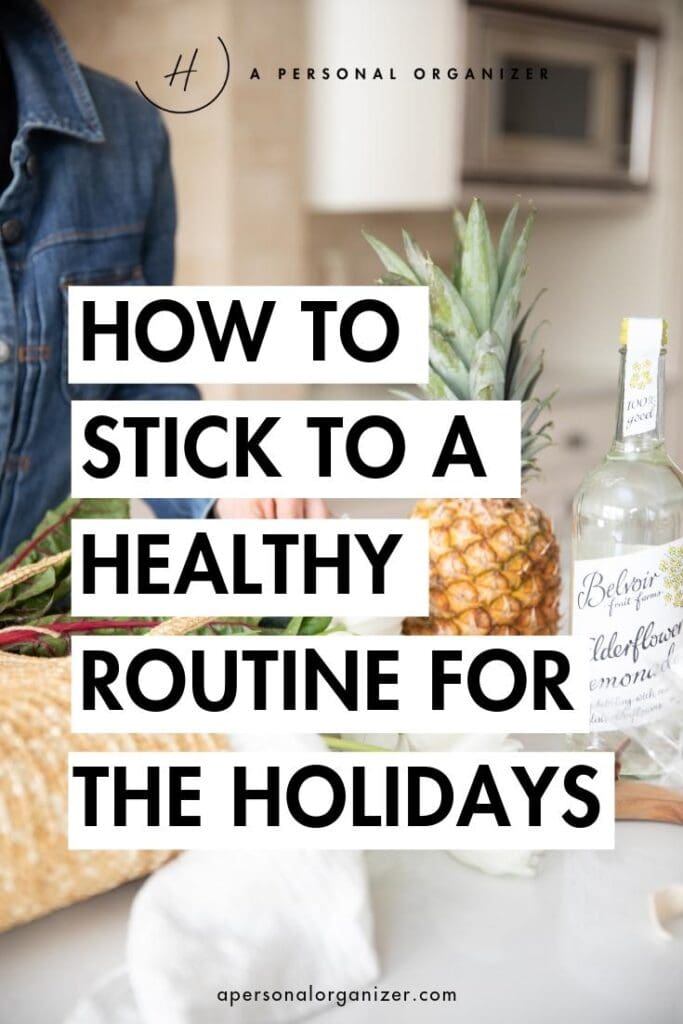 1. Keep Your Routine Simple
On the other hand, a routine is more like a rhythm that you and your family follow.
Routines usually switch up seasonally to accommodate things like Summer break, holidays, etc.
My household routines, for example, change significantly around the boys' school and sports schedules as well as seasonally.
The most significant advantage of a routine is that it creates touchpoints throughout your busy days that let your brain know when familiar things will happen.
Things like breakfast, lunches, dinner, family time, quiet time, nap times (for younger children or moms!), errand days, specific cleaning routines, and bedtimes.
Having a routine reduces stress for the whole family.
2. Adjust Your Routine At The Beginning Of The Season
It's safe to say that most of us start to feel the holiday buzz as back to school is well underway. It's a good idea to check in with your routine at the end of September and see how it works for you and your family.
With cooler days starting to pop up, our rhythms also change. You might want to stay longer in bed or skip the evening walks you loved during the summer. Think about how you can include exercise in your schedule to stay healthy and active.
Your meal planning will most likely change as well. We're looking for slow-cooked comfort foods, but the available vegetables are changing, forcing us to update the menu.
Finally, your closet will ask for a change, and now it's a great time to declutter your and the kids' closet! You can donate small items and list what the kiddos will need for the colder months ahead.
If you have difficulty letting go of the kids' clothing (I know, they grow so fast!), you may find it easier if you find a family needing to give their clothes to. It's comforting to know people who need will make great use of things you love and care for.
Make any adjustments you need to before the holidays get underway.
3. Three Holiday Routine Must-Haves
Every person and every family is different. Creating a successful routine that you will stick to requires considering everyone's needs.
Here are a few things that should be a part of everyone's holiday routine.
Sleep is always crucial and sometimes elusive, especially during busy holidays. However, it is important to make good, consistent sleep a priority for you and your family to keep things running smoothly.
Sleep is the foundation of good health, both physical and mental. It may seem difficult to get those recommended 7-8 hours a night, but it is worth it.
This one is also essential. Try to gather your family over breakfast and check everyone's schedule for the day.
This simple habit brings everyone peace of mind that no one is missing anything or essential things are being forgotten.
Maintain mealtimes
If you can, plan your meals ahead for the whole month and stick to it.
Preparing ahead by menu planning, food prepping, and cooking regularly will save you and your family from endless fast food and take-out runs.
Eating out all the time is unhealthy, but it's also expensive, and with so many gatherings during the holidays, we will all be craving for the grounding flavors from homemade food.
Conclusion
These tips will help you adjust your routine and create one that you can stick to during the busy holiday season.
Hectic times are when we need our routines the most.
Give yourself the gift of a stress-free holiday season with a great family routine that will keep your whole family happy and healthy during the holidays!
Do you have a routine that works for you? Need some help with creating one? Ask me your questions in the comments, and check out this post!
Organizing Planners
Meal Planning Planner
Let's take the overwhelm out of planning your meals. Whether you want to eat healthier, save time, or want to save money, the Meal Planner Printable will help you organize your meals.
More About Setting Routines
Tips and ideas to help you prepare and enjoy this special season with your friends and family.