This post may contain affiliate links for your convenience. If you click on the link and purchase the item, A Personal Organizer, LLC. may receive a small commission at no extra cost to you. 
Prepare your business for the holidays with these tips to get your business running on autopilot with tools, processes, and systems.
While we are busy during the holidays with shopping, cooking, traveling, and company, we need to do ourselves a favor and think ahead to prepare our business for the holidays.
To successfully keep your business running and profiting during a high-traffic and a holiday season, you'll want to put a plan in place now for getting your business to run on autopilot with as little intervention from you as possible.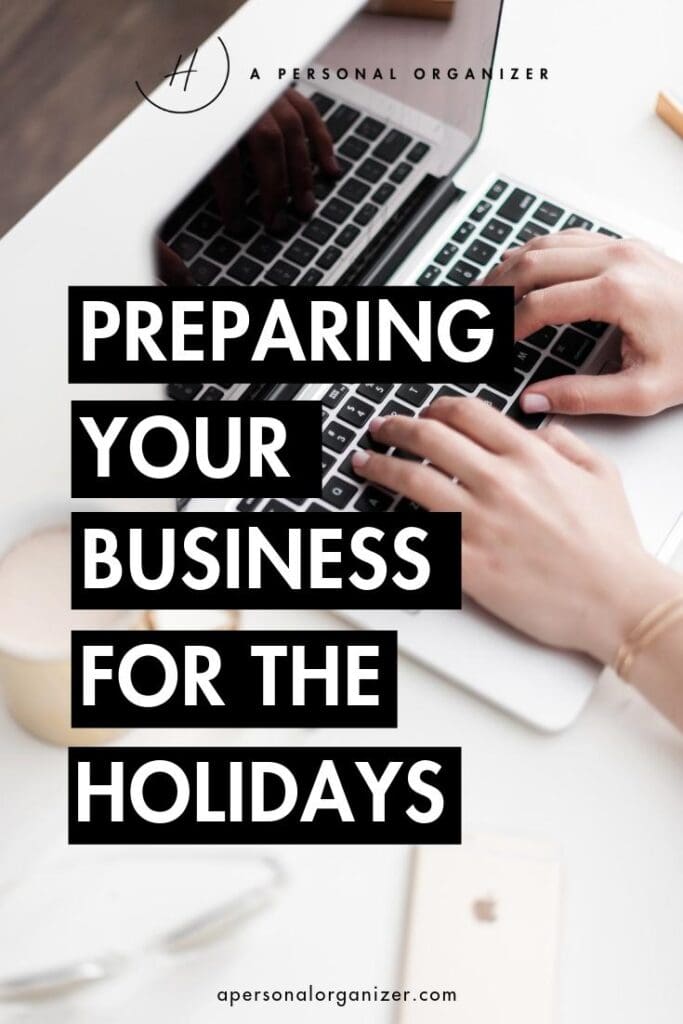 [convertkit form=1114649]
Here are our best tips on how to automate your business, so it runs itself during those busy seasons of life.
1. Start with the simplest tasks to automate
These are often the tasks that involve the least amount of human interaction, to begin with, like social media posts, blog posts, and weekly newsletters.
2. Delegate
For those tasks that can't be automated, ask yourself which tasks you can delegate to someone else.
If you already have an assistant, you may be able to hand off some of those daily to-dos of your business to them.
If you are a solopreneur, you can check out a spot like Fiverr for a person who has the skills you need that you can hire on a short-term basis. Consider having a writer plan and write a month's worth of blog posts for you, or a social media manager to create a month's worth of content for you to schedule.
3. Plan ahead
If you have an online presence for your business like social media profiles and a website, one of the best ways to prepare your business for the holiday season is to schedule your social media posts and your blog posts ahead of time.
For example, to be able to enjoy my summer vacation fully, I scheduled every post and social media message months in advance.
Once these tasks are scheduled, automated, or delegated, you will be able to dedicate your time at work to tasks that need your attention.
5. Plan big moves for other times of the year
The middle of the holiday season is not the time to make a colossal growth move or try out something new in your business.
If you want to take advantage of the holiday as a time for sales or growing awareness, be sure to get your promotional campaign set up ahead of time.
Use a tool like Asana or Trello to map the processes you'll have to work on and get everything scheduled, planned, and services hired before the end of September or October. This way, when Black Friday or Cyber Monday comes around, you'll have everything you need in place to rock those sales!
6. Automate your messaging
During the holiday season, you may find that you need to reduce the amount of time that you spend each day checking your emails and social profile messages.
Prepare your business for the holidays by setting aside a specific time each day for this, or delegate someone to do it for you. Write templated responses in advance and program an automated greeting for your email and messengers.
People who are trying to get in touch with you will know when is the best time to reach you. You can also let them know that you are working on an abbreviated schedule if that is the case.
Bonus: Favorite tools for automating business tasks
Convert kit– schedule all of your newsletters in advance, so you don't lose touch with your customers over the holidays. This is also a great way to boost holiday sales with minimal hands-on work on your end.
Planoly – schedule all of your Instagram posts. Planoly lets you plan all of your posts and stories ahead of time, so even if you are not on the platform as often during the busy holiday season, Planoly will be posting for you.
Tailwind – schedule all of your Pins to keep driving traffic to your website and blog. With Tailwind, you can create smart loops that regularly share different categories of content. You can also add in individual posts as well.
Task management tools– schedule out tasks so anyone working with you can easily see what needs to be done. You can do this on Google sheets or with an application like Trello for those who prefer a more visual approach to organizing.
Conclusion
Of course, there are some things you can't automate or delegate in your business. However, every task that you can off-load will shorten your to-do list every day without letting your business slip through the cracks. Having these systems in place will reduce your stress and let you enjoy your holiday with family and friends.
What are your biggest challenges with running your business during the holiday season? Share with me in the comments!