Organize these high-impact areas of your home and set yourself up for a stress-free holiday season.
The Holidays are already in the air, and we are feeling those busy vibrations already. While we probably can't help with the stress from your in-laws, we can help you organize and prepare your home to have a stress-free holiday season.
There are individual rooms in your home that get a lot of action during the holiday. Here are our best tips for getting these areas decluttered, stocked, and organized.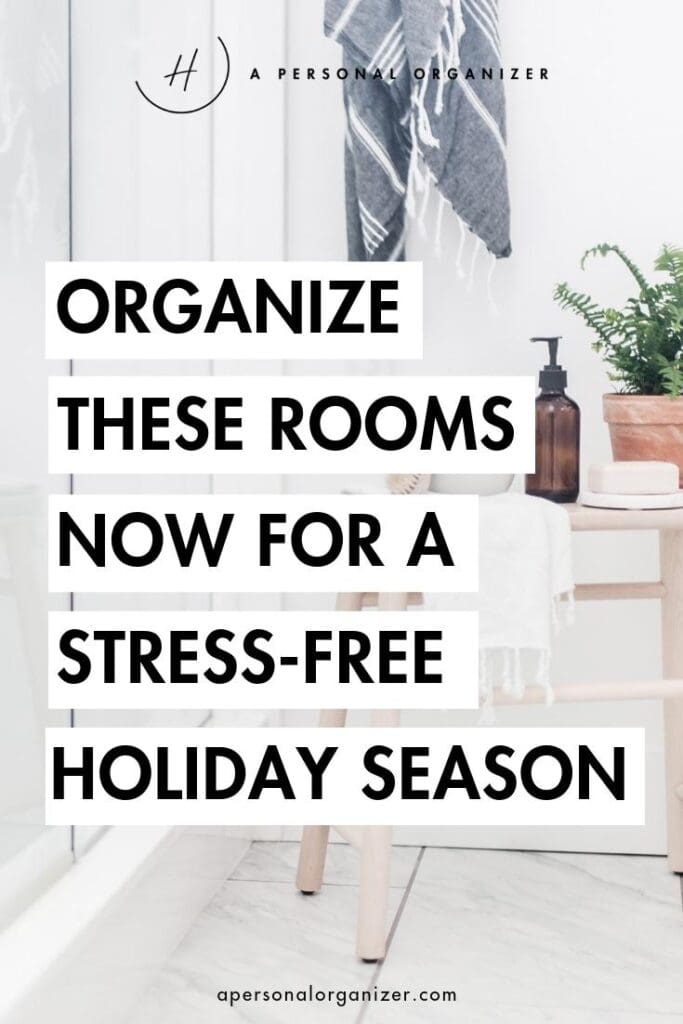 1. The Kitchen
Possibly the most popular room in the house at any time of the year, the holidays only emphasize your kitchen's title as the queen room of the home. Prepare your shining star for holiday parties, overnight guests, and impromptu pop-ins.
Declutter
You know the deal here. Go through your fridge, pantry, and drawers, get rid of expired food, and service ware that is no longer needed or has seen better days, and clear out any items that do not belong in the kitchen.
Organize
Once you have cleared out what needs to go, go ahead and put everything back in an organized way. Think of what you will use most in the upcoming months for cooking and entertaining. Place these items in easy reach.
Re-stock
Stock any pantry items and freezer items that will let you pull together a delightful menu on short notice. Stock your bar and mixers.
Consider creating a baking station for all of those holiday cookies. For guests, you can create a coffee station that makes it easy for them to make themselves at home and find what they need.
2. The Guest Room
Many of us will be expecting out-of-town guests during the holiday season. Guest rooms are a great place to organize early.
You can quickly fix it and forget it in this space until your guests are about to arrive. Here are a few things you can do to prepare for your guests and make them feel special.
Start by decluttering
As with any other space, you need to clear the clutter before making it cozy. Sometimes, our guest rooms have a way of collecting items that we can't find a home for in other rooms of the house.
Now is a great time to see if those items should be stored, placed in another room, or donated.
Consider who is staying.
Depending on the age and personality of your guests, you can add in little things to make them feel at home.
Make it festive
Add some holiday touches to your guest room.
Your guests may have traveled far from home, and having some holiday cheer where they are sleeping will be a welcome addition to their holiday travel experience.
Pay attention to the details.
From big to small details, your guests will notice if you have taken extra care with your space.
Bedding, room temperature, cozy blankets, access to things guests need, good lighting, all of these things come together to create a great guest experience.
Share your house information.
We want our house guests to feel as comfortable as possible and contribute to them having a stress-free holiday season.
Consider getting together any important house information, such as your Wi-Fi password, your house alarm, landline number, and address.
Print all of the info out and place it in a frame on the dresser, nightstand, or desk in your guest room.
3. Bathrooms
Of course, you will be cleaning your bathroom more than once before the holiday season starts, but giving each of your bathrooms a deep clean, decluttering, and stocking up before the holidays arrive will let you do quick once-overs rather than massive cleaning projects.
Declutter
Now is an excellent time to get rid of any almost empty bottles of shampoo and conditioner and any other toiletry items you may have stashed underneath your sink or in your linen closet.
Restock
Sure, your guests probably brought tiny travel bottles of toiletries with them. But wouldn't it be nice to stock up on some full-size products just for them? They are sure to feel the love on this one.
Check your towels
Towels are an everyday item; sometimes, we don't see how shabby they have gotten.
Look through your linen closet with the guest's eyes and get rid of any towels or washcloths that have seen better days.
This is an excellent time to take a look at your sheets while you are in there as well.
4. Outdoor Spaces And Entryways
Sometimes, it's easy to forget the outside of our homes when the weather turns cold.
Before the guests start arriving and before you put up any holiday decorations, give your outdoor spaces and entryways a once-over.
Remove any out-of-season furniture from your outdoor spaces. Give everything a good sweep. Swap out any plants or greenery for seasonally appropriate versions.
Clear clutter from your entryway. Create a space for cold-weather gear like coats, hats, gloves, and boots.
Conclusion
Once you have gone in and organized these high-use holiday spaces in your home, you will be ready to add festive touches and welcome guests without running around like crazy to make your house the way you want your guests to enjoy it. The best quality of any host is to be relaxed and have a good time.
Think how much easier that will be to achieve with so many of these holiday organizing and cleaning projects out of the way.
HOLIDAY Planners
Christmas Planner
Say goodbye to the days of frazzled nerves and hello to a confident, beautifully orchestrated holiday event that perfectly reflects your love for family and friends. Get ready to dive into a stress-free, delightful celebration, leaving your loved ones in awe.
Tips and ideas to help you prepare and enjoy this special season with your friends and family.