Garage Organizing: Valuable Real Estate!
Are you struggling to get through your garage? Or is it so full that you don't even bother going there anymore? or maybe you'd love to just start your garage organizing to make it into a gym, a playroom or just park your car inside? Is the clutter feeling all cozy in your garage while your 2nd most valuable possession – if you own a home – is getting damaged outside?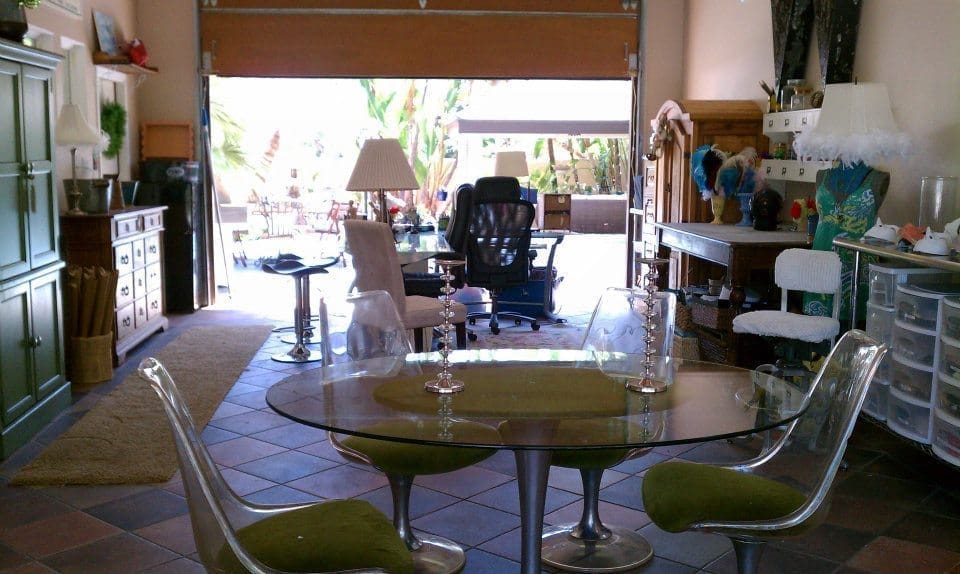 Whatever your garage organizing goal is, stick around to see what this motivated San Diego client did to make the most of her garage!
My client called at the beginning of this year to help her organize her home and her garage. She's an energetic and very creative person who runs her own business from a home-studio and after her recent move the whole space was taken by hundreds of boxes, shelving units, bins with crafts supplies, mementos, keepsakes and loads of holidays decoration and their respective china sets! The movers had just dropped everything in the garage and with a family to take care and a son off to college, it was just too much for her to handle! She wanted to get her studio up and running so she could start working again. She wanted to dedicate 4 of the spaces for cars and home-related storage and 2 for her Studio.
We started working and ran a trial session for her to see if she'd like to work with me and on that day this is how her garage was looking.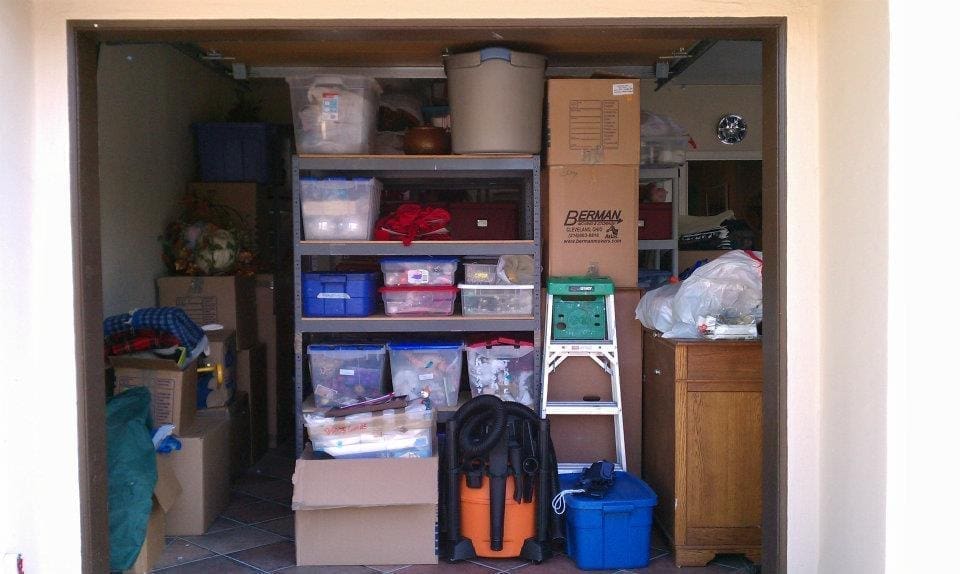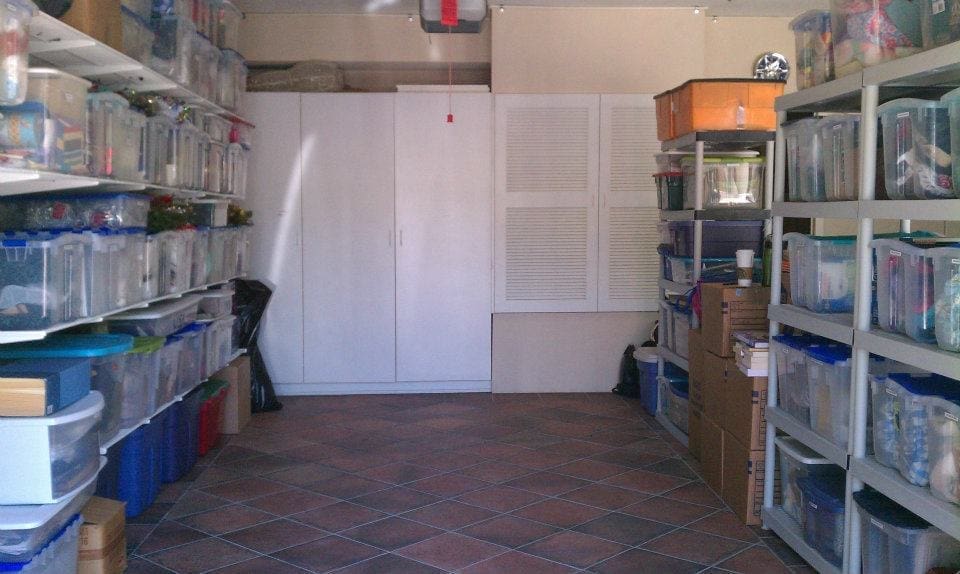 Having recently moved from the East coast to CA I know how valuable basements are: they generously hold everything and anything for you.
Worse, the open floor-plans so common in CA allow for less use of vertical space which means less storage areas again! Now, without a basement my client had to get it all in place in her garage.
Her studio would have to serve as storage for all of her crafts supplies, working areas and a sitting area for her family and clients. This is the studio area in the beginning of our work.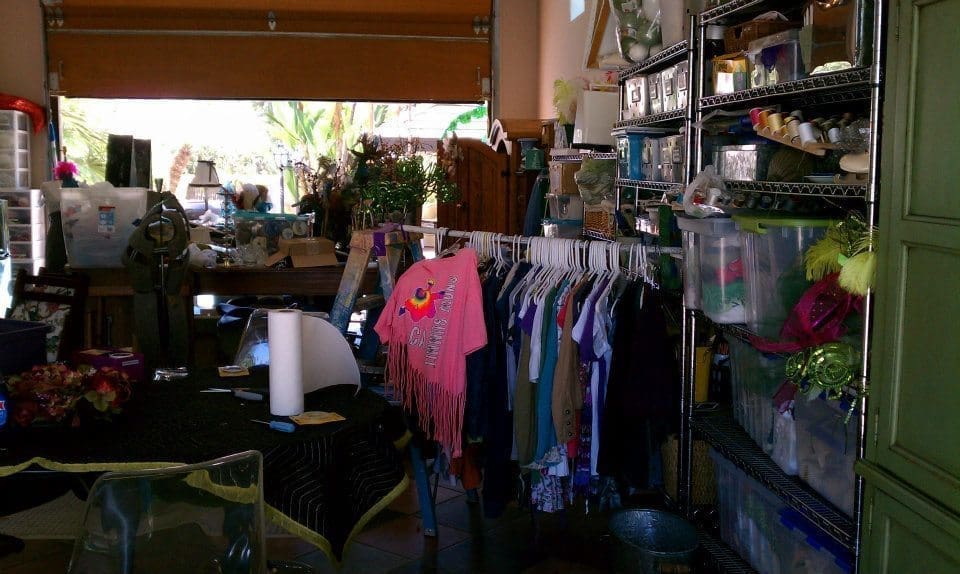 On that day we worked for 4 hours straight and were able to unpack and organize so many boxes that that night her husband was finally able to park inside! We were thrilled and motivated to continue!
And so we did through Spring getting her house ready for her son's High School graduation and recital when they celebrated not only his great accomplishments but also having a fully organized home!
And now after all got done, here is how the garage is looking like!
After – Organized Garage
And finally her organized garage for her studio!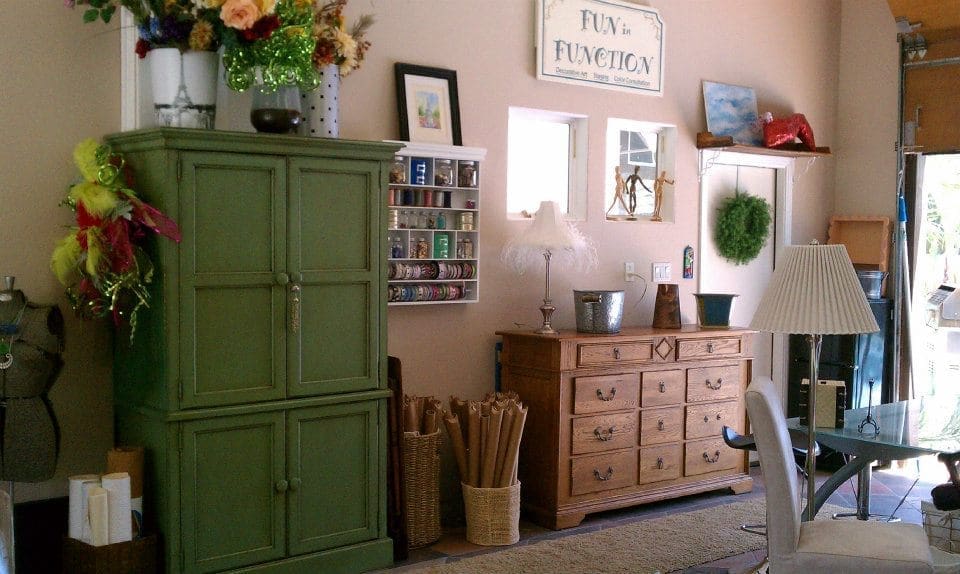 If you have a cluttered garage and want to get it organized, usable and in order, follow these basic 7 steps to get it done:
Schedule time for in your calendar and STICK TO IT. Pretend this is your sick-child medical appointment if you have to, but do it!
Create a clear working area -and if the space is too crowded consider creating an overflow area: a room you don't use or even renting a portable pod.
have boxes (or anything to hold items), trash bags (bring the contractor's grade one, you will need it, believe me!), water and anything to make you comfortable.
Use these (cute!) free "downloadable" labels from Professional Organizer Geralin Thomas and attach them to a wall or each of the containers.
Working clockwise from your clear working area go through every bin, box, shelf and decide if you want to keep it or not. If you want to discard: is this a toss? a donate?
Now that you have all sorted out you will see how much you want to keep. Do you have the space to hold it? What do you need to safely store all you are keeping?
FInally, only go shopping for containers after you are done with these steps or you'll end up with more clutter in your garage instead of having a garage organizing session !