Use these tips to quickly and efficiently declutter your home, so you are always ready for last-minute holiday visitors.
Once the holiday season is in full swing, there is usually zero time to start large decluttering projects, deep clean your home, or undertake anything that eats up a lot of hours during your packed week. Don't worry. We've got you covered.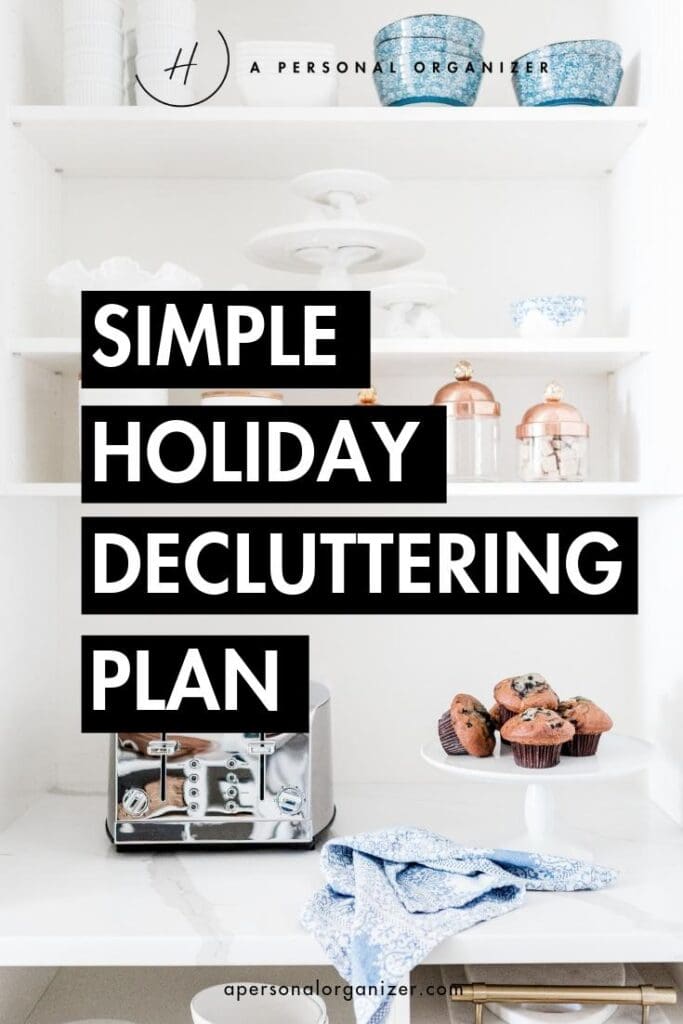 Here is a simple decluttering plan to get ready for the holidays. You can run through this once a week or less, depending on what your home needs.
If you keep up with these simple decluttering habits, you will never fear the surprise holiday visitor- well, not because your house is messy anyway! 😉
1. Start In The Kitchen
Declutter
A kitchen is a natural place for items to gather that don't belong there. Homework, unsorted mail, bags from errands that need to be put away in other rooms – a lot goes on in the kitchen!
Take time to rehome these items daily, and the kitchen won't turn into a drop-off spot for every random item in your home.
Stock up and keep track.
Stock up on staples that you reach for when you have guests. Snacks, easy desserts, coffee, teas, drink mixers, and items that make for a quick throw together appetizer plate. When you make your grocery list for the week, take a quick scan of these items, and see what needs to be replenished. Write down any item you run out of on your running list, so you don't forget to grab them at the store.
2. Bathrooms
Declutter- Remove or create a place for the things you leave out in your bathroom, but you don't need to use every day. If you have multiple bathrooms, you can keep all of your toiletries in your master or family bathroom.
Make necessities easily accessible for guests- Keep backups of bathroom necessities in a place where guests can easily find them. Add some scent, bring out the festive hand towels, and put some nice toiletries out that guests will feel welcome to use.
3. Main Living Space
Declutter
Our living spaces can become quickly cluttered from, well, living. It can be hard to see where some of the clutter is because you are in the area daily. Take a picture with your phone to give yourself the right perspective on what guests will see when they enter your home. Put the items from these areas where they belong and create visually pleasing storage for things that need to stay put.
Make it cozy, but keep it simple.
Too many holiday decorations can create clutter all on its own. Keep the embellishments to a minimum for a cleaner look. You don't want your living spaces to look sterile, or completely hide the fact that people do live there, but you also don't want things everywhere, all the time. Find that happy middle of cozy and tidy by decluttering daily and making sure everything has a designated home.
4. Exterior And Entryways
Exterior and Porch
This is the first spot your guests see.
When the weather turns colder, you need to prep the porch and the exterior of your house for Fall and Winter weather.
Make sure your porch provides a clear path to your door for a quick declutter. Keep seating simple if you have a small space. Change bulbs and dust out light fixtures. Freshen your entryway rug. Remove any plants or greenery that have seen better days.
The entryway
Make sure guests have a place to put their coats and bags. You don't want to have to put their coats and bags on top of your bed. Have a small entryway but need some organizing and storage ideas? Check out one of our most popular posts that is packed with ideas for Organizing narrow entryways.
Conclusion
This simple decluttering plan will help you quell the clutter in your home throughout the holidays- and beyond. Before you know it, decluttering will become a part of your days, and you will not even have to think about it. Remember, organizing is a process, not a project!
What are some of your biggest challenges when it comes to keeping your main living spaces clutter-free?
HOLIDAY Planners
Christmas Planner
Say goodbye to the days of frazzled nerves and hello to a confident, beautifully orchestrated holiday event that perfectly reflects your love for family and friends. Get ready to dive into a stress-free, delightful celebration, leaving your loved ones in awe.
Tips and ideas to help you prepare and enjoy this special season with your friends and family.