So Many Ways to Give Thanks… and a Thanksgiving Planner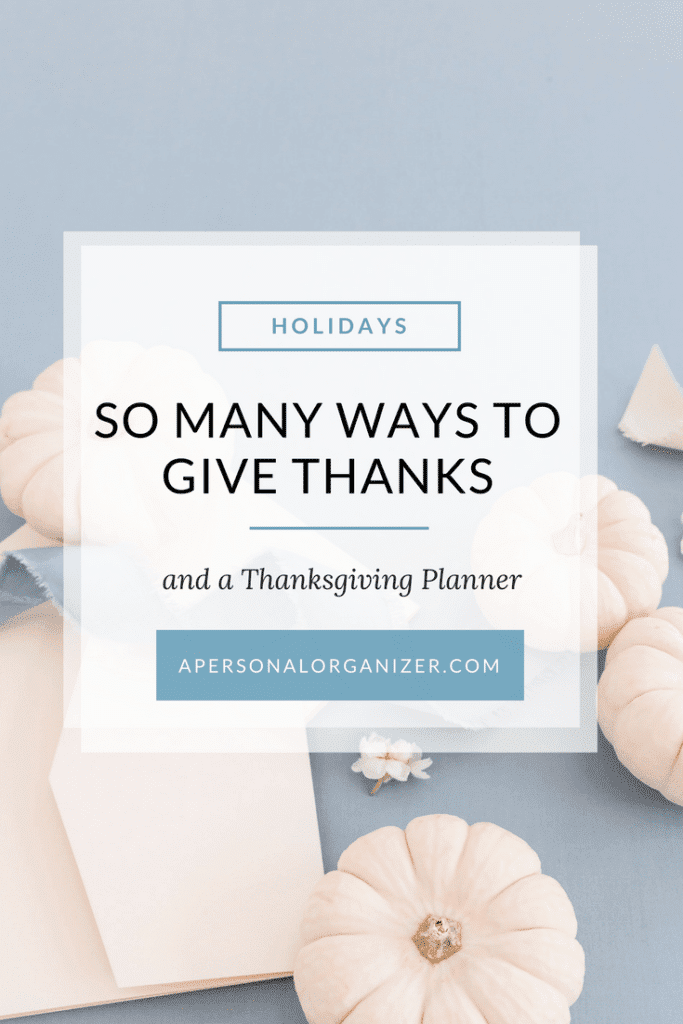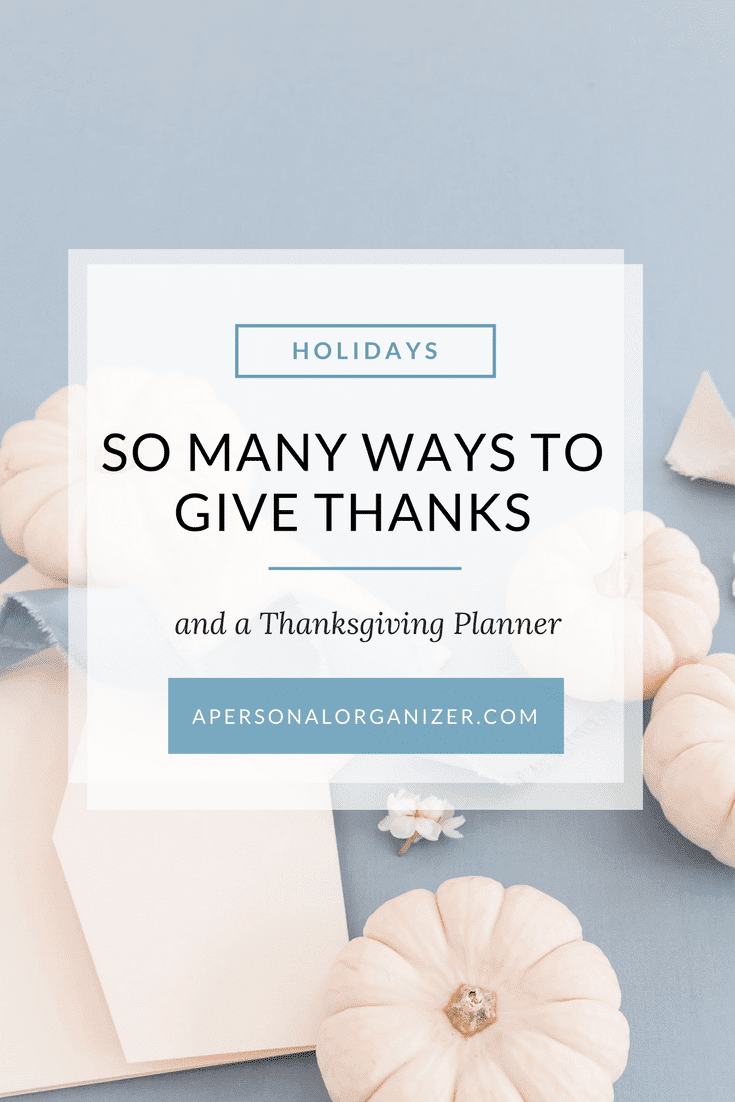 It's so easy to get caught up in the daily rush of life and forget to give thanks to those around us. As a mother, wife, a person with many interests, and a professional organizer, I know how easy it is to get busy and forget to stop and acknowledge the ones that help us immensely.
I also find that the people who are the closest to us, who help us with the little things of daily life, are often the ones we least recognize, and because I believe in expressing my gratitude to those around me and in my life, I make it a point to show how grateful I am for their help and support.
There are so many simple, kind, and caring ways to show you care.
Consider whether you wait until Thanksgiving Day or Christmas to thank those you love and those who have helped you.
It is important to spend time during these special holidays to be thankful, and a little ritual I have is to write a thank you letter to Life for all the amazing people I have in my life, for all the experiences I have been through, and for our health and beautiful life.
There are some great reasons to thank people throughout the year and not just during the holiday season, but if daily life got you so busy that you didn't really stop to say thank you, now will be a wonderful time to do so.
You should have no problem thinking of ones to thank daily or weekly. If you need some ideas, here are some to get you thinking:
Family and friends that have done something for you (including being your friend)
The person who delivers your mail and newspaper
The crew that collects your trash and recycling
The people that clean your home – in case you hire this service – or tend to your yard
Teachers, teacher aides, and school staff
Church staff, teachers, and helpers
Business co-workers and clients
Community workers (including police, firefighters, and government workers)
Medical professionals looking after your family's health
How do you thank those who have made a difference in your life? Try one of these ways or be creative with your own heartfelt method:
Send a handwritten note or letter that expresses your thankfulness.
Tell the person face-to-face how grateful you are for them being in your life.
Provide a simple gift to the person.
Help the other person in a way that benefits him or her.
Send your clients a thank you note every time you have the privilege of being of service to them.
Giving thanks doesn't just benefit the other person. You will receive benefits from doing it as well. You will begin to feel happier and more relaxed. In fact, it has been proven in studies that being grateful can have a positive effect on your health. It can reduce your stress and boost your immune system.
Why wouldn't you look for every opportunity to show your thankfulness to others? This is a wonderful time of the year to give thanks, but I invite you to practice it on a regular basis and give thanks throughout the year.
Thanks to all my readers, clients, and wonderful colleagues for all you have given and taught me.
I wish you a wonderful, loving, and bountiful Thanksgiving, and may your rituals to give thanks to those around you open your heart and fulfill your life with joy!
HOLIDAY Planners
Thanksgiving Planner
Picture this: a stress-free, heartwarming Thanksgiving celebration filled with delicious homemade meals, cozy decor, and quality time with your family and friends. It's all possible with the Thanksgiving Planner.
Tips and ideas to help you prepare and enjoy this special holiday with your friends and family.