Prepare your home for the holidays with these decluttering, organizing, and early prep tips.
As the holidays draw near, so do all of the "things" that come with them. From decorations to food and gifts, they bring a whole lot of "stuff" into our homes. To prepare your home for the holidays, the best way to keep the clutter out of your home during the season is to declutter, purge, and organize before it arrives.
Here are our best tips on preparing your home for the holidays to avoid clutter and overwhelm in your space.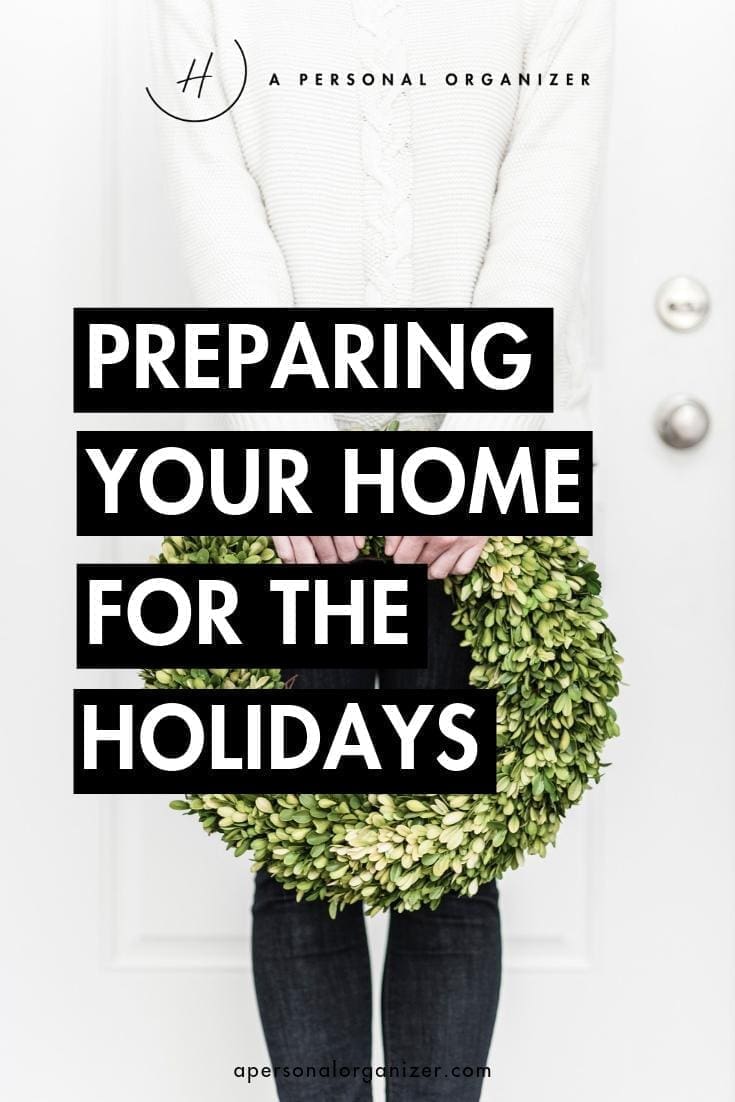 1. Start By Letting Go
When it comes to preparing your home for the holidays, the first thing you absolutely must do is purge and declutter. Be relentless when it comes to decluttering!
Move through your home and declutter each room and space at a time. Once you have purged what doesn't serve you anymore, you can begin organizing and designating spots for any gifts that will come in.
2. Deep Clean Early
No one wants to clean deep those forgotten spaces that are in our homes in the middle of the holiday rush when guests are coming the next day.
Hit those forgotten spots of your home with a good, deep clean well before the holidays arrive. This way, you can simply do a quick freshen as the holidays near. Imagine the time and energy you will save!
3. Start Preparing Your Kitchen Now
The kitchen is one of the rooms that get the most action in our homes around the holidays. Start preparing your kitchen before the parties and house guests arrive. You'll want to go through and lean out and restock your pantry, check on your service ware, and stock the bar.
It's also a great idea to stock your fridge and pantry with some self-serve snacks and treats that guests can easily get for themselves. Keep some frozen prepared appetizers and pre-made puff pastries in your freezer for last-minute, on-the-fly desserts.
4. Consider Guest Spaces
If you are lucky enough to have a dedicated room or rooms for guests, prepare those well ahead of time.
If you have a dual space, say an office that doubles as a guest space, think of how you can change this over temporarily to focus more on serving guests for the holiday season.
If you live in a small apartment or home with no extra rooms, think of how you will put any guests up in your home (pull-out sofas, etc.) and ensure you have plenty of blankets and linens ready.
If your space is simply too small to accommodate guests, think about nearby hotels or friends or family that may be able to offer up a room or host your guests.
5. Set The Mood
Bringing the holiday spirit into your home doesn't mean you need a million decorations in every room. What really sets a holiday festive mood can be simple and uncluttered.
Prepare your home for the holidays with intentionally and thoughtfully placed candles, scents, cozy blankets, pillows, warm fires, good music, a festive cocktail, and tasty snacks.
Stock up on these items and have them at the ready for any impromptu guests or holiday parties.
Conclusion
Getting your home ready for the holidays doesn't have to be overwhelming. If you get a head start, declutter and organize, make room for the gifts, deep clean early, prepare guests spaces, and set the mood throughout your home, you will have a jump start.
What is your favorite part of getting ready for the holidays? Let's share in the comments!
HOLIDAY Planners
Christmas Planner
Say goodbye to the days of frazzled nerves and hello to a confident, beautifully orchestrated holiday event that perfectly reflects your love for family and friends. Get ready to dive into a stress-free, delightful celebration, leaving your loved ones in awe.
Tips and ideas to help you prepare and enjoy this special season with your friends and family.