Create a Stunning Thanksgiving Table
When you first begin to plan your Thanksgiving table, your thoughts may be of who will gather there and what you will serve them. While the feast is an essential part of the tradition, a memorable centerpiece will bring your Thanksgiving table decor together and enhance the meal.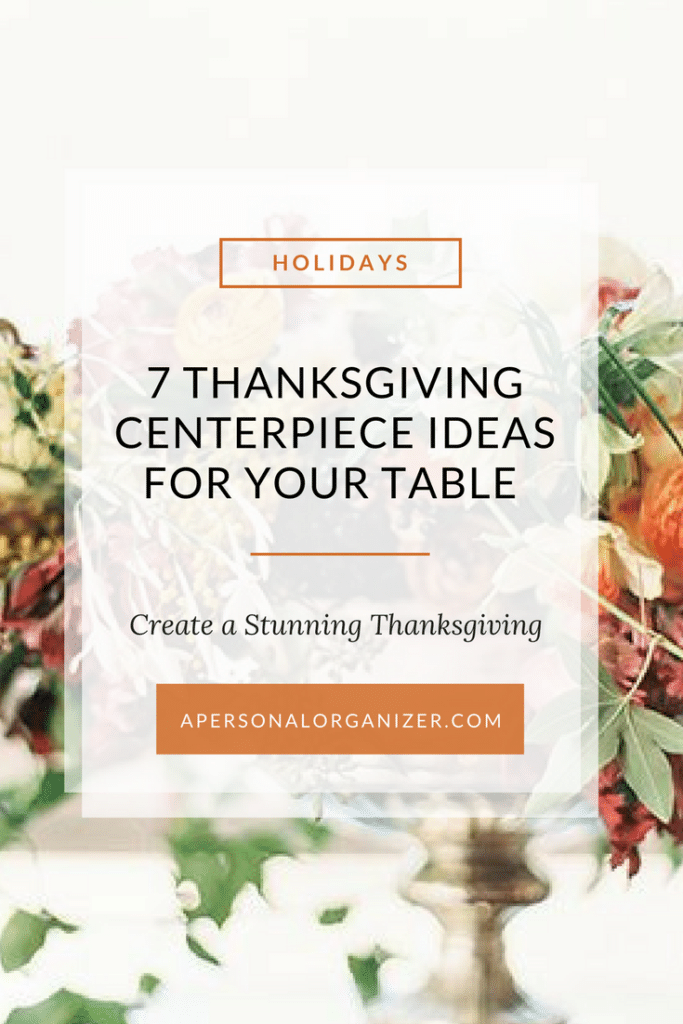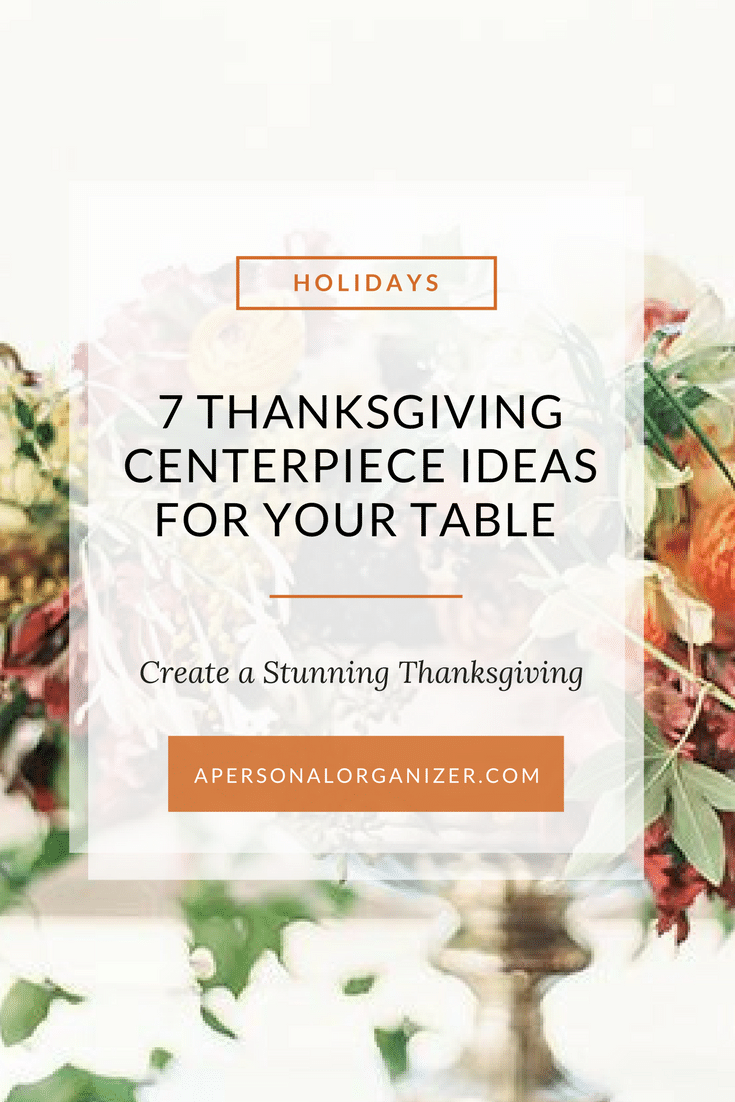 These ideas for a Thanksgiving centerpiece are both visually stunning and creative. They feature the most beautiful autumn flowers (think dahlias and ranunculuses) and unique edible accents like persimmons, blackberries, and pomegranates. No matter what your style, there is a centerpiece that will impress your guests. It's easy to imagine the smiling faces of friends and family as they gather around your beautifully prepared Thanksgiving table.
Lush & Eclectic Thanksgiving Table Idea
Wild blackberry branches and petite persimmons make this arrangement lush and remarkable, but the true star of this show is a fall favorite: the dahlia. This arrangement combines large semi-cactus dahlias and smaller decorative dahlias with the romantic and nostalgic garden rose. Rust-tinged oak leaves and delicate eucalyptus add color and volume to an already luxuriant centerpiece. Seasonal fruit, dahlias, and oak leaves are abundant and easy to find in the fall and are perfectly in tune with the harvest spirit of Thanksgiving.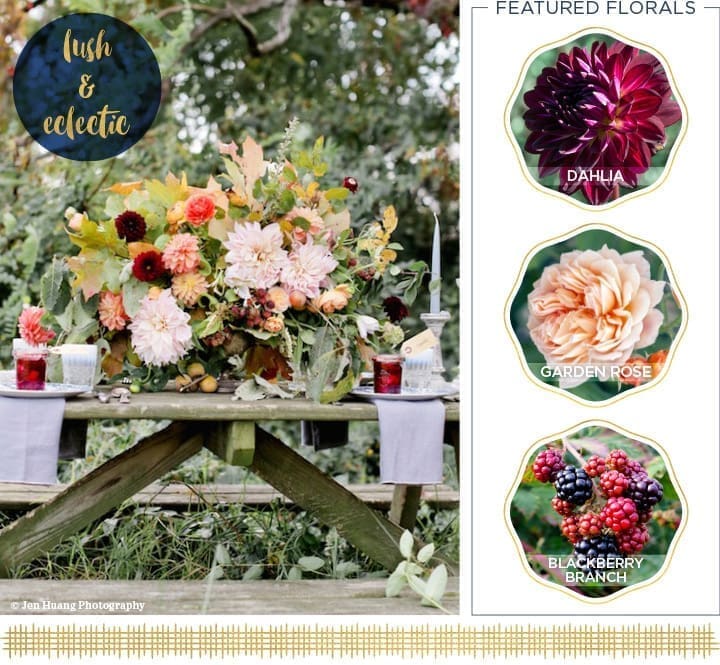 Fresh & Simple Thanksgiving Table Idea
Fragrant and bold, this centerpiece is rich with the color orange. Bright ranunculuses serve as the center of interest and are perfectly accented by kumquat branches' creative and rustic additions. Crocosmia, a relative of the gladiolus plant, provides another eye-catching burst of color. The orange pops against lush foliage, and the fresh fragrance of mint and the sweet perfume of jasmine vines, combined with the citrus scent of the kumquats, add to the visual beauty of this Thanksgiving arrangement.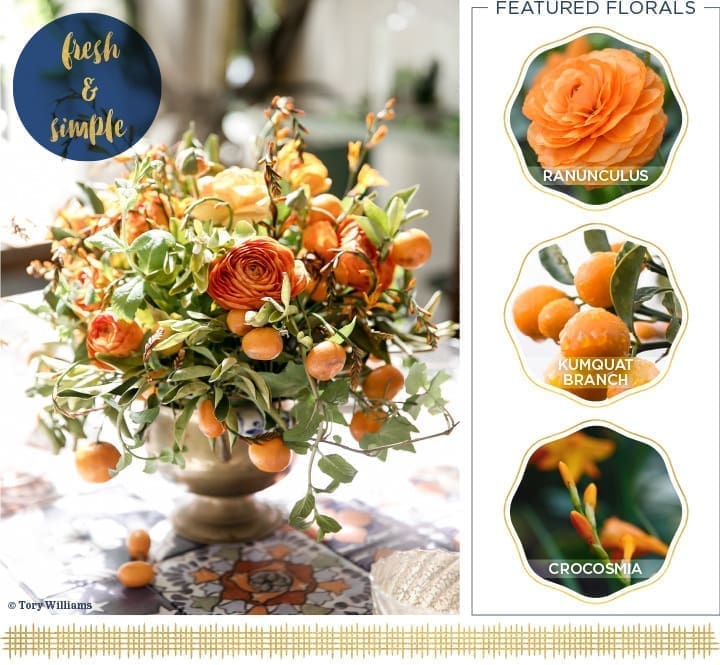 Chic & Elegant Thanksgiving Table Idea
Entire branches of live oak trees and various colorful fall leaves add drama and dimension to this tasteful arrangement. The main focus here is the dinner plate dahlias, known for their impressive size, layered petals, and attractive, richly colored ball dahlias. Marigolds are perfect for this arrangement with their bright orange and red blooms. The dusty pink and cream hues combine burnt oranges and vibrant reds for a classic centerpiece that imbues refined luxury.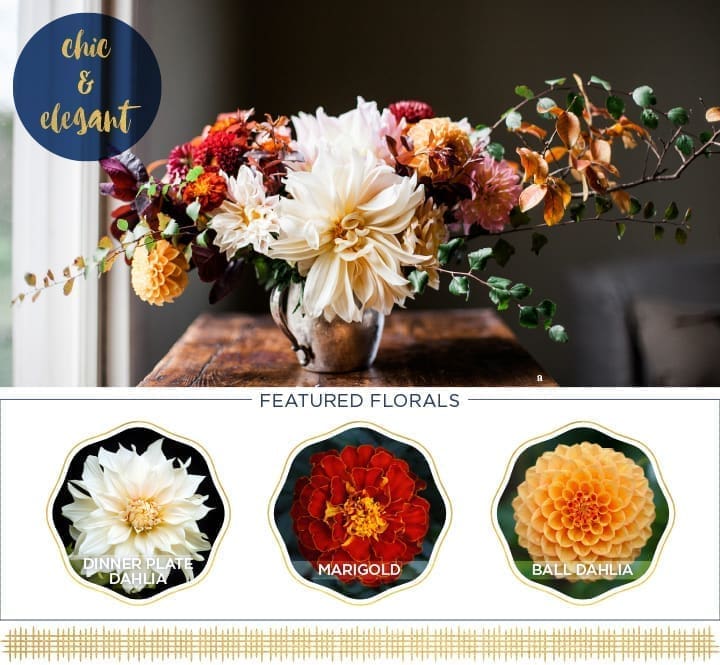 Vibrant & Creative Thanksgiving Table Idea
Fuchsia, white, and dark purple chrysanthemums anchor this casual yet polished arrangement. This dramatic look is created by bunching chrysanthemums with fuchsia-colored globe amaranth, golden brown and green magnolia leaves, and bright orange persimmons in small structures along the length of the table. Persimmons have been called "the fruit of the Gods," Their brilliant golden hue adds a striking effect to a creative and thoroughly modern centerpiece.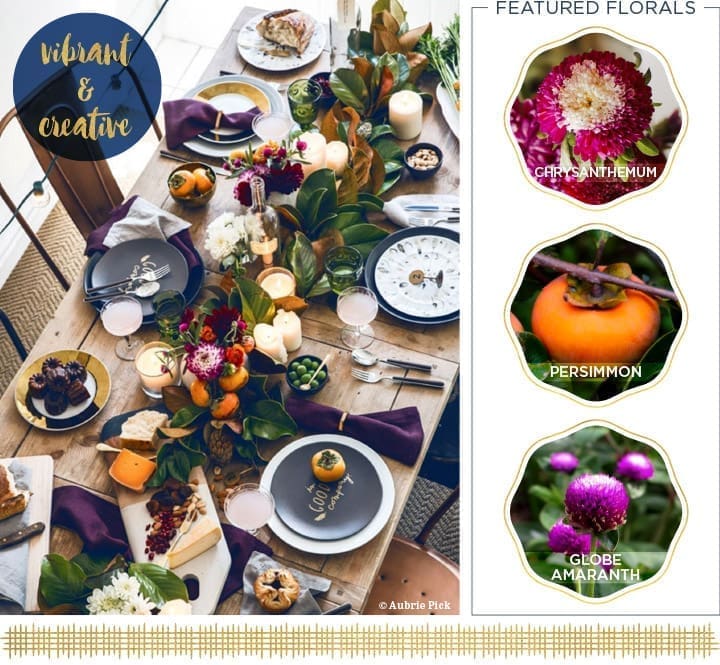 Rustic & Wild Thanksgiving Table Idea
An enchanting medley of semi-cactus dahlia, whimsical sea holly, and delicate Queen Anne's lace flowers come together uniquely. Its palette of traditional fall colors combines pastel pinks and greens with rich maroons and purples. Dried ornamental grasses and fresh flowers bridge the old and new for the ultimate rustic centerpiece. Not only do stock flowers represent a happy life and contentment, making them perfect for a Thanksgiving celebration, but they also add a spicy-sweet fragrance that complements the crisp scent of eucalyptus.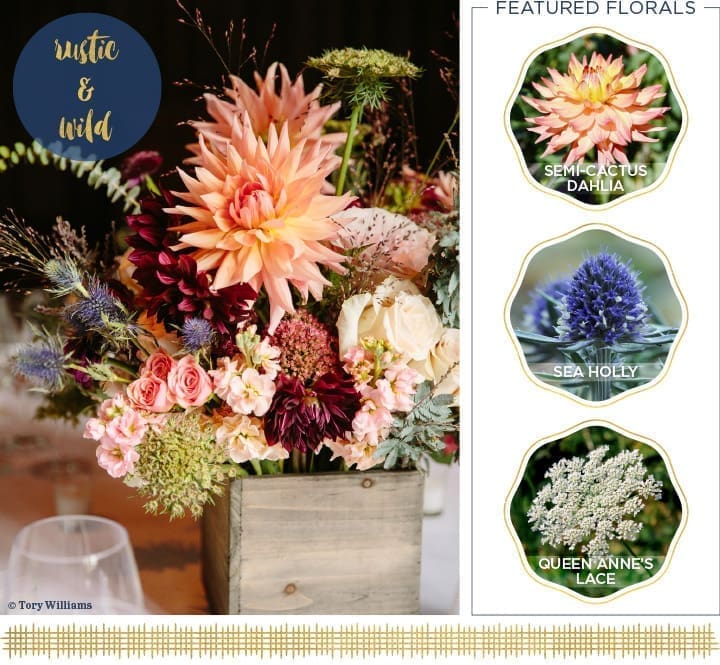 Dramatic & Wild Thanksgiving Table Idea
This arrangement boasts rusty orange tones to complement your Thanksgiving decor, an asymmetrical silhouette, and an impressive yet understated presence. It highlights the best of nature's offerings in the fall season, with decorative dual-toned dahlias and bright green branches of bright, colorful, and bold firethorn berries. Balanced with the delicate visual appeal (and intoxicating scent) of tuberose and showy Snow on the Mountain leaves, this fall centerpiece is sure to be a crowd favorite.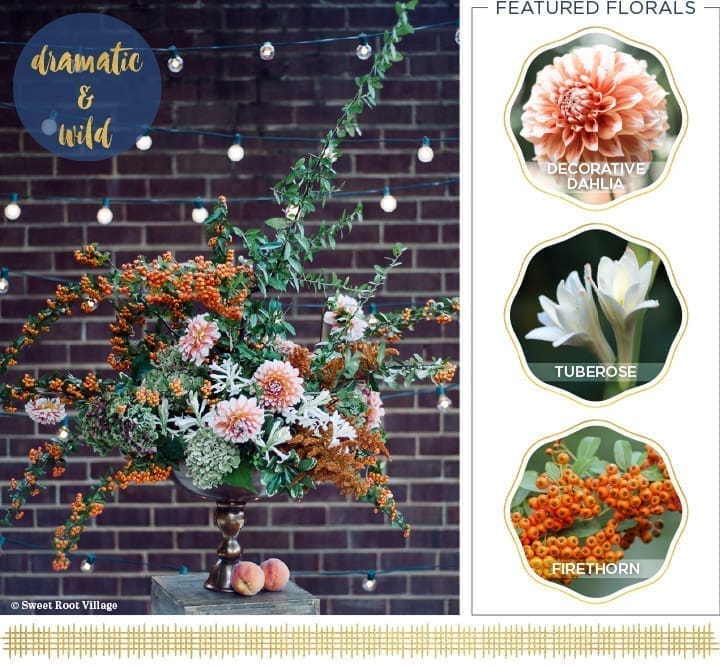 Stylish & Exotic Thanksgiving Table Idea
There is no flower more apt for Thanksgiving than the beautiful calla lily, which symbolizes gratitude. It pairs perfectly with seasonal fall fruit and the Cream Mink Protea, with its creamy white petals and dark maroon border. The dramatic effect of cascading magenta Elephant Head amaranth adds to the statement.
Pomegranates have been known as the "fruit of life" since ancient times. They are revered for their high levels of antioxidants and many health benefits.
Display an open pomegranate as part of your centerpiece, revealing its alluring and beautiful jewel-like seeds.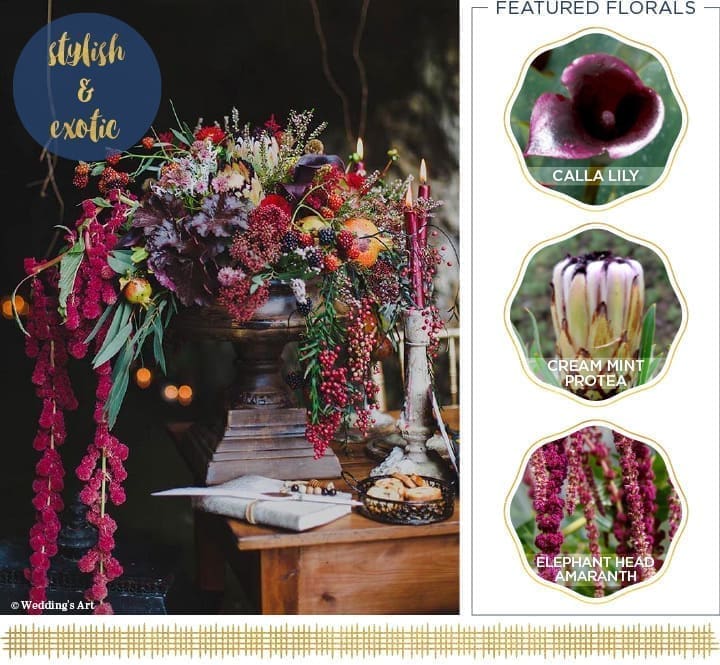 Thanksgiving Day is all about the experience of celebrating with family and friends and sharing your gratitude for the year's blessings and the beauty of the season. A great centerpiece elevates the mood and highlights the beautiful bounty of fall. You can add your creative touch with any of these Thanksgiving centerpiece ideas to make them the most meaningful for your holiday celebration.
These Thanksgiving centerpiece ideas come from our friends at FTD. I haven't received any form of compensation for this guest post.
HOLIDAY Planners
Thanksgiving Planner
Picture this: a stress-free, heartwarming Thanksgiving celebration filled with delicious homemade meals, cozy decor, and quality time with your family and friends. It's all possible with the Thanksgiving Planner.
Tips and ideas to help you prepare and enjoy this special holiday with your friends and family.