Gift Ideas For Her
We all have a special lady in our lives. Be it our moms or mothers-in-law, a BFF, or our sisters, coming up with gift ideas for the women in your life can become a challenge.
It can be even harder if she loves shopping and always looks sharp. I'll share some of my favorite things to inspire you and hopefully end your quest for the perfect gift.
Some of these items are on my wishlist, and others are permanent staples in my closet and daily self-care routine.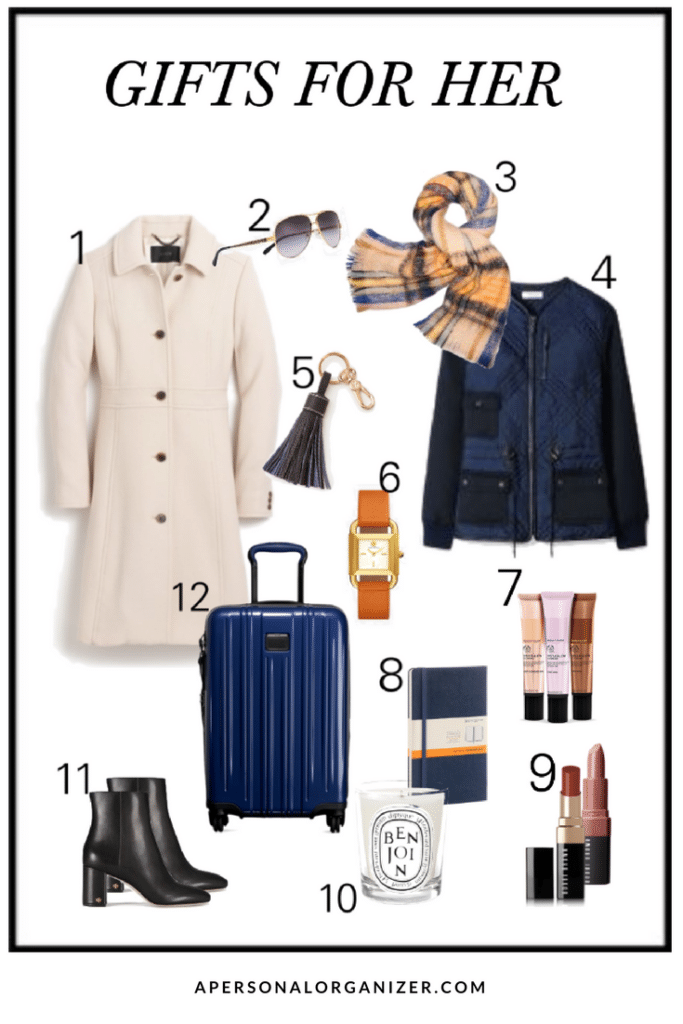 This post contains affiliate links. If you click through and make a purchase, I may receive a commission at no extra cost to you.
Keep in mind that I'm not a fashionista. I believe in the classics as the bones of my closet and in letting the accessories be the highlights of my outfits.
I also believe in quality over quantity, meaning I'll pay more for something that will last decades. And, finally, I believe in getting dressed, from shower + makeup to being dressed by the door in 20 minutes. Really!
Gift Idea #1 – The Perfect Winter Coat
Since we moved from San Diego to Chicago, I had to step up my game in both winter gear and skin care. The intense cold is not friendly to our skin, and it's not easy to be stylish and stay warm when it's -20 F outside.
I love the daily comforts and ease of the combo legging + sweaters + boots, but when it came time to dress up for gatherings, parties, and functions, I had a really hard time figuring out what to wear.
I searched high and low for the perfect dress coat and found my perfect match in this double-cloth wool J.Crew coat. It's the ideal coat to wear for a more formal event and goes great with a dress, skirt + sweater, or slacks and a beautiful blouse.

This one comes in beautiful colors, like all J.Crew coats, but I stuck to a classic cream color that suits my skin color and breaks a bit of my black-on-black addiction.
Gift Idea #2 – Polarized Sunglasses
I bought my very favorite sunglasses years ago, back in sunny San Diego, after my eye doctor scared the life out of me by showing me pictures of eyes that had suffered sun damage. He made it clear: if you're not using polarized sunglasses, you're not only not protecting your eyes, you're hurting them.
With a small frame face, it was hard to find something I loved to be my go-to sunglasses until I found a Kate Spade polarized aviator one.

It has a more square and smaller frame than your traditional aviator, which is perfect if you have a face on the smaller side, like me. I purchased it 4 years ago, and with proper care, it still is my daily use sunglasses.
Gift Idea #3 – A Classy Scarf
A scarf that can be used with almost everything you have in your winter closet is a great addition to anyone's wardrobe.
I picked this one for its neutral colors, and because it matches both my daily use winter coat and my dress-up coat, making it easy to assemble a great-looking outfit in no time.
Gift Idea #4 – A Keep Me Warm & Look Good Jacket
Moving to Illinois only made me realize how I'm *always* on the cold side.
When everyone is wearing their short-sleeve dresses and blouses, I'm already packing up on a light jacket. So, I'm always looking for a light and beautiful jacket that I can wear inside.
This one is a great choice if you're looking for a gift for a woman who can pull both a modern and a classic look, not to mention how it will go well with so many outfits. From Fall to Spring, it will surely be worth the investment.
Another great option is a traditional blazer in a fun color, like this one from Boden – one of my favorite brands.

Gift Idea #5 – An Easy To Find Key Holder
I have been using this leather tassel keyring for years, and mine is red, making it even easier to find in my handbag. The gold metal hook is strong and wide enough to hook to an internal pocket, making it super easy to find my keys.

Gift Idea # 6 – A Classy Watch
This is definitely an item that has been on my wishlist for quite some time now, and I'll make sure, I'll let Santa hear about it.
I started using the Apple Watch both for convenience and in my efforts to become healthier and more active. It has been really great, but I miss having a nicer watch to wear, and this one is just darling!
Gift Idea #7 – The "Make You Glow" Bag
Just like I love easy-to-match items in my closet to make it simple to get dressed in the morning, I keep my makeup routine equally simple, and I found this primer by The Body Shop the perfect one-step solution to my daily routine.
After applying my sunscreen, I apply this slightly tinted primer that gives my skin a soft glow. Want to make it into a nicer gift? Create a small makeup bag with the essentials for a daily routine.

Gift Idea # 8 – A Beautiful Journal
I have had diaries since I was a little girl. My favorite journals had a little lock and key, and I kept all my notes about the day, school, friends, family events, you name it. As I grew busy with college and then work, I stopped journaling on a daily basis.
Sometimes, I find a long letter to myself or the Universe, which I always enjoy reading. After I got married, I started journaling again, registering events and the boys' growth, but nothing consistent. Now that the boys are older and I have more quiet time, I find myself journaling more often and truly enjoying it again.
As I recently started taking classes on hand-lettering, my journal became a great space to safely practice some beautiful titles, banners, and flowering details.
Include with the journal a beautiful set of coloring pens and a zippered case to safely hold everything.

Gift Idea #9 – Color That Smile
I know very few women who won't use or appreciate a beautiful, neutral color lipstick. Yes, red is neutral, and so is nude. These are the only lipstick colors in my makeup bag, and I don't miss trying new ones, ever.
Have a no-lipstick woman in your life? Gift her with this amazing lip balm by Glossier. I can't live without it!
Gift Idea #10 – Light Up The Room
No matter the season, a candle will be lit in my office by the end of the day. Nothing says the day is ending, and it's time to slow down than the flickering of a candle.
I have tried several brands and love Nest, Esteban, and Diptyque.
Gift Idea #11 – Black Boots
These black boots are extremely comfortable and can be used with so many outfits that make it a no-brainer when it's time to dress up or pack for a trip.
From jeans to slacks, dresses, or skirts, they look good and take you anywhere.
Gift Idea #12 – A Good Carry On
I'm a complete believer in traveling light, and with luggage fees going as high as the altitude of our planes, I'll stick to my short and practical packing list any day of the week.
Select a hard shell, full spinning wheels, and a bright color your loved one can spot from afar.
And there you have it! A list of gifts that hopefully will help you in pleasing the women in your life.
Shop the post

HOLIDAY Planners
Christmas Planner
Say goodbye to the days of frazzled nerves and hello to a confident, beautifully orchestrated holiday event that perfectly reflects your love for family and friends. Get ready to dive into a stress-free, delightful celebration, leaving your loved ones in awe.
Tips and ideas to help you prepare and enjoy this special season with your friends and family.