Tips & Tricks For the Long and Narrow Entrance
The entryway, or foyer, is an important component of your home that can often go overlooked. Because it's the environment that greets you at the end of each day and the first impression guests receive of your home's interior, you'll want to give this space some special treatment.
The elements of a great entryway are simple. You can enhance them during this time of the year to really add some festive flair or warm comfort. A few small changes can make all the difference and help to create the kind of vibe you desire. Adding fun decor doesn't have to be tricky just because your space is limited. Let's take a look at some ways to decorate a narrow entryway for the holidays.
Start With the Mirror
A mirror should be part of your foyer if at all possible. It adds both a decorative and practical element to this slender spot.
Along with giving you a way to take one last look at your appearance before walking out the door, your mirror also reflects light to give your entryway a more spacious feel. You can capitalize on this at holiday time by adding lights to or around it.
A lighted garland can be just the thing to add some holiday cheer to a home with traditional holiday decor.
A beautiful candle scape placed on a tray in front of your hall mirror can be an elegant touch that adds sparkles of reflection, along with a lovely scent, to your entryway.
Don't Forget the Door
Lots of folks add a wreath to their front door on the outside. It's easy to neglect the interior of your door's surface, though.
If you didn't place a wreath in front of your mirror, adding one here is a suggestion.
Another idea is to cover your door in a wrapping paper that complements your other decorations. You may also wish to dangle some sparkly crystals, jingle bells or decorative balls from the doorknob. The sky's the limit.
You Can Have a Tree
You might think that a Christmas tree would be too much for a narrow entryway. Not necessarily. If you love the look of a tree in the entrance, you don't have to go without.
A slim pencil tree can fit nicely in a nook. Even a short and stout one might sit unobtrusively in a corner.
You can get creative and use your wall surface to create the look of a tree with objects such as wrapping paper, wire or ribbons. Think outside the box to include the elements you desire.
Use Your Landing Space
The place where you throw your keys, mail and other small items is the perfect palette for a holiday-themed display.
Adding just a few items can make a nice tablescape, while still allowing you to have room for the practicality of bowls and boxes to hold your possessions.
In fact, you can decorate those things temporarily for the holidays or replace them with catch-alls to fit your theme.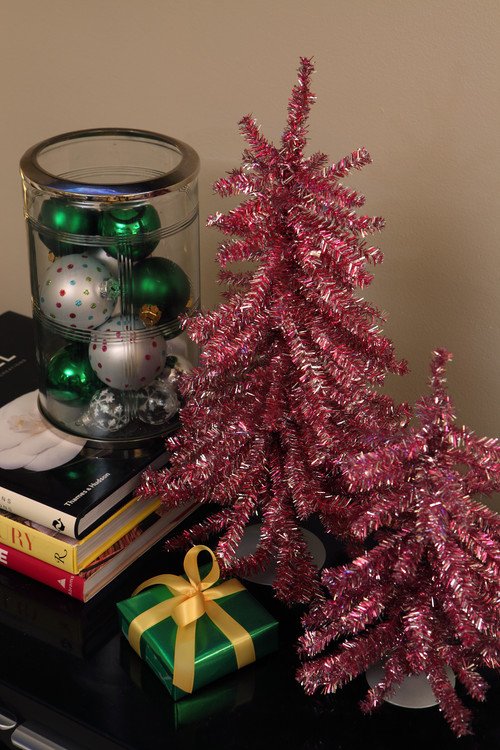 Dress Up Your Light Fixtures
Good lighting is important for the foyer, so you probably have either an overhead fixture or a few lamps in this space.
As long as you're being careful about fire hazards, your light sources can be decorated as part of your overall holiday makeover. Add ribbons or crystals to a lampshade. String garland of nearly any material around your overhead fixture to extend your decorating up above and raise the eye.
Whether you're going for a glitz and glam look or prefer a rustic theme, you can decorate your narrow entryway for the holidays without adding stress to your life.
Adding personal festive touches doesn't have to leave your small space looking cluttered. Using your existing decor pieces and adding some strategically sized items can give you an inviting foyer during the most wonderful time of the year.