Simplifying With the Wardrobe Capsule Concept
Tired of having a full closet and never knowing what to wear? I think every woman I know has been there! Let's take a look on how you can organize the closet using a new organizing idea?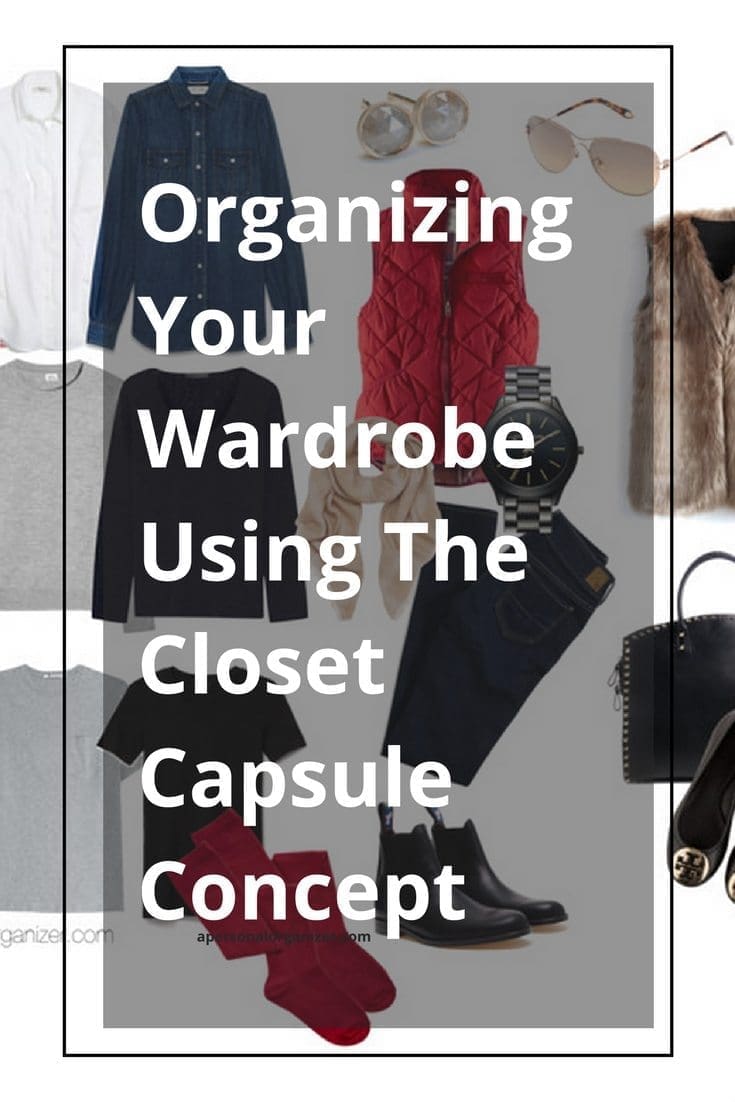 The Why and the Benefits – that go way beyond your closet
It's easy to understand why homes and closets get packed and stuffed, day after day, and why we feel more and more stuck inside our homes. After all, there's an essential conflict between two worlds. One that keeps inviting us to consume more and more and another that keeps getting more and more packed: our personal spaces. With the strong appeal of the first, it can be hard to swim against the current.
Still, many people, in a movement of rejection to consumerism and the lack of presence and intention in their lives, have been embracing minimalism as a new way of life. They're no longer talking about "how to organize", but rather they're focusing in "how to have less" and by doing so, they have no need to organize.
I believe this movement has been growing so strong because when we're looking for information on "how to organize" something, we are not really looking to organize our stuff, but we are in fact looking to learn and understand how we can live better, what can we do to be happier, how can we build a life that allows us to live our full potential, and that goes way beyond of "where to place our stuff".
In the search for simplicity, the concept of closet capsules was created, bringing the opportunity to have what you need, use and love for the current season.
The closet capsule is composed of ultra-versatile pieces, that mix, and match, allowing you to stay true to your style without compromising on your commitment to bring simplicity to your daily life. Those who adopted it believe that by keeping less, they will have more.
Tired of the excess around you? Keep reading…
In professional organizing we are trained to observe the client and identify the signs of what's called "decision fatigue" and I found quite interesting to read interviews with president Barack Obama and Facebook's founder, Mark Zuckerberg, where they state having a limited closet, exactly to avoid having to make one more decision in their already "decision packed" lives.
By doing so, by reducing the number of items in their closets, these highly productive individuals, among many others who have embraced the trend, are in fact simplifying their lives, creating more space to live with intention and be able to focus on what's important to them.
The fleeting pleasure of shopping.
I have been through it many times in the past and maybe you'll identify yourself with this feeling. The feeling of excitement that we have, when leaving a store, hands filled with packed bags, all brand new clothes. That feeling will last until you get home and then open your closet to find brand new clothes with tags still hanging, a bag on the corner with returns you never made and we start asking ourselves: why did I buy more? do I even need this?
Then worse happens. You're getting dressed in the morning and you keep trying outfits because no matter how many new clothes you pack into that closet, nothing really seems to look good and you ask yourself: what will I wear today?
I found that when we're living out of sync with who we are, disconnected from our truth, our lives, our deep wishes of fully expressing ourselves, we'll always feel we are not enough, that we don't have enough and that may become physically expressed as "I have nothing to wear".
Therefore, when we reduce our closet to a "capsule", summarizing it to the essential items we really need, want and love, we're going beyond the idea of saving money or time. What we're actually doing is opening space to what is really important to us.
Using Intention and Reducing Your Wardrobe
1. How to reduce my "beloved" wardrobe?
To create a wardrobe capsule that can really work for you, you should focus on who you are, what's your lifestyle (because many times we shop for clothes to the lifestyle we wished we had), the clothing style you like and so forth.
Check these suggestions on what to consider before moving on:
What's the current season? I love the idea of seasonal capsules, even more so if where you live will dramatically change with the seasons.
What's your lifestyle? Do you work out of the house 5 days a week, your wardrobe will be very different than mine, as I work part-time as a professional organizer and am the main caregiver to our 3 boys. Pay close attention to your need to create a capsule you love.
What's your personal style? Do you like cozy, comfy outfits (like me!) or you go for a more elegant one? Having a clear understanding of your personal style will make it quite easy to simplify your closet.
What are your favorite brands? Observing your favorite brands will give you insight on your personal style and may help you simplify the process of building a "lean" wardrobe that is highly functional to you.
What are you "go to pieces"? For example, my main go to pieces are leggings. Except during the summer, you'll find me on them! From long t-shirts, shirts, and sweaters, I'll wear them with flats or boots, according to the weather.
What are your favorite colors? Do you love monochromatic pieces or can't live without bright colors? Personally, I'll keep a more monochromatic color scheme which helps me mix and match everything I have, allowing me to play with accessories if I want to.
I created the board below to give you an example of a simple wardrobe that I'd wear from Fall through the Winter.
2. Select a number of pieces to build multiple outfits
Determine a max number of pieces you'll use to create your outfits. Take into consideration your "go to pieces" and those that will bring a happy punch on special occasions. For example, using my favorite black legging pants, I can build multiple outfits using a sleek white button down shirt, a light sweater or even a basic t-shirt paired with one of my vests.
Tops – cotton t-shirts, button down shirts, the very cozy and oversized "boyfriend" shirt, sweaters, vests
Bottoms – shorts, skirts, pants, trousers, leggings
Dresses – casual and/or dressy
Shoes – flats, boots, sandals (flat and heel), pumps
Coats – according to seasons where you live – a light coat or jacket will do in San Diego winters, for example.
Beach/Pool – according to the season
Here is another example of how you can build, mix&match a wardrobe using the closet capsule concept.
And here how she created multiple outfits using the gray sweater.
​
3. Organize your closet to make the best use of your capsule
Now it's time to remove from your closet everything you won't use in the capsule you built.
For you to truly experience the benefits and simplicity of using a capsule you should make room to only have it in your closet or at least create a specific area for it.
Avoid the temptation to keep things mixed up or you'll end up not enjoying the benefits of having a simplified closet and routine.
Now it's your turn!
Do you think you could benefit from the closet capsule concept? How would you organize your closet to make this change?
I hope you enjoy these ideas and that they help you make life simpler.
PS: All J.Crew products with 25% discount with code: SHOPNOW