How To Eliminate Overwhelm With A Family Calendar
Have you ever wondered why you need a family calendar system? Well, there are several advantages. Today, I talk about why you should have a family planner in your household.
Last week, I talked about creating your Family Planning Day, and we shared tips to make it easy and fun for everyone.
Now, we understand that organizing your family calendar can be a stressful job. However, I have listed several ways you can manage your planner to accommodate the schedule of all your family members.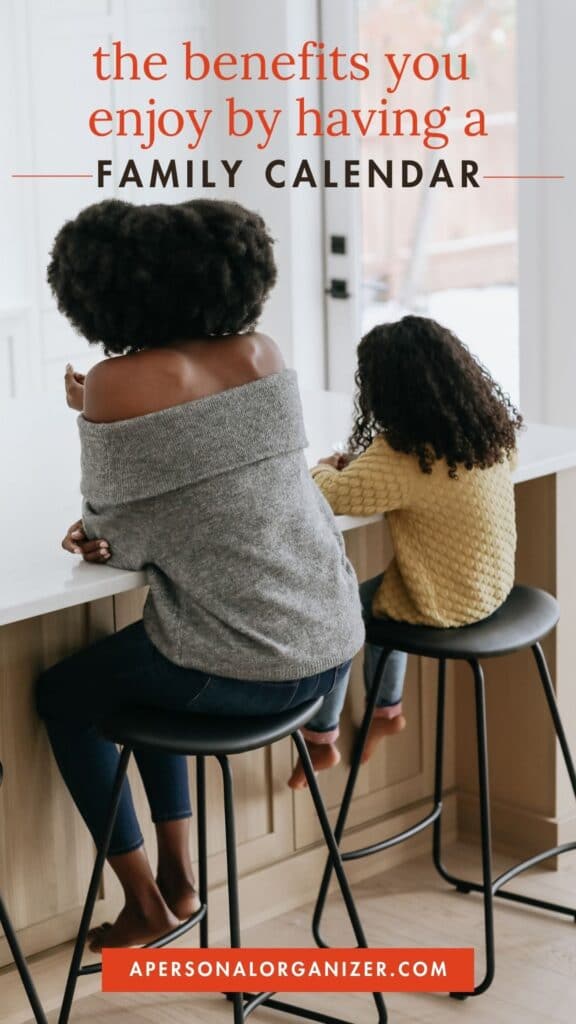 Advantages Of Using A Family Calendar System
If you are not convinced, check here just some advantages of using a family planner:
You'll be a little less likely to overlook or skip important events such as birthday celebrations, doctor's visits, school, and extracurricular activities.

You and your family will be able to see everyone's plans. This indicates that if your kids have a football match on Wednesday evening, everyone in your family will be able to participate and not commit to another activity.

Since everyone is assigned a specific household task, it assures that household chores are accomplished.

The family can support one another. If your partner has a doctor's appointment, for example, you or your children could start dinner rather than just your spouse when they come back home.

Your household routine is going to be set right.

It makes it much easier to schedule time with family, which, to be truthful, should be the main priority.

It makes plans easier. You could, for example, schedule meals and grocery lists around your family's routine. If your family is busy on a Thursday night, you might prefer to prepare a fast meal rather than something more time demanding.
Why should one keep a family calendar?
Listed below are the key reasons why you must have a home binder.
1. Make a study time plan
With so much going on, you might be worried about when you'll be able to examine plans. When you recognize your leisure time and want to mark out time in your week to spend on course work, a calendar comes in handy. Breaking down your work into reasonable 30-minute intervals will help you recall material and reduce the amount of stress you encounter while studying.
2. Record due dates
Maintaining a precise and up-to-date schedule with crucial assignments, tests, projects, and classroom discussion due dates reminds you of what you need to do and when. A calendar helps plan for each due date properly, rather than feeling overwhelmed by seeing schoolwork as a long list of things to accomplish.
3. Anxiety Relief
Due dates, task reminders, and significant occasions can all be written on a calendar to keep them from crowding your mind. You're less likely to ignore anything because it's put down in a calendar that you review regularly. Listing your home chores will feel like a huge weight has been lifted.
4. Keep family up to date
Have a child heading to college? The entire family will know what's occurring. Everyone can see your class schedule and when significant events are on your schedule.
Using a calendar to maintain open communication might help your family stay on track with the household routine.
5. Quickly check availability
When you obtain and accept the invitation to a great event, only to discover later that you have already committed during that time, it's an unpleasant experience. Using a calendar, you can quickly see when you are open and prior engagements. Understanding your availability makes it easy to plan events or other special occasions.
6.
Helps in making plans

If you know the schedule of your family members, you can schedule things according to their timetable. Setting up a doctor's appointment has never been easier, and you will not have to run around everyone asking for what they are doing on that day at that time.
Tips for organizing and planning your family's calendar
Planning your family calendar doesn't have to be stressful, and we have the right solution for you. Listed below are some steps you must follow to make calendar planning easier.
Calendars are simple to customize based on your work habits, technology access, and other preferences. Regardless of whatever path you take, here are some helpful hints for making the most of your calendar:
To easily differentiate where you spend all your time, color categorize your various schedules—work, home, school, etc.

Keep the calendar in a prominent and readily available place. This way, you don't have to look for your calendar during home chores.

To encourage the habit of keeping it updated, schedule regular sessions so the family

as we showed you here.
Would you like to use both paper and electronic calendars? Both should be kept in separate locations or for different purposes. Make sure you involve everyone, even the young ones.
Although pre-readers may not participate in the family calendar, you may still show your child how the calendar works and why it is needed. They can also join in the discussion, especially if you mention fun upcoming events that they would like to attend.