Closet Spring Cleaning Tips You Can Do
With warmer months just around the corner, this is a great time to use these spring cleaning tips and jump into decluttering and organizing mode.
It's time to do away with all the leftover winter clutter, make more room in the household and most importantly bring about a refreshing change in scenery that would be a perfect fit for the new season.
However, the entire task of spring cleaning – be it cleaning out the garage, basement, and attic or deciding which of the stuff to keep and get rid of can be quite overwhelming.
If you've been looking for some handy tips on spring cleaning, this article is going to be all you'll need. With these simple tips, your spring cleaning experience will be a breeze!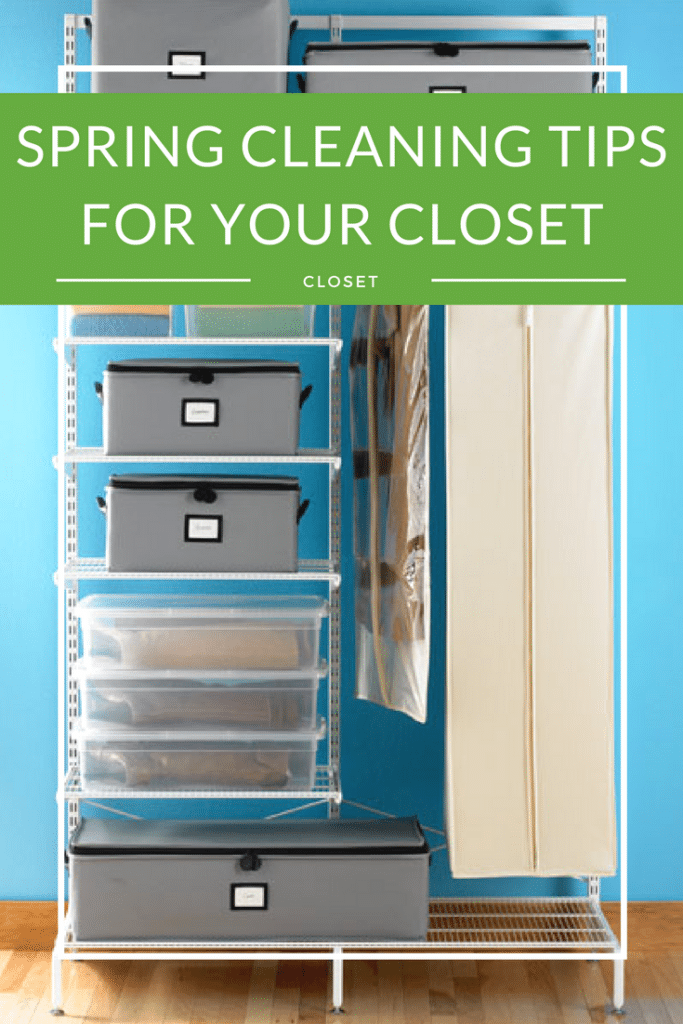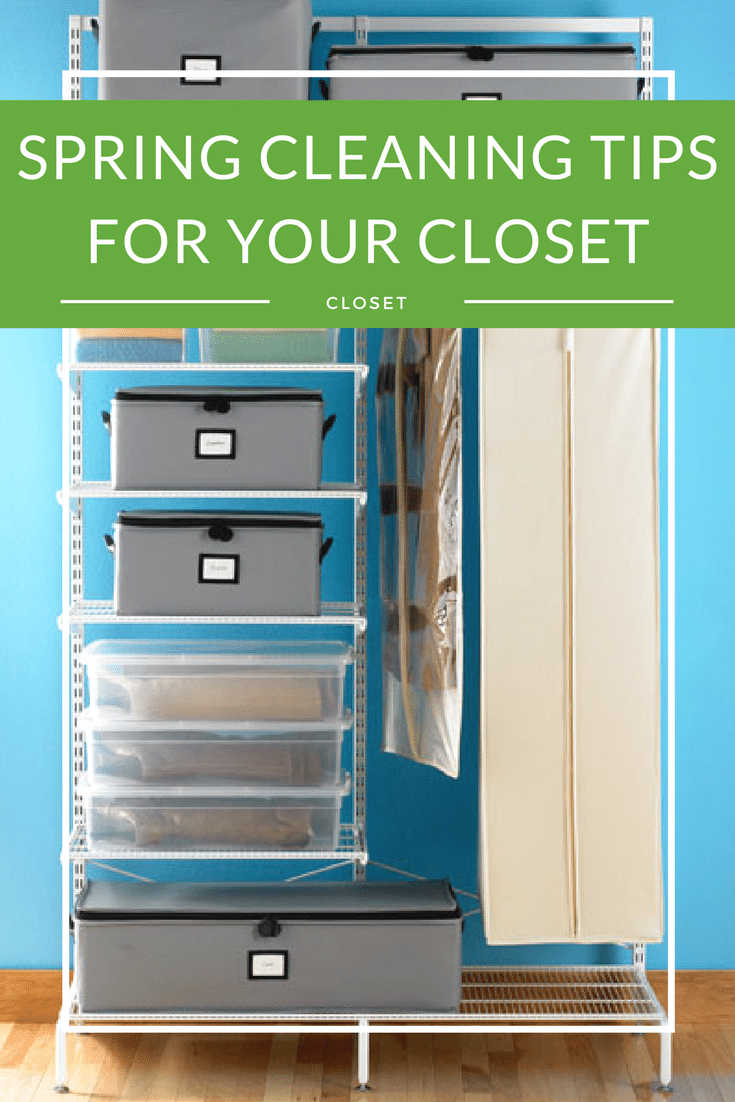 Bring out the Storage Containers
Consider using large, but not tall plastic storage containers snap-on lids for storing your winter clothes. You can easily get such containers at most of the local department stores, and they make a very inexpensive yet effective storage solution.
These containers help in keeping your clothes dust-free. They also save your clothes from discoloration, which may otherwise happen if you leave them hanging in the closet from one season to the next.
Remember to only store perfectly clean clothes and to place cedar balls to protect your clothes from moths. If you have problems with humidity, you can use a product such as Mold-Away
Roll it Right
This little storage tip will save you a lot of trouble. When packing your clothes, roll them instead of folding. This method instantly saves you a lot of space and makes more room in your closet. You will be able to pack a lot more clothes adopting this simple tip.
Place heavier pieces at the bottom of the container and the lighter fabrics above them.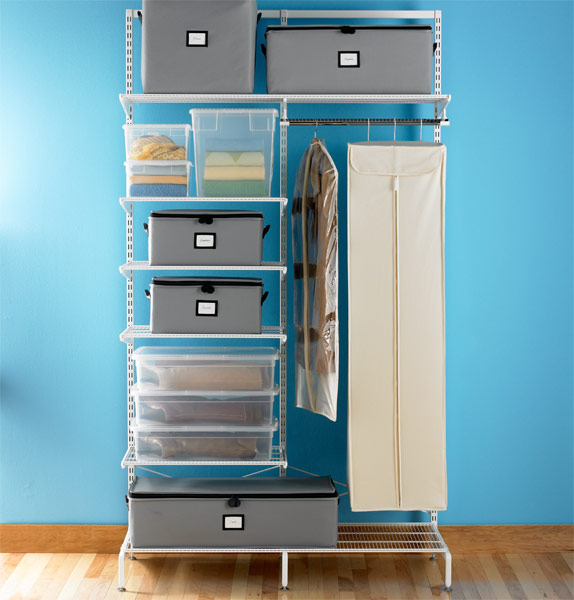 Mark the Seasons
Ever dealt with the trouble of unpacking all your clothes just to find the ones fit for the present season?
Here's a way to avoid all that confusion!
Simply label your clothing containers as 'spring,' 'fall' and 'winter.' This way, whichever the season, you can easily locate your wardrobe without messing up the entire closet.
Donate to a Cause
We all have clothes stashed away in our closets which either we do not plan to wear or have outgrown. Instead of letting these clothing items take up unnecessary space in your closet, consider donating them to a local Goodwill or other nonprofit organization.
Tossing them out might be easier, but it helps no one. By donating them, you can provide revenue for a worthy cause and help the less-fortunate to be able to afford clothing that would otherwise be unattainable. So extend the holiday goodwill and donate your unused clothes this spring!
De-clutter and Earn
Holidays are the times when our houses are filled with knick knacks, decorations, and mementos which are of no use to us. If you are looking to clear out some of the holiday leftover stuff to make more room in your house, consider holding a garage sale or a trip to the local flea market.
That's the place where everyone is looking for a bargain, and they just may be looking for something that you no longer wish to own.
As they say, one man's trash is another's treasure! You may require a setup fee for this arrangement which, depending on the location, can be $10.00 to 20.00 per day. But it's well worth the trouble.
Prefer to do the selling from your home? Then opt for the internet auction sites, including Yahoo and eBay. There are plenty of buyers looking for just about anything under the sun!
Consider a Lightweight Vacuum
Spring cleaning is quite a time and energy consuming task. With all of the changes that you're making, there will be a lot of cleaning of spaces to do.
So, it's a good idea to switch to a lightweight vacuum like a pickup vacuum. This will save you from lugging around a heavier model and getting exhausted in the process.
A lightweight model will glide across the floor with ease and save you from all the hard work. After all, spring cleaning should not feel like a hard chore but as a fresh new beginning!

Spring Cleaning Organizing Products
Clear Storage Box

Keep your favorite t-shirts, light sweaters, and cashmere here.

Deep Clear Storage Box

Ideal for bulky items like sweaters, quilts or blankets

Jumbo Clear Storage Box

Great storage for comforters, blankets, sweaters, sleeping bags…
Out of Season Storage

Perfect to safely tuck away everything you won't need for the next 6 months!

Clear Underbed Storage Box

Perfect for your bedding or out of season items.

Out of Season Closet

Keep all your out-of-season items, safely stored, in this storage area. Add cedar balls or bags to protect your beautiful pieces.
Attic Out of Season Storage

Make use of your attic in the most organized way. The Elfa free-standing units are great to add storage as needed and they come in every height and width.

Cedar Coat Hangers

Invest in these hangers to protect your best items. Also available for blouses and dresses.

Out of Season Storage

Ideal to store all out of season clothing items. From dresses to coats, clear the space with this extra "closet".
PEVA Large Sweater Bags

Keep your favorite t-shirts, light sweaters, and cashmere here.

Cotton/PEVA Sweater Bags

Ideal for bulky items like sweaters, quilts or blankets.

2 Tier Mesh Top Drying Rack

Perfect for drying your delicate sweaters before storing them.
Flip-N-Fold Laundry Folder

To simplify the folding and get all your pieces folded faster.

Cedar Drawer Liner

Keep all your clothes perfectly protected with these cedar liners at the bottom of each box boot insert to make it perfect!

Mold Away

Help protect your clothing against potentially dangerous mold and fungus with Mold-Away.
Cedar Stow Hanging Dress Bag

Save your winter dresses here and fully protect them until the next season.

Cedar Under Bed Storage Box

Great storage for comforters, blankets, sweaters, all perfectly protected.

Cedar Stow Hanging Suit Bag

Perfect for your coats and winter suits.