Easy And Creative Thanksgiving Decoration Ideas
Thanksgiving is fast approaching and, if your family is anything like mine, celebrating Thanksgiving usually means having guests over for a delicious meal! To make your prep work simpler this holiday season, I went online and compiled a few favorite Thanksgiving decoration ideas to share with you.
I chose simple decorations that don't require much storage so you can spruce up your space without the stress!
Decorate Your Table With Some Greenery
A little bit of eucalyptus can go a long way! Greenery is such a simple way to liven up your space, and eucalyptus seems to be the fan favorite this season.
Doesn't it look great paired with a neutral table runner, candles, and a few festive pumpkins?
Pick up a spring or two a few days ahead of time, and tuck it into a vase or wreath for a few days before you're ready to add it to the table!
I love keeping a variety of white and simple candles around that work with all seasons. Doesn't everything look lovely together?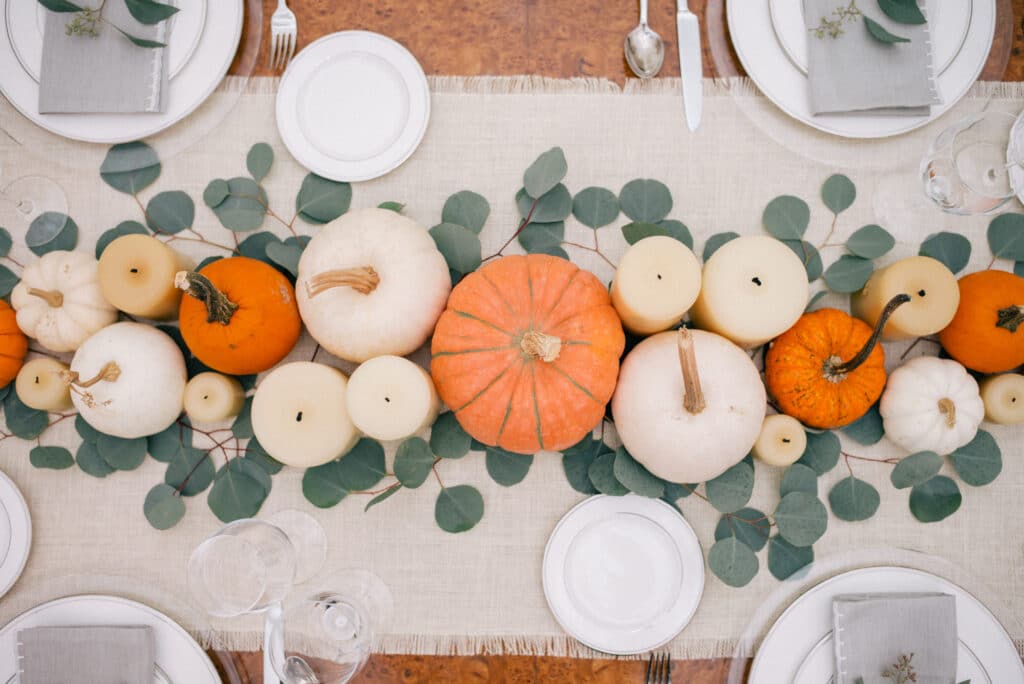 Create a Custom Backdrop with a Metallic Banner
It wouldn't be the holidays if you didn't snap a few family photos, right?
A simple metallic banner can spruce up the narrow entryway when you're first welcoming guests, and it can easily serve as a backdrop for holiday photos.
A gorgeous neutral like this gold can transition easily from season to season, and interchangeable letters can turn this piece into a year-round staple.
Create Giftable Pumpkin Flower Arrangements
The sweetest thing about this Thanksgiving decoration idea? It's also a gift!
Hollow out a few leftover pumpkins from Halloween, add greenery and a few seasonal blooms, and voila! Adorable centerpieces that your guests get to take home.
These are adorned with white berries, russet mums, and rosemary, and you can check out this post for more floral arrangements for Thanksgiving centerpieces.
P.S. Peep that eucalyptus–told you it was a staple this season!
DIY a Tablecloth with Kraft Paper
I love this little DIY because it makes the table settings perfect for a buffet-style meal!
If your guests are all going to pick up their dishes to fill them in the kitchen, why bother setting everything out on the table? With $3 Kraft paper from Walmart, you can have a simple tablecloth that's also kid-friendly.
And, if you're feeling crafty, you can decorate the place settings to make each guest feel extra special. However, putting out a few candles, pumpkins, and greenery can go a long way if you're in a pinch.
Many pieces need to come together when planning for Thanksgiving, but that doesn't mean you can't keep things simple, beautiful, and stress-free.
These gorgeous and creative Thanksgiving decoration ideas are proof of that!
Holiday Planners
Thanksgiving Planner
Picture this: a stress-free, heartwarming Thanksgiving celebration filled with delicious homemade meals, cozy decor, and quality time with your family and friends. It's all possible with the Thanksgiving Planner.
Tips and ideas to help you prepare and enjoy this special holiday with your friends and family.