Your Clutter-Free Kitchen
The kitchen is the heart of any home. It's a place to cook, eat, hang out, talk, check homework, and pay bills — the list is endless. Since it's one of the most frequently used rooms, the kitchen is often the most cluttered area in your house. But don't fret. Once you have a place for everything, you'll be able to maintain it and get it clutter-free and organized in only 15 minutes.
First, look around the kitchen. Get an idea of what you have where and which items need to be put away.
Then mentally divide the space into three sections.
Depending on your layout, your sections may be different, but I suggest splitting up your kitchen into these three areas:
Cooking space: the area immediately around your oven. Include pots, pans, cooking utensils, etc.
Prep space: the area in which you prep food. This usually includes the sink, the largest portion of your countertop, and some appliances.
Food storage: your refrigerator and pantry. This also includes cooking condiments like spices and olive oil.
Begin at one end of the room and work your way around your kitchen.
Give each section five minutes of attention. Set a timer to help you stay on track and keep moving forward.
Pick up every item that is out of place and quickly move to put them back where they belong.
This will keep you from getting distracted.
Keep Your Counters Clutter-Free
Counter space is your main priority. Tidy counters will make your kitchen feel fresh, organized, and clean.
My general rule is to only display items you use daily on the countertop.
Coffee makers are typically used every morning, so it makes sense to have them out all the time. On the other hand, you may only use your crockpot once a week so the best place to store it is in a cabinet.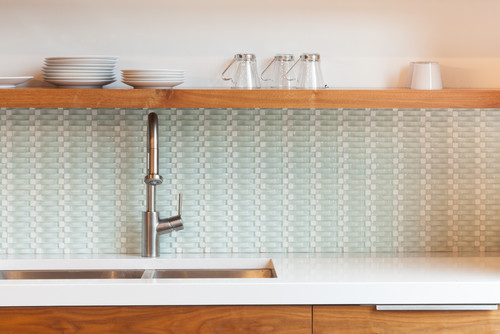 For your prep space and the area around your sink, leave out only items you use all the time. Hand soap, dish soap, and a sponge or brush for washing dishes are usually the three items you'll want close at hand.
Store all other items under your sink in a plastic container or bucket. Smart storage solutions will make it easy for you to tidy items quickly when you need to clear space.
Give your sink a quick wash down so it shines. A little baking soda will help get rid of any staining.
Clearing Out Paper Clutter
Paper clutter can get out of hand quicker than you can make a meal. Kitchens are a magnet for items like mail, takeout menus, school permission slips, completed homework, bills, and more.
Paperwork, no matter how well organized, will always look like clutter. Grab an empty box with a lid and place all the paper on your countertops there. Take it to your office where you'll process everything.
Take a few minutes every day to sort what's in there so it doesn't get out of control.
If you're lucky enough to have a walk-in pantry, utilize empty shelves to store appliances and other items. For smaller things, place like-items in a basket or box.
Clear bins and labels will help you quickly find items you rarely need but like to have on hand. Once everything is put away, give your kitchen a quick wipe down.
You're done! Your chaos-free kitchen is ready to show off.