Holiday Planning Tips & Free Printable
The holidays are here! And I want to give you the perfect holiday planning tools so you can enjoy time with family and friends instead of cramming for the turkey, gifts and decorating the home.
It won't take much and if you give yourself one full hour for the planning you will be ready to have everything you need for a successful holiday season.
If you've been to any store lately you've seen that the holiday decorations have hit the stores. It's the time of the year that puts everyone in a good mood until our families arrive and we realize that we haven't done half of what we wanted or worse, of what needed to get done. And then the rush is on to get it all done in the last minute.
Well, let's not worry about how we did so far, we are here to change it! Let's plan for THIS year and with a good holiday planning you and I will have a happy, stress-free holiday season, OK?
Believe me, even with my organizing skills and after so many years in the US I still get surprised by how fast decorations, presents and food hit the stores just to disappear from the shelves fast again. So, after a couple of stressful seasons – and "Santa" not finding what the kids asked for – I decided that I needed to start early and I get organized to avoid unnecessary worries.
Now is the time to plan out your whole event. By now you should know whether you are traveling to relatives' for the holidays or even just for dinner. It's a good time to start planning your menus and your presents for the people on your list.
With a little holiday planning you'll enjoy a fun and loving season!
Shopping
1. The shopping: Write a list of each person you would like to gift. If you need to draw names, make it happen via email this week. Then select a budget for each person and draw the cash out and put it in envelopes. Start by perusing the catalogs and looking for what's available online. It's an easier way to shop and will help you stay away from that crazy holiday rush, just be careful with the shipping & handling fees if you decide to do all your shopping this way. They can really eat up your gifts' budget.
Decorating
2. Once you got the shopping done, it's time to start decorating. I love to look online – even more now with beautiful holiday picture – to look for holiday decoration and ideas for the home, table settings as well as present wrapping ideas. I am not a crafty person and I do shop for my decorations instead of making them, but if you're "crafty" enough AND have the time, then by all means include a couple of projects in your list as gifts for your friends and neighbors. Presents like pinecone wreaths or candle covers are easy, fun to make and last for years.
Cooking
3. Next, comes the cooking! I am lucky as this part is taken over by my husband who loves cooking and does a great job in the kitchen. It may seems like the cooking should wait, but in reality it's a great time to start right now! We still have time before Thanksgiving and an early weekend morning can be a great time to bake up and decorate holiday cookies and bars. In addition, homemade jellies and jams make excellent holiday gifts to share. My personal favorite is an easy two layer dark-white chocolate, nuts and dry-fruits bar. It's so delicious! I wrap a good pile of it in cellophane with a beautiful ribbon and it  makes an affordable and delicious gift for neighbors, the mail man, the gardner and school staff, for example. And it can also be given as a treat with a larger gift.
Creating Memories
4. The family pictures for the holiday cards! If your kids are anything like mine you can't get them to look to the camera without making a silly face. Oh my gorgeous boys! But, here are some inexpensive options to pass on the expense of a studio shoot: get your kids dressed and head to your favorite hotel lobby for a beautiful holiday picture, or if you are in warmer places like us, dress on jeans and white t-shirts and go to the beach for a fun time, showing your relaxed spirit! Get your cards or newsletters printed, buy your holiday stamps and if you'd like print your addresses using a text editor like Word using the templates that come with the address labels. I like to carry my kit with me on a polly envelope with all my supplies in it. I go to a nice coffee place and enjoy my time doing it.
Schedule Me-Free-Time
5. Last but not least, understand that the holidays are some of the most stressful times of the year. If you have a family and are traveling or entertaining, you need to schedule some time for relaxing without doing anything. Book your manicure ahead of time, ask your hubby to take the kids out for a couple of hours and sit back with your favorite drink and enjoy some alone, quiet time!
After following these steps you have finished your homework and all your holiday planning is done! Now, let's get busy implementing what we planned and get ready to enjoy the season. This year you'll be able to relax and enjoy the holidays creating memories, instead of stress!
I hope you enjoy these holiday planning tips!
PS: Download your Christmas Planner below!
CHRISTMAS PLANNER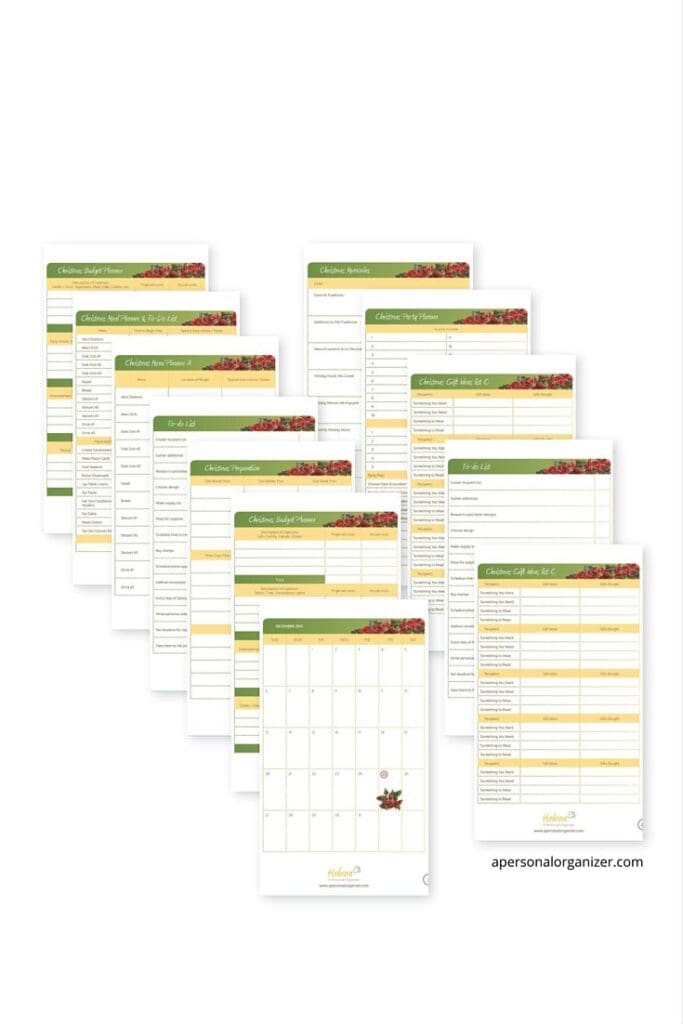 Download your holiday planner here.