Back-to-School Clothes Shopping Tips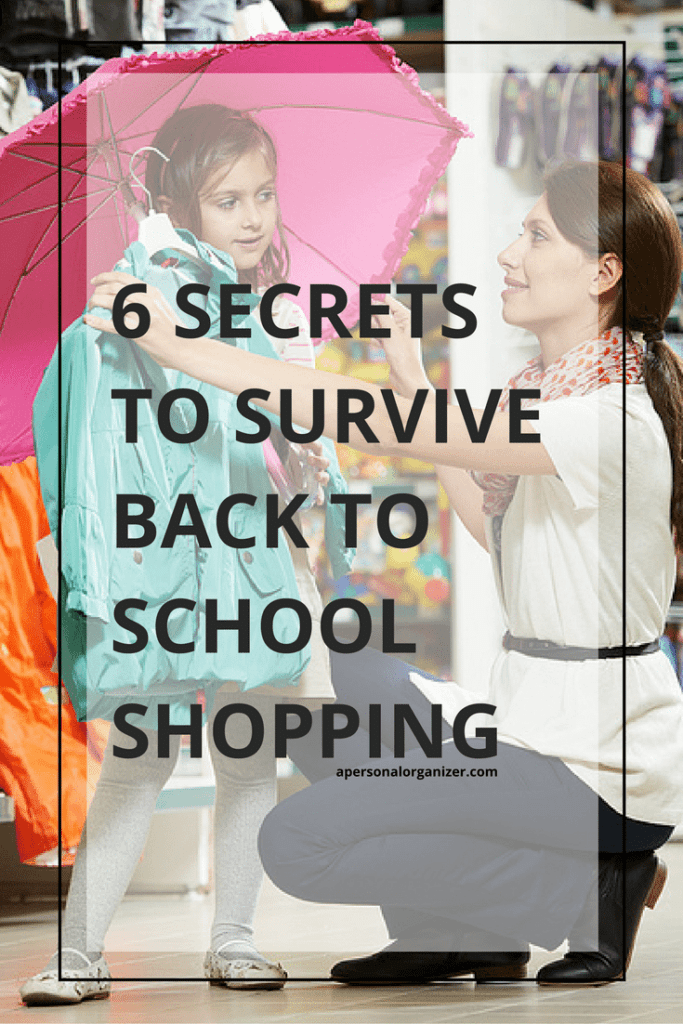 What, how much, when and where
If you are like millions of other time-starved moms, the thought of back to school clothes shopping leaves you feeling stressed and wondering how you can get it all done within your budget. Take advantage of these mom-tested, time-saving tips this year and get your children ready for back-to-school in time—without busting your budget.
1. Start with a plan
Create a master back-to-school shopping list and back-to-school budget for each child. Discuss the list and ask your kids what items or brands they want most. Let them help make the budget trade-offs. For example, if they want an expensive pair of shoes, they'll need to spend less on their backpack or clothes. Go online and look for those items so everyone knows exactly how much we're talking about.
2. Shop the Closet
Yes, dig into your child's closet before you even think about shopping. Get everything out of that closet and start sorting. Set out a few outfits and see how much you can mix and match. Move tops and bottoms around until you have a variety of basics that would benefit from some new pieces. If you have younger children, this is the perfect time to check what is in good condition from big brother or sister to go to your little ones.
Sort through every piece of clothing, remove anything that doesn't fit, and decide what can be donated and what needs to be thrown away. Now you have an idea of what clothing your child already has. These items are the basics from which your shopping list will grow.
3. Shop online
There's no chance you'll EVER find me shopping with my three boys on a mall. If shopping at department stores is stressful for you and your family as it is for me, consider skipping it altogether.
Shop your favorite brands or major online sites like Amazon.com
or take advantage of PersonalShopper.com. This free service saves you time and money by sifting through millions of products to find deals and items tailored to your family's needs. Backpacks, socks, underwear, and accessories can be purchased online easily. Shoes and clothing can't be tried on, but websites like Zappos.com offers a 365-day refund policy. Shopping online for clothes can be done comfortably and slowly without pressure.
4. It's best one-on-one
Or, alternatively, schedule a back-to-school shopping date with each child, giving them your undivided attention. I actually did this last year with one of the boys – the only one looking forward to a trip to the mall and lunch at The Cheesecake Factory! and it was a lot of fun for both of us. He was so happy coming home with his new clothes and a lot to brag about to his brothers!
5. Shop off-season
Clothes go on sale all the time, every season of the year. Watch for cold weather gear like coats, sweaters, boots, gloves, scarves, and hats when winter ends. Purchasing ahead of time can save a lot of money. If your child is in a growth spurt, be cautious about what you buy early, or purchase a size bigger.
I always shop right after the season for the boys and I get all the basics for a fraction of the size. The only item I shop "as needed" are shoes, which I only buy online via zappos.com because their customer service and free shipping and returns are just amazing!
6. Snag sweet deals
As a parent, one of my biggest challenges is keeping myself and the boys  within the set budget. From X-box games to clothing it's hard for them to grasp how much one has to work to make that money. I choose to share with each boy the amount we can afford to spend and if I go out to shop for a game, for example, I make sure I bring the cash with me so they don't see me "just swiping" the card to pay for it.
Teach them to value your hard-earned money and how to stretch the budget as far as possible by making smart choices. To help you stay within budget, clip coupons and check flyers for sales and make an envelope for each child. Do you have a tax-free holiday? Many states have tax-free holidays around the start of school. Make sure to check whether your state has a tax-free holiday and go shopping during those times.
Whatever your strategy, try to have fun! Back-to-school clothes shopping can be a fun way to spend some extra time with our kids.
Looking forward to organize your children's activities?
Use the Kids Printables Specialty Set to get your household routine in place, so you have time for more fun! It's a great value and includes all the forms you'll need to manage your children's school related activities.
Here is what you'll get in the Kids Printables Specialty Set:
School Information Central
Sports & After-School Activities
School Lunch Menu Mix&Match
Sitter & Nanny Information
Sitter & Nanny Contacts
Playgroups & Playdates Contacts
School Break & Vacation Camps
Back-to-School Supplies Shopping List
Back-to-School Clothing Shopping List
College – 3 forms