Are You Managing a House or a Home?
Home management goes beyond mowing the lawn and doing the laundry — that's house management.
Home management is making sure your family's needs are met. It's everything from meal planning and grocery shopping to making sure medical records and other important information are safely stored and easily accessible in case of an emergency.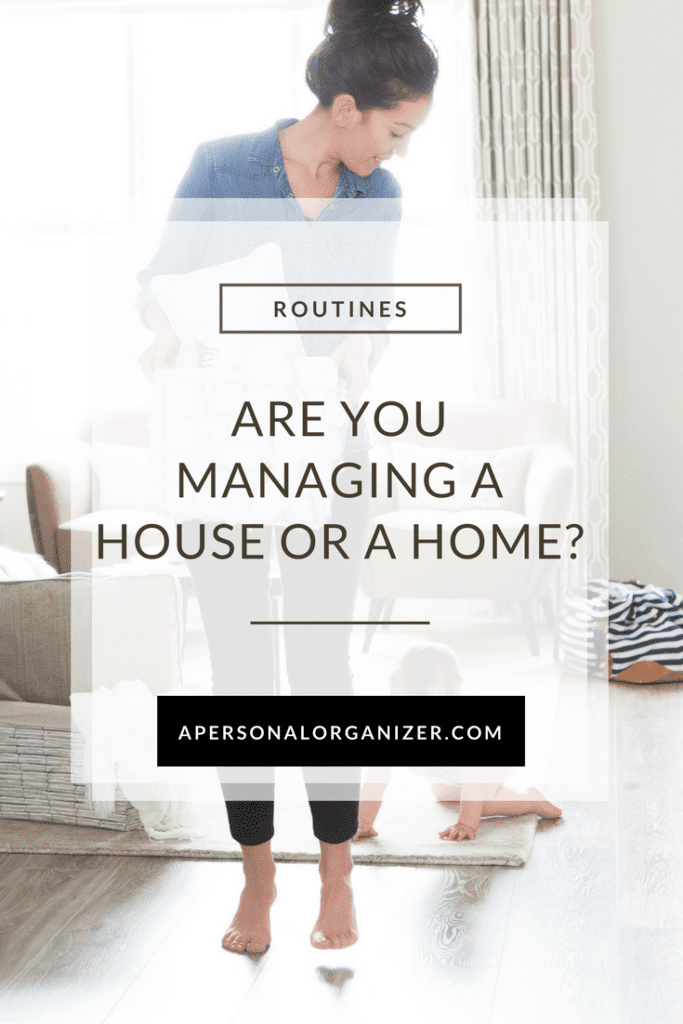 Chances are you're inundated with paperwork every day.
Your kids come home from school with permission slips and notifications.
Your mail is filled with financial statements, bills, and other important information.
Soon enough your kitchen counter or home office is covered with stacks of paper — all of which are important. You don't have a place to store or file them.
The trick is to create one spot where everything is neatly stored and organized. This will help you efficiently manage your home, save time and money, prevent mistakes, and be prepared for anything.
To do this, create a Home Management Binder to store important documents like:
Doctor Contact Information: Pediatrician, Dentist, family physician
Emergency Contacts: nearest hospital, local non-emergency police number, neighbors
Medical Records: immunization records and insurance information
Home Contacts: phone numbers for your plumber, lawn mower, gardener, babysitter
Maintenance Records: repairs, replacements, and warranties for your home and car
Caregiver Instructions: critical information for babysitters and nannies
Kids' Activities: important documents from school and extra-curricular activities
Housekeeping Checklists: daily, weekly and seasonal scheduled chores and maintenance for your house
Family Calendar: keep track of events, birthdays, anniversaries and other scheduled activities
Meal Planning: frequently used recipes, menus, and grocery lists
Grocery Planner: easy-to-use grocery lists to save time and money
Travel Checklists: vacation packing lists and checklists of important travel to-dos
Saving Time and Money With a Home Management Binder
Organizing Your Home Management Binder
Emergency Planning
Emergencies happen, and it's important for your entire family to be prepared. An organized list of emergency contacts will help you manage even the most stressful situation. In the case of a flood or fire, all your records are in one place — which means you simply need to grab your Home Management Binder and head out the door. You'll never lose or misplace a critical document, financial statement, or medical record.
Medical Records
Store all your family's medical records together. Group important information by family member to keep track of doctor visits, immunizations, and other medical records.
When you visit a new doctor or specialist, carry it with you to convey the most accurate information for their office records. Tip: this is extra-helpful in the case of seniors or someone with multiple caregivers.
When your kids start school or sign up for extra-curricular activities like sports, you'll be able to immediately access the date and type of immunization each child received.
Groceries & Meal Planning
Groceries are one area in which most families waste time and money. Inefficient meal planning will force you to make more trips to the grocery store, waste produce, and other perishable foods and cause you to purchase duplicate items.
Healthy meals require organized grocery lists and meal planning.
When you go to the store with a specific list and plan in mind, you're much less likely to pick up junk food and snacks — which will save you money and help you make healthy choices!
Home Maintenance
Maintaining a house takes a team. Keep the contact numbers for your plumber, electrician, and other repair people in your Home Management Binder.
Next time you need help with a leaky faucet, you'll be able to reach the correct person right away. Additionally, keep track of warranties for appliances and home repairs.
If your air conditioning unit breaks in the middle of July, you'll want to be able to find your warranty information quickly.
Finally, keep checklists of daily, weekly and seasonal chores for the entire house to stay on top of housework throughout the year.
Family Activities & Calendar
An all-in-one calendar is a must for any busy family. Keep track of planned activities, sports games, and other important events.
Encourage each member of your family to use the calendar by making sure it's in a place that's easily accessible. You'll want to ensure your family calendar has both a monthly and weekly view, so you'll never miss a thing.
How would you like to get your Home Management Binder started today? Simply click here and enjoy a lovely reader's discount to get you ready to go!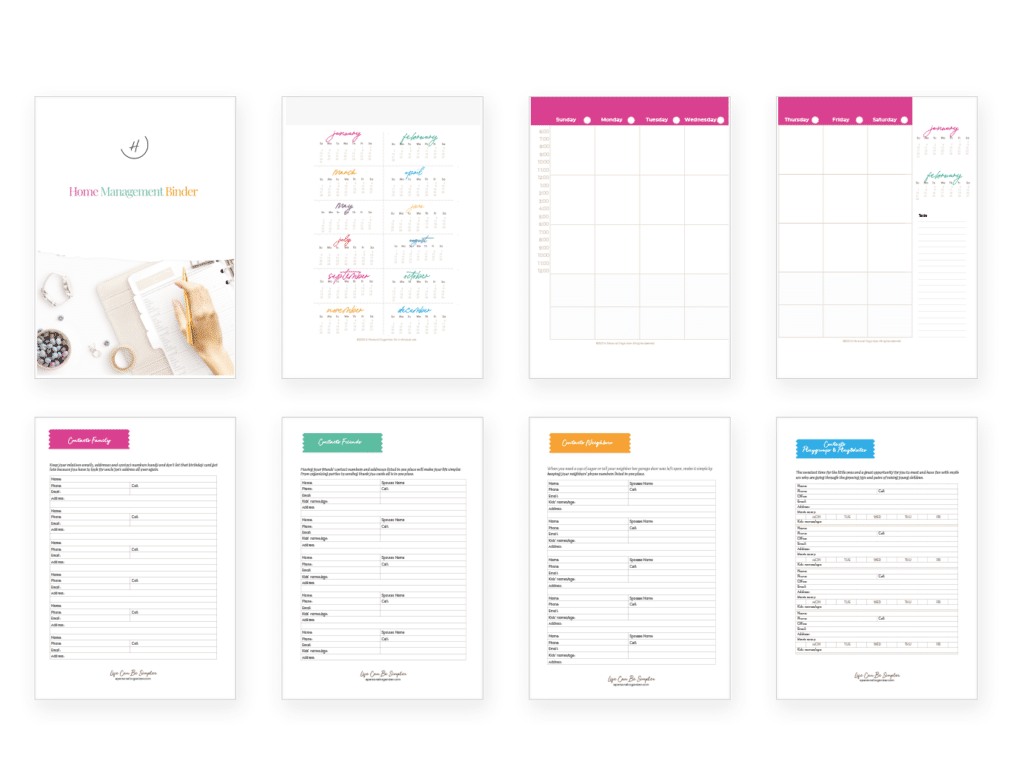 Living organized is a lifestyle; an intentional sequence of actions that lead you to have more time for what you love.
Are you spending your days on "firefighter" mode? Always catching up?
Here is the tool that will end the anxiety and allow you to be in control of your daily life. A place for every information you need to manage your home and your family.
Much more than a planner, a central place for everything you do for your family.
What is included in your Home Management Binder?

"I just moved my mother from Florida to Ohio and am establishing a binder for her and these pages are perfect. She is going to enjoy your forms and they will help her to keep all her important information organized and in a beautiful way!"

Kathy P., FL