Tax Documents Checklist & Download
It's tax time again, and it's my goal with this post to give you a tax documents checklist of documents to keep, a list of labels to place in your files, so all is ready to go. Shall we?
With a busy 2012 that ended with a month-long trip abroad, I let myself become a victim of procrastination! So, after two long days of paper organizing to make sure all was in place I was so mad at myself for not being organized (How dare you!?) that I decided to put a system in place that will "feed itself" and when tax season comes again I'll have all sorted out.
First things first: for full disclosure, I am not a tax attorney or CPA, so please always check with a professional before making decisions on what documents to keep and what to toss and for how long to keep them. The information on this post does not replace professional advice.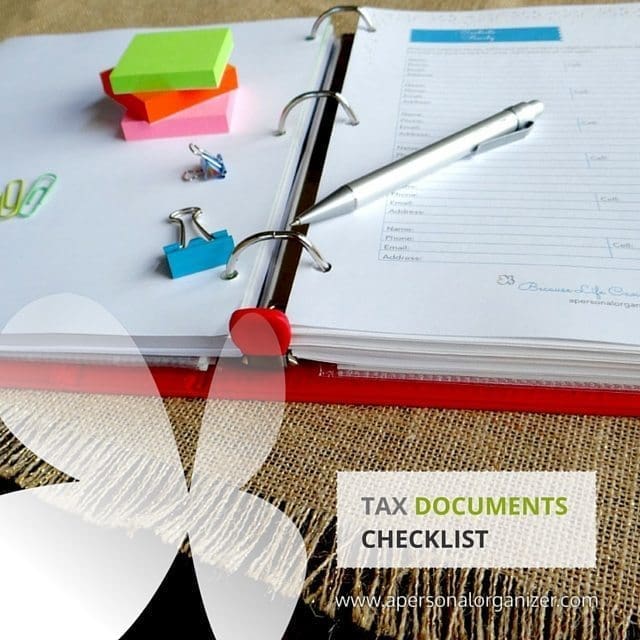 Have a Paper Filing System in Place
To be able to have all your documents ready for tax season, we need to make sure you have a system in place.
If you are taking care of the papers in your family, I strongly recommend that you have a filing system to hold your documents for the recommended time.
Location
The closer you place your filing cabinet or box to you the more likely you are to file your documents and have them ready when you need them. A file cabinet in another room, floor or even across your desk is a recipe for procrastination (and misplaced documents).
Creating Your Files
The simpler your system, the easier it will be to file your documents and to retrieve them at any time, even more so during tax time. And that's what I tried to keep in mind when organizing my files. So, while I was getting my documents organized, I wrote down the categories and the main items needed creating this way my tax documents checklist. For each of them, I created a folder for my "current year". Here are the labels I created:
Income

Cars
Charities
Children
Health and Dental Care Expenses
Other Deductions
Retirement, College Funds, Investments
Income
Keep in here your W-2 form, 1099s, jury duty records, hobby income and expenses, prizes and awards, health care reimbursements, and alimony received and ex-spouse's name.
Cars/Vehicles
To avoid scrambling through each file for the cars you own when tax time comes make a copy of the State taxes as soon as you pay them and insert here.
Keep track of the miles driven, business-driven miles, expenses with parking and tolls. To claim actual expenses keep your receipts or totals for gas, car maintenance, washes, license, etc.
Charities
Place in here the receipts for your monetary or physical donations as they happen.
If itemizing, you will need to include what you donated, date of donation and, the name and address of the organization you donated to.
If you do volunteer work, you should keep your mileage to your volunteering activity as well as expenses related to it.
Children
This is the file to hold childcare expenses. Place here the tax ID and SS number of your childcare provider.
Health & Dental Care
Keep all out-of-pockets totals and receipts in here as well as healthcare insurance costs.
Other Deductions
Real estate and personal tax records, interest, paid in your home. Find great tax deduction tips here.
IRA, Retirement, College Funds, Investments
Keep here the statements you receive from these institutions.
Find the Tax Documents Checklist here.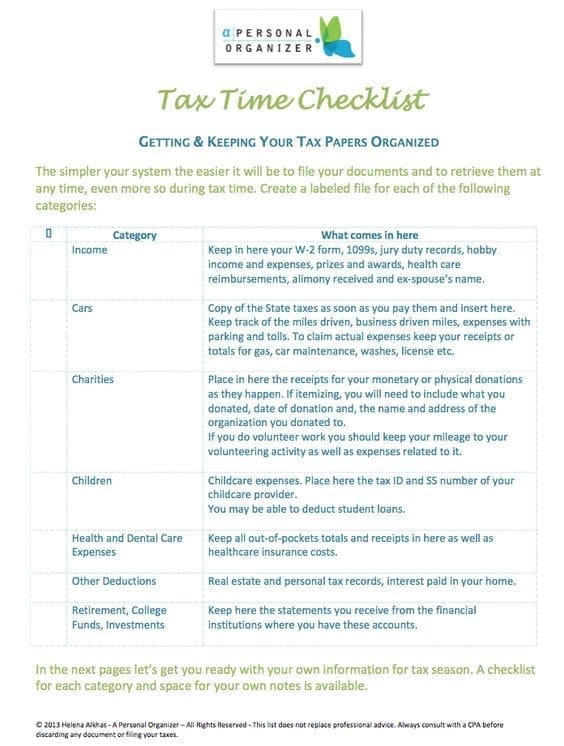 I hope this simple list of files and what comes in there helps you get and keep your tax papers organized. Once you have all in place, you'll have created your tax documents checklist, and all you'll have to do is reach for your documents as you need them.
How do you organize your files for tax time? Share your comments below.