This post may contain affiliate links for your convenience. If you click on the link and purchase the item, A Personal Organizer, LLC. may receive a small commission at no extra cost to you. 
Meal Planning Organizing Tips
Preparing food every week, no matter how organized your system is, can still get complicated if you're not sure where to start at the beginning of every week. Luckily, the internet is full of resources to help you get started.
Start by looking for simple calendars that offer meal prep suggestions for a week at a time and follow the tips laid out in the rest of the post! Here is a weekly planner with meals for each day to get you started. You can find and download  all of our organizing printables and get instant access to the vault by subscibing here. Soon, you'll leave behind those days when you would open the refrigerator and stand there trying to create a meal from the hodgepodge you happened to have available.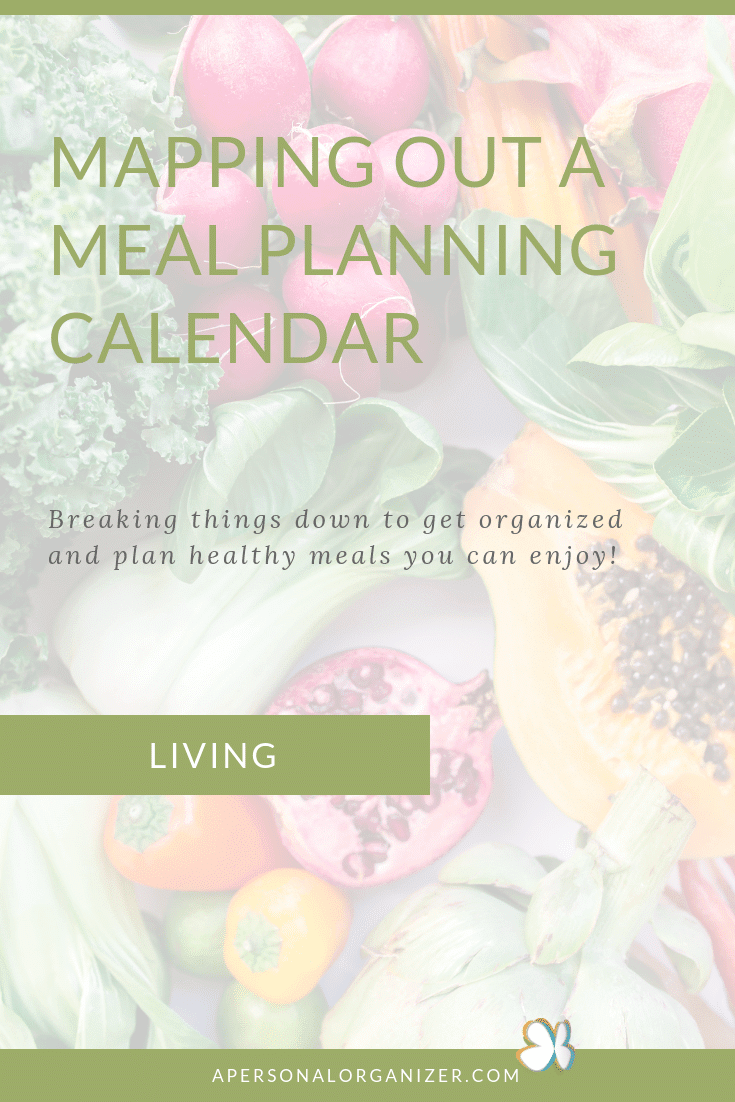 This post contains affiliate links and I'll receive a commission at no cost to you if you decide to use them.
Pick a Meal Prepping Calendar that Fits Your Lifestyle
There are many meal prep planning ideas or printable calendars to help ease your way into the world of eating healthier and saving money.
Free meal-planning templates are available online to help you plan your meals, purchase the groceries you'll need, and keep your budget in mind the whole time. By using these convenient ways to plan your meals ahead of time, you'll be able to enjoy more time doing what you want to do.
Some meal prep calendars even provide printable shopping lists and worksheets to make it easier to organize your menus and grocery shopping for the week. You can even find fun, Pinterest-worthy calendars that you can print out and hang up in your kitchen so the family will know which meals are coming up next.
Whether you use a digital meal planning calendar or an erasable, hanging one, you'll find any tons of options that suite your lifestyle online. Some formats even help you keep track of coupons and remind you which nights you have events, such as kids' games or meetings, or when you're hosting guests for dinner. You can design your own calendar using Canva my favorite graphic design tool!
The Benefits of Planning Meals Ahead
If you're new to meal planning, it may be best to plan just a couple of days ahead. A calendar helps by providing exact details about a meal rather than leaving you to guess about what you'll prepare for dinner or any other meal. It also equips you to strategically plan which days are best for you to prepare ahead.
Just like using calendars to map out a vacation, you can also build healthy eating habits by using a calendar rather than simply winging it. You're more likely to stick to a health or weight-loss plan when you're prepared in advance.
Trying to lose weight? Pre-planning your meals by using a meal prep calendar leaves the guesswork out of portions and nutrition plans. You'll have the exact ingredients you need and know what you'll be eating each day.
Cravings will become a thing of the past because you'll know what you're having and when – without having to think about what you "want" instead. The stress of shopping for specific diets is a key reason behind so many people failing in their quest to eat healthier or lose weight.
A meal-prep calendar can eliminate the stress and serve as a valuable tool in meeting your goals. Sometimes the best-laid plans are thrown off, so allow for flexibility in planning your meal calendar.
It's easier to take up where you left off of your diet by glancing at the calendar you've pre-planned. Just make sure you vary up the recipes so that you and your family don't get sick of one particular meal or menu item, like chicken.
Organize Your List Ahead of Time
You probably already have a grocery list – but is it organized? It can really help if the list is laid out in the order that the store is organized. If the produce section is the first thing you see when you walk in, for instance, then "produce" should be the first category on your list. If you have to, map out your list when you're in the store itself if you have trouble remembering the layout.
Include coupon notices on your list, too. If you have a coupon for an item, mark it in some way (maybe put a "c" in a circle next to the item) so that you don't forget. This can be especially handy if you go to a store where you use electronic coupons that are loaded onto your shopping cart where you can't see them.
If it's worth it to you, you can forego grocery shopping altogether by ordering your groceries online with a service such as Instacart or Thrive Market. If the time saved is worth the cost of delivery, this can streamline the entire process because all you'll need to do is order whatever is on that grocery list for the week.
Organizing Your Kitchen Ahead of Time
It's a good idea to get your kitchen organized. Few things waste time like hunting for items that you can't find, and few things waste grocery money like buying something you forgot you already had. Keep things like salt, pepper, sugar, and condiments you use a lot within reach of the stove. Canned goods can be kept in the same general area and organized according to type. Pots, pans, and appliances that you use frequently can be stored on the countertop, while less-used ones can go in cabinets.
Use Your Time Strategically
When you prepare the meal, try measuring out ingredients first, then mixing them. Multi-tasking can come in really handy – boil pasta while preparing the salad, or microwave the potatoes while you're grilling the chicken breasts.
Another idea for quick meal preparation is to use the oven for more than one thing. Many dishes can be tweaked to accommodate a hotter or colder oven setting.
Make ahead whatever you can: chop vegetables and refrigerate them for use during the week, for instance, and make foods that can be used for other dishes during the week. Bake a chicken on Monday night, for instance, and plan for chicken salad on Tuesday. Yesterday's meal can be your made-ahead ingredient.
When you're planning your weekly or monthly menus, try to break down some of the meal preparation steps and see who else in the family can take over those tasks.
For instance, if you're having tacos one night, then assign the grating of the cheese and shredding of the lettuce to one of your kids or your spouse; another family member can get the taco shells out and place on plates; you can be responsible for browning the beef.
Breaking down meals into simple steps that can be shared helps a lot.