Garage Organization Tips
Check these garage organization tips to get your garage from piles to smiles!
Why are so many garages disorganized?
Garages are usually the catch-all space of a home — the "everything drawer" of all rooms of the house. It's filled with everything from tools to old paint to holiday decorations. Garages become increasingly disorganized over time and because of all the clutter, most families can't even park their car in their home's garage.
A lot of families struggle to keep the garage organized for several reasons. First, a lot of garages don't lend themselves toward order. In fact, they have a lot in common with your typical storage unit: not heated or air-conditioned and has little, if any, storage solutions like shelves or racks.
Second, it's a shared space. When a particular family member "owns" a space in your home, like a bedroom, it's easy to assign the chore of cleanup. But shared spaces can be a little bit tricky. It's easy to form the habit of just tossing an item in the garage, or setting it just by the door, rather than placing it in its specific place.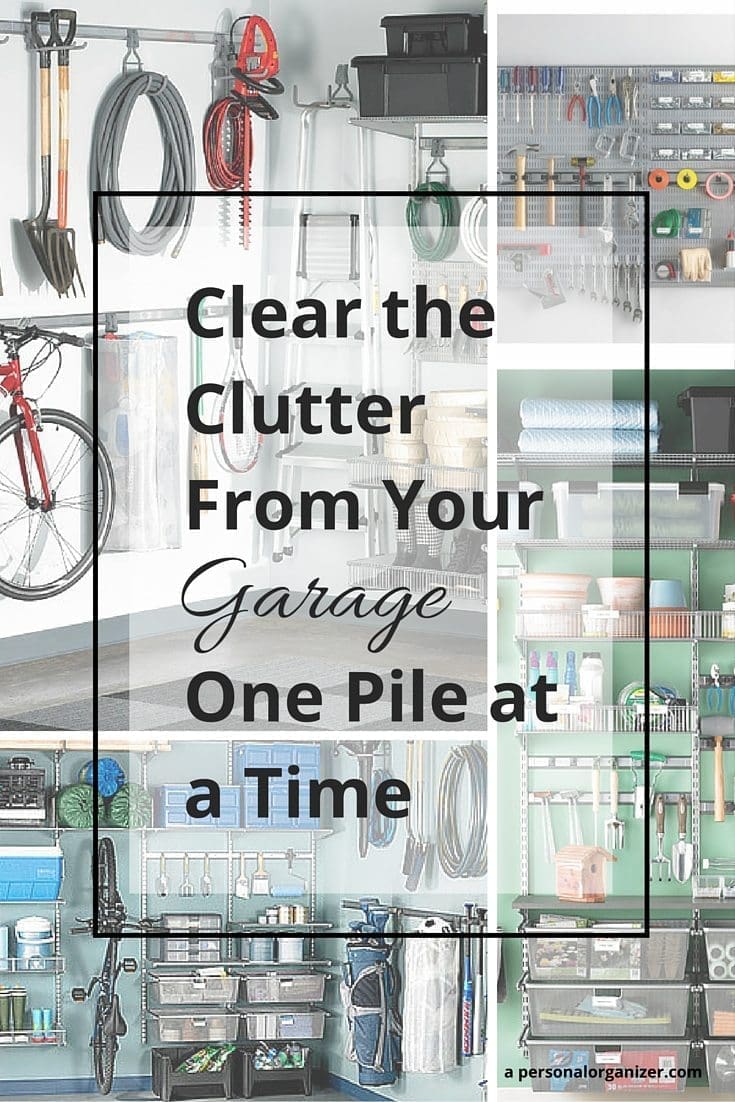 Schedule Time to Organize Your Garage
If your garage is a jumble of tools, old toys, sporting equipment and trash, it's a good idea to schedule a weekend for a major cleaning. Put it on the family calendar and host a yard sale — spring is always a good season for major organizing.
Small Steps Count
However, you don't have to complete a major overhaul to make progress. If your garage has some level of order — you generally know where things should go — then a 15-minute decluttering can make a huge difference. Progress adds up over time and soon enough you'll be able to park your car in your garage again!
The most organized garages are those in which everything has a place. It could be on a wall, on a shelf, in a cabinet or in a designated floor area. It's helpful to label each area so that when you do a 15-minute decluttering, you know where everything goes. (This is especially true if you have family or friends helping out.)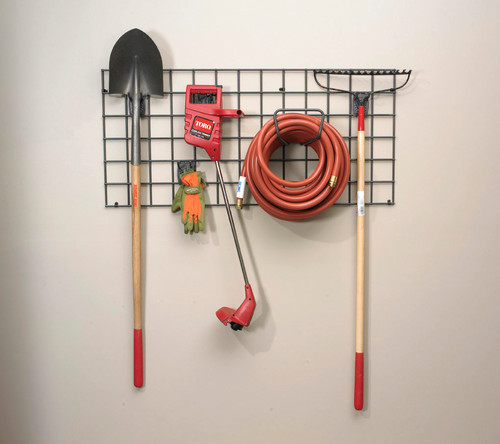 Big Rocks First
When you're ready to start, take any large, moveable items out. This includes lawn mowers and large tools. Of course if you've managed to squeeze a car or two into your garage, park that outside temporarily as well. It's easier to clean up without large objects in your way
Tackle the big items first: bicycles, sporting good equipment, yard tools, etc. Put them where they belong. If something needs to be tossed out or donated, do it. There's no sense in hanging on to items you don't want or never use. If something needs to be repaired, affix a tag or piece of tape on it indicating such and take care of it later.
Once you've sorted and stored the big stuff, start decluttering your smaller items.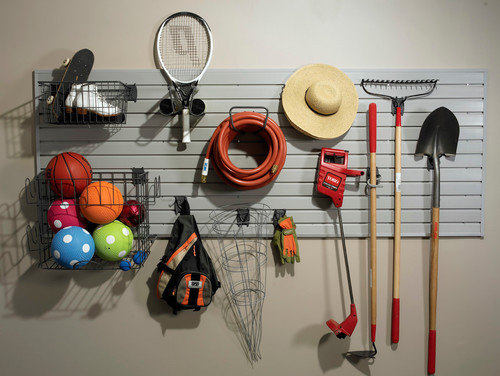 If there's anything on the floor, put it on a counter or shelf. If the shelves are in complete disarray, spend no more than a few minutes organizing them.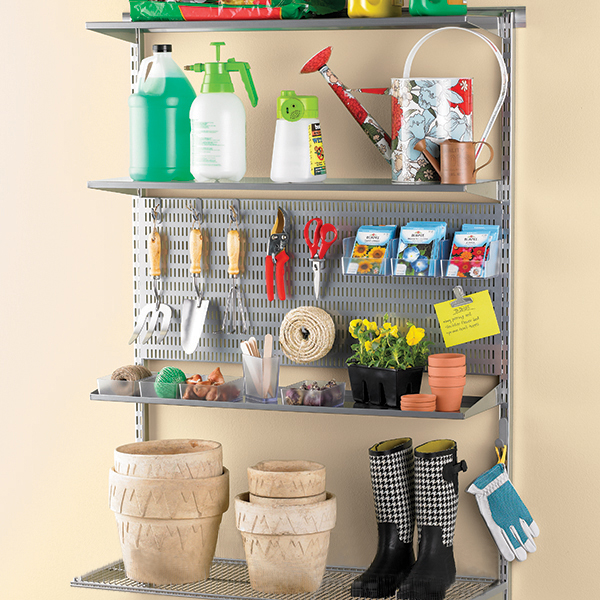 The best approach is putting like items together. For example, if you have five cans of paint on the floor and an empty shelf, put all the paint cans on that shelf. Put productivity ahead of perfection. Every item doesn't have to be perfectly labeled and sorted to be organized. You just want to be able to find items and replace items in your garage quickly (and safely). If at a later date you'd like to do a more thorough sorting and labeling, you can.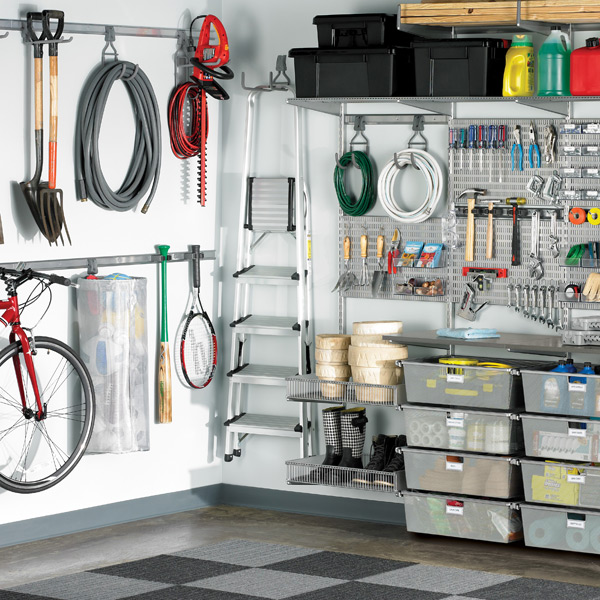 If your husband (or wife) is handy and has a ton of tools, it may be a good idea to give him a plan for decluttering. Allow him to clean and organize his tools. It's win-win: he'll still be able to find his tools with ease and you don't have to worry about breaking any of his equipment. Larger tools should be given specific space on tables, shelves or the floor. Smaller tools can be stored in boxes, bins or clear jars.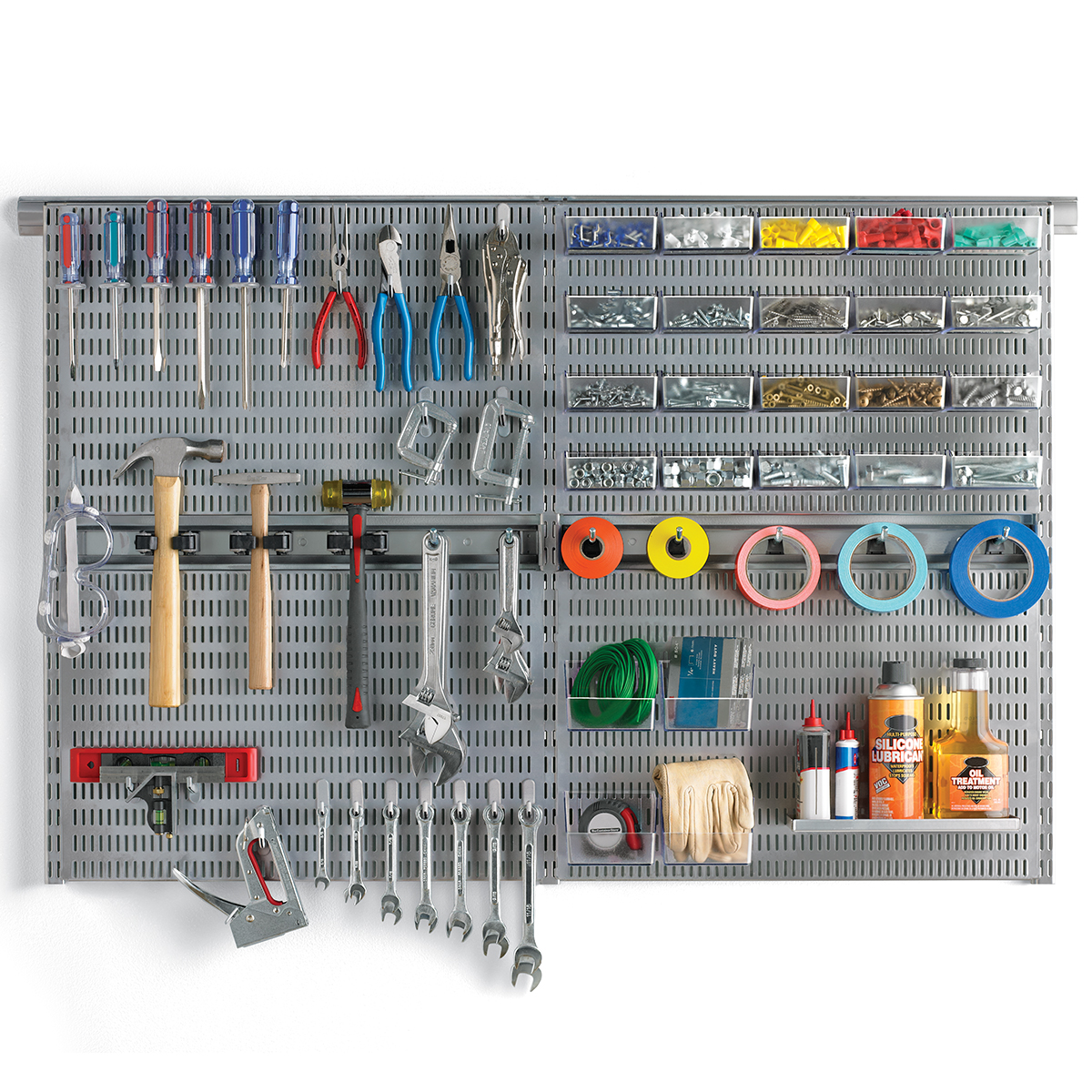 Cabinets are ideal in a garage because you can quickly stash things out of sight. They are also a good place to put anything hazardous. Either lock the cabinet or put items on high shelves so small children won't be able to reach them.
If you'd like to overhaul your garage, but are short on time, schedule 15-minute blocks of time each week for the next few months. You'll be amazed at how much decluttering you can accomplish with a plan to tackle specific areas. Oh, and don't forget to park your car in your freshly organized garage!
Garage Organizing Products
Bulk storage & Gardening Tools

Shop bulk? Here is the extra storage you needed.

Tools Organizer

From hammer to nails, a place for it all

Garage Organizing Solutions

Bike, tools, cords and more.
Don't Have a Mudroom? No Problem!

This stand-alone unit will create a mudroom in your garage in no time. Great solution for renters.

Organize Your tools, paints and every little thing.

Keep all you need to take off and land from daily activities with this easy Elfa solution.

Keep the toys in place

This simple mesh bag will keep all the balls in place and easily reachable