Easter is a time to spend with family and friends, so why not make the most of it? Here are some ideas for making your Easter lunch memorable: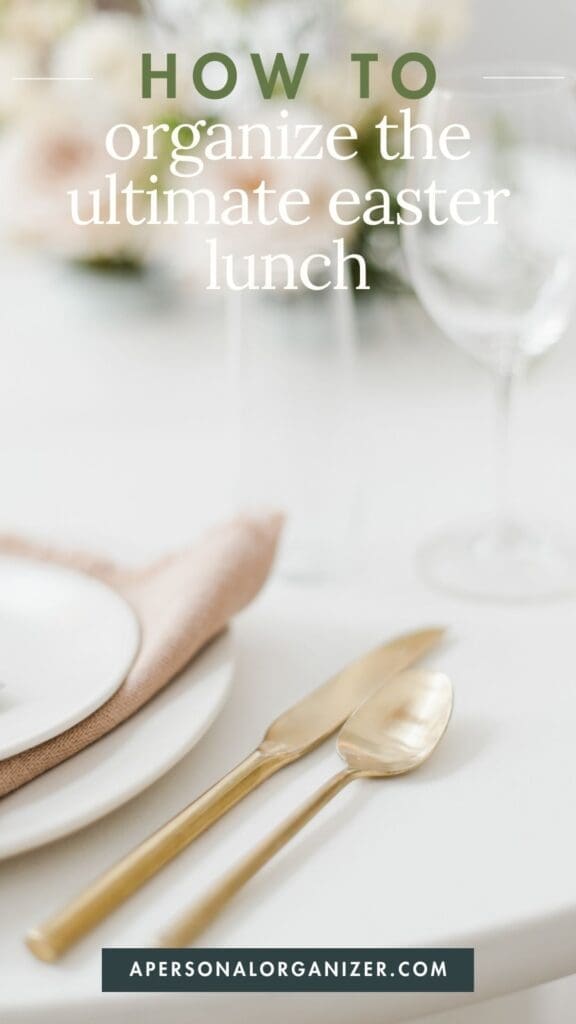 1. The Planning
Planning is key to a successful Easter brunch. Planning ahead can help you save time, money, and stress and get the most out of your time.
Here are some tips on how to plan your menu:
Start with the basics: what are you going to serve? Ensure that it fits within the timespan allotted for this event (2 hours), as well as any dietary restrictions and allergies.
Create a seating chart: You need to know how many people will be there so everyone has enough food but not too much food at once! Ensure there are enough chairs for everyone – if not, consider renting some from local party supply stores!
Decide on a theme: Do you want to decorate for Easter or spring? Get creative and think about what will be fun for your guests.
2. The Cooking
Before you start cooking, ensure you plan to have enough food to feed everyone. You don't want to have a bunch of hungry guests while they wait for the main course. It's also important that the recipes are relatively simple and that some can be prepared beforehand to reduce your time in the kitchen on the day of the event.
Even if you're not planning on cooking everything yourself – you can even plan for a potluck, it's still a good idea to know what will be served and when so that no one feels like they're missing out on something special or waiting too long for their food.
Most people spend their time at home in the kitchen, but sometimes things get cramped when multiple cooks try to work there at once.
Ensure there's enough room for all the pots and pans needed for your menu before starting any prep work, so nobody gets burned from overcrowding (or worse!).
If you're planning on serving alcohol, having a designated driver is important. If you're hosting an adult-only event, it might be a good idea to provide non-alcoholic drinks.
Get the Ultimate
Easter Planner
3. The Table Setting
The table setting is where you can really go all out this Easter. We recommend using a beautiful tablecloth and tableware and adding a centerpiece to spruce up the look of your dining area. Add place cards and placemats to your table display for added flair!
One way to decorate your Easter table is by using a basket or large bowl for your centerpiece to hold Easter eggs and other decorative items. You can also use flowers to add color to your table setting. Lastly, don't forget the napkins! Use coordinating colors to make sure that everything is cohesive.
4. The Desserts
Desserts are the perfect way to end your Easter lunch. They're sweet and tasty and will satisfy your guests (with a few extra calories to burn).
The dessert you choose can be either traditional or something unique. You'll have no problem pleasing everyone as long as it's delicious. Just ensure there's enough for everyone—or else someone might feel left out!
5. Plan time for fun
Easy ideas for a fun family celebration
Hosting on Easter is so much fun because you can get creative with the table settings. For example, use Easter-themed plates and place cards and napkins for each person to make them feel special (and to help you remember who has which drink!). If your party includes kids, ensure they have enough small plates, so they don't have to share with Mommy and Daddy!
If you want an easy way to add color and style to your table setting this year, try using colored glasses instead of white ones. It doesn't have to be extravagant – pick one bright color for each glass type (for example, blue or red) instead of basic clear glassware. This will add interest without being overwhelming – perfect for any occasion!
Celebrate and Have Fun!
And that's all there is to it! With these easy Easter ideas, you can create a beautiful and memorable holiday for your family. If you have any other ideas or tips we didn't cover here, we'd love to hear them in the comments below. Happy planning!
The Easter Planner
50 Pages to celebrate easter
This planner has everything you need to plan an unforgettable Easter celebration.
We've got grocery shopping lists, recipes, trackers for your guests and kids, checklists for meal planning and other activities, and even some fun game ideas, so you don't have to rely on hide-and-seek or egg tossing with the family.
With this planner, you'll be set from start to finish!