This week we are organizing the master bedroom. Clutter in this room is unacceptable.
Your master bedroom is your sanctuary, the place you go to rest and rejuvenate yourself. It should not be in disarray.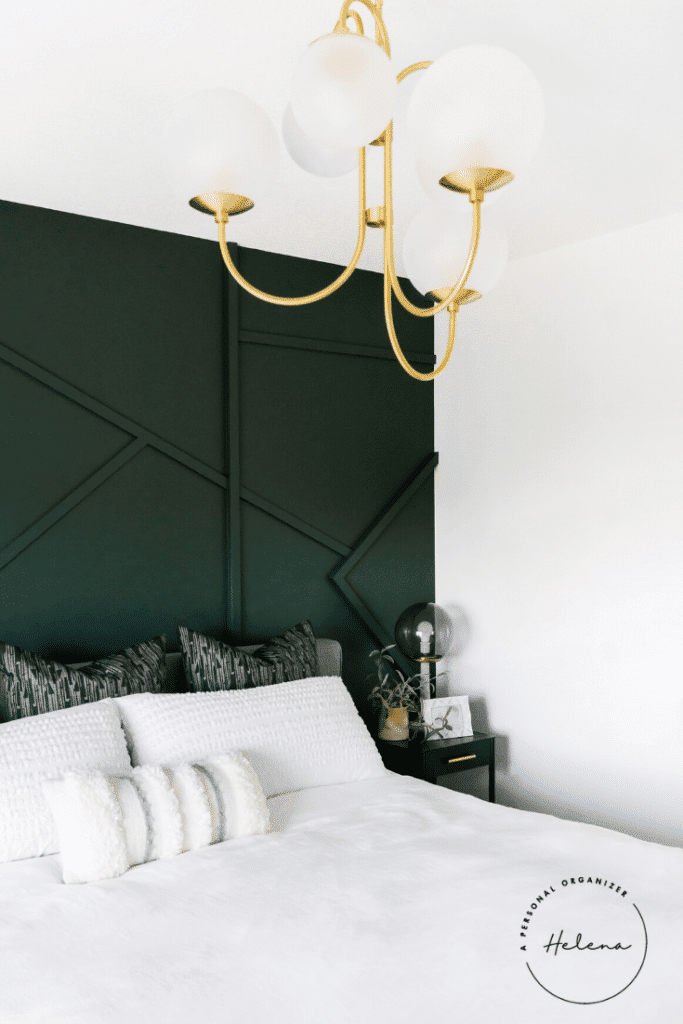 In fact, there should be nothing in here except for your clothes, your bed and a good book or two. It is designed for relaxing and who can relax with four piles of unfolded laundry, a half-empty suitcase teetering on the edge of the chair and a box of tax returns in the corner?
Think of it this way: your bedroom is the first thing you see when you open your eyes in the morning and the last thing you see at night. This space has a huge impact on your mindset.
Why not make it one that sets you up with a clear mind in the morning and a relaxed mind at night?
How do we do this? We get everything out of your master bedroom that doesn't belong.
After we declutter, organize, and restore peace to your master bedroom, we are going to move into the deep dive part of this challenge- how to fold a fitted sheet. Wave buh-bye to balled up sheets messing up your linen closet!
Now, let's get to the step by step of the first part of this week's challenge.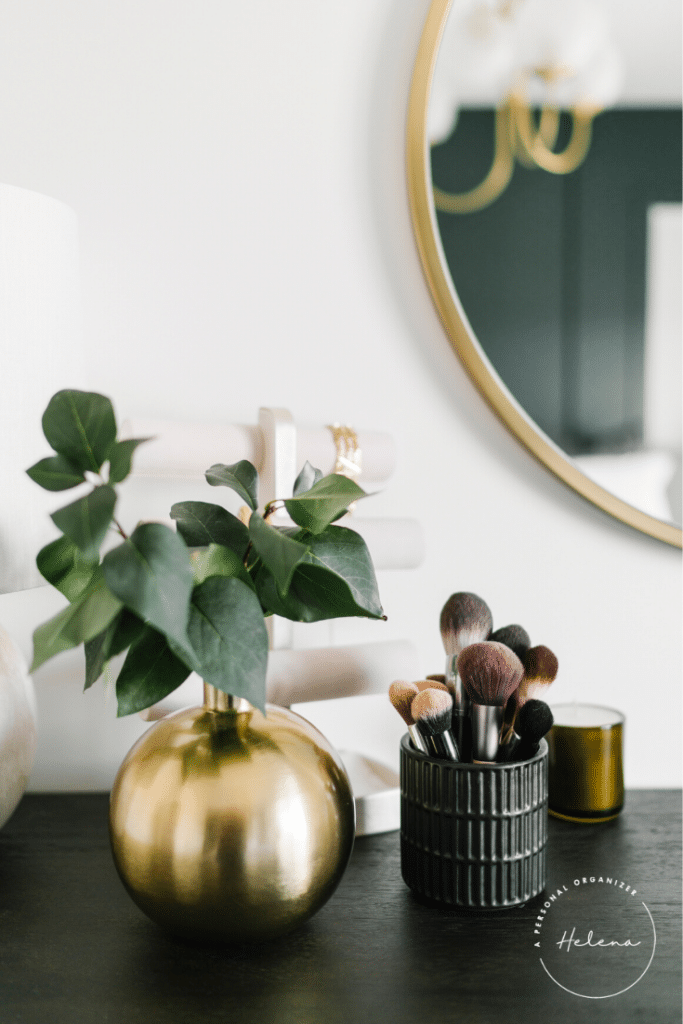 How to Organize Your Master Bedroom
Time needed: 6 hours
How to Organize Your Master Bedroom
Clear The Space

Empty all of your drawers-nightstands, dressers, desk. Get rid of anything that doesn't belong in your relaxing bedroom. Replace the items that will stay back where they belong in the drawers in an organized fashion.

Clear And Clean

Take this opportunity to strip your bed linens and give them a wash. Clear everything out that has been hiding under your bed.
Again, remove what doesn't belong and then find a home that makes sense for things that will stay. Dust out and sweep under your bed.

Vacuum Your Mattress

Vacuum your mattress. Then, flip it and vacuum the other side

Dust

Dust all your surfaces in the room. If you had clutter on all surfaces you'll have a lot of dust in corners you couldn't clean before. So take this opportunity to clean up!

Create Zones

If your room allows, create different zones in your room. Reading, changing and dressing, and sleeping.

Get Ready To Rest

Replace your bedding. Get ready for one of the most relaxing night's sleep you've had in a while!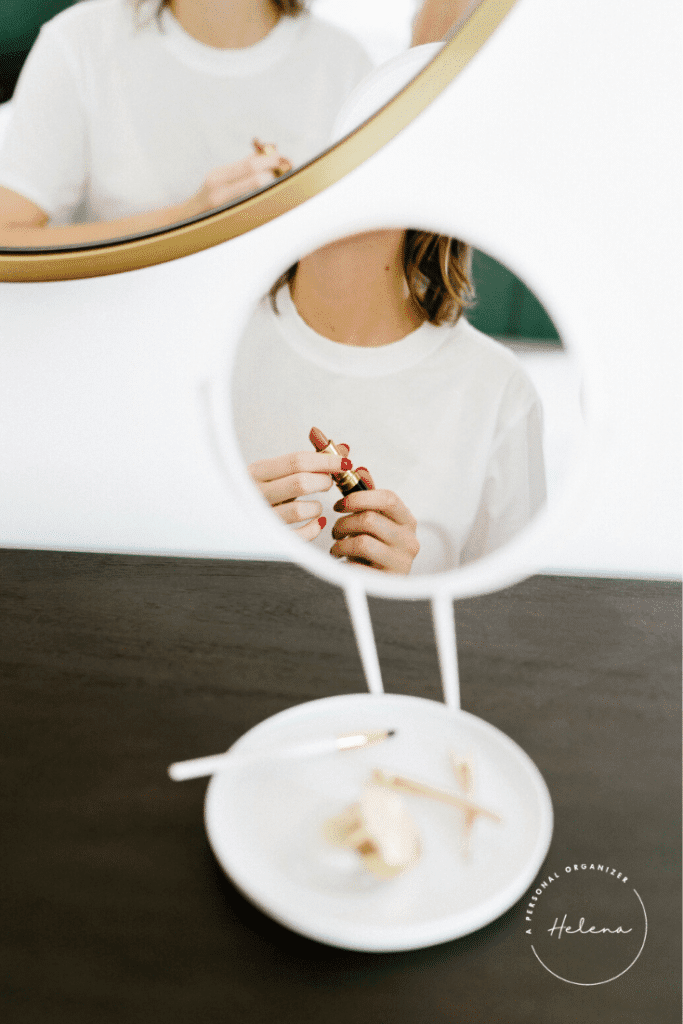 Now that we have finished organizing the master bedroom we are going to move on to the deep dive part of our challenge this week and learn how to fold a fitted sheet. You may have heard the joke that if you can fold a fitted sheet, you must be a witch. Have no fears, no magical powers are needed here! Let's learn how to do this step-by-step.
How To Fold A Fitted Sheet
I'll start with a laundry tip. I like to throw a load of laundry first thing in the morning, then, before I drive the kids to school, I swap it into the dryer. This way, by the time I am back from drop-off, the sheets (or another laundry) are ready to be folded.
First, bring your clean sheets to a flat surface, I like to use my bed. Next, turn your sheets inside out. Now stick your hands in the two pockets you have created by bringing the corners together. Then fold the corner from your right hand over your left.
Next, repeat making a pocket with the side that was hanging down and continue to fold one pair over corners over the other, just as you did before.
Shake out your sheets to take away all of the fluff and folds. Now place the sheet on top of your bed or a flat surface and smooth it out.
Now, pull the side of the sheet that is elastic over into a rectangular shape so it's easy to fold. Fold your rectangle into thirds.
Finish by folding into a square and smoothing your sheet.

You did it! The day has come, you have folded a fitted sheet. Here's a video on how to fold a fitted sheet if you would like to watch the step-by-step.
Wrapping up
Now you have a wonderfully organized and simplified bedroom where you can start the day with a clear mind and relax at the end of the day.
You also have the new skill of being a master at folding fitted sheets. Great job- you killed it this week!
To give you an extra boost and motivation, I put together a giveaway package for those who get to the finish line! See below!
Share before and after photos of your organized room on Instagram or Facebook with the hashtag #apochallenge so we can cheer you up! Enter the giveaway below for a chance to win the awesome package prize!
a Rafflecopter giveaway
Giveaway Prize
1 (one) 45 minutes online organizing session with Helena – A Personal Organizer to be scheduled within 7 days of winner announcement.
1 (one) $60 gift certificate so you can complete your project with awesome organizing products!
The 2020 Home Management Binder & Family Planner
1 (one) set of vinyl labels for the pantry
Giveaway Terms & Rules:
US residents only.
Must have participated in the 2020 Home Organizing Challenge by organizing at least one entire room and posting before and after photos with the hashtag #apochallenge
Online session to be used in May 2020.
Online session to be scheduled within 7 days of the winner announcement.
Prize expires at midnight, May 31st, 2020. Winner must reply to our email requesting information for shipping.
Non-transferrable.
May not be exchanged for cash.
The Home Management Binder and Planner is a digital file.