One of the biggest questions we get asked on the blog and on social media is "how do I organize my paper and documents?!" Try as we might, the paper and documents keep coming. We must constantly sort, toss, replace, and organize our important documents or we will quickly be overwhelmed by piles and piles of paperwork. Aside from being a cluttered mess, not having important documents in order can be scary when you can't find something you really need.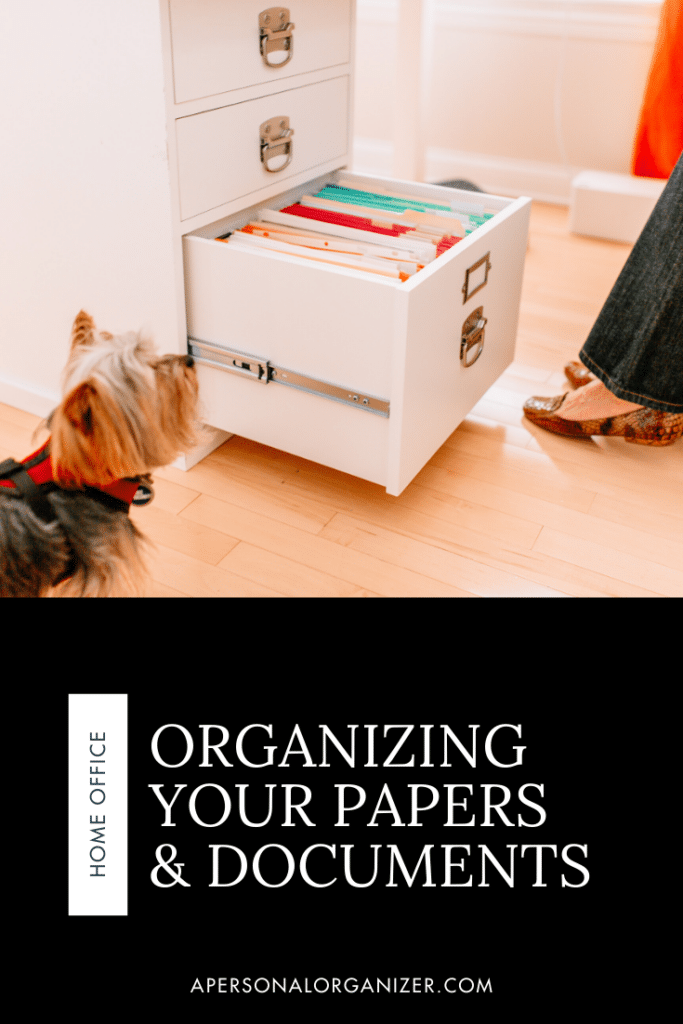 While it can seem overwhelming to deal with paper clutter, once we get it decluttered, sorted, and organized, we need to put a system in order that has us in a routine that deals with new paper immediately and files it where it needs to go, and then tosses the things we don't need.
Creating a routine that helps you keep paper in check is key to maintaining organized paper and documents for your entire family. So let's get started!
Organizing Paper And Documents
Before you begin, if you do not already have one, get yourself a firebox for your important documents.
1. Get your office supplies ready to go for this project. The best things to have on hand are items like:
files folders,
labels,
pens,
a scanner,
and a shredder if you think you will need one (if you need to shred documents and do not have one, place these documents together in a box and shred them at your local office supplies store, like Staples or Office Depot.)
2. Now you will start organizing your papers. Create files for each category you create. Here are the most popular categories you can use:
Legal
Money
Taxes
Insurance
Medical
Home
Auto
Business
3. Next, scan all of your important documents and save them to both a dedicated pen drive and on the cloud.
4. Place all of your documents into the designated files you have created. Remember to label your files. You can label them as you go using post-it notes and then replace them with file labels.
5. The next step is to record, organize, and keep your documents safe. Make a list of what is in each file. Print this list and keep it inside your firebox.
6. Finally, choose a place to keep your fireproof box somewhere that it is easy to get to in an emergency.

Deep dive: How to Organize Your Document Categories
We are going to go through how to organize the categories of the files that you created. For our purposes, we will break the file categories into five as we organize your papers:
Permanent documents
Money/taxes/property
Medical & dental, shot's records
Credit cards,
Bills.
Under each of the five larger document categories, we have all of the files that you created when you were organizing and sorting earlier. Let's see what files go under what category.
Permanent documents – Items to include in this section are documents, such as:

birth certificates
social security cards
marriage certificates
divorce decrees
power of attorney
will, and living will
green cards
military discharge paperwork
Money/taxes/property – in this section you will keep paperwork, such as:

deeds
bills of sale
insurances
inventories of collectible items
property surveys
rental agreements
and property insurances
Keep the latest policy agreement sent by your providers
Medical & Dental – This category will hold:

insurance cards
your list of providers
policies
Keep the latest policy agreement sent by your providers
Credit cards – For this section, you will want to make a copy of all of your credit cards, front and back, and keep a copy. Keep the latest agreement sent.
Bills – keep a copy of all of your service providers and keep them here for when you need to reference them. To make your life simpler, you can get your copy of the Home Management Binder to organize everything in one place.
You will find a full list of what to put in each important document category in this week's home organizing challenge printable checklist.
Conclusion
The most successfully organized papers and documents are organized ina way that works for your life.
As you are going through this challenge, take note of anything that seems off or doesn't belong to you. Maybe you need to move a few things around or add or remove a category.
Using these tips as a guideline will help keep you on track as you organize your papers and documents in a way that makes all of those important papers easy to find when you need them.
I'd love to see your before and after paper and document organization! Share with the community using the #helenaalkhas