Most people live with a small kitchen, but even those who have a bit more space, the truth is I have never met a homeowner who said, "I have tons of counter or kitchen space!".
When it comes to kitchens, no matter how much space people have, they can always do with more.
For those of us with small kitchens, limited cupboard space, and small countertops, storing utensils, pots and pans, cutlery, or even food becomes a significant challenge.
Here's some good news. Just because it's a small kitchen does not mean you can't organize it for function and looks.
It does take a bit of innovation, thinking out of the box, and wisely making use of every inch of available space.
We've put together some of the best kitchen organization tips for small kitchens to inspire you. Each of the following kitchen organization tips has been tried and tested. Here goes: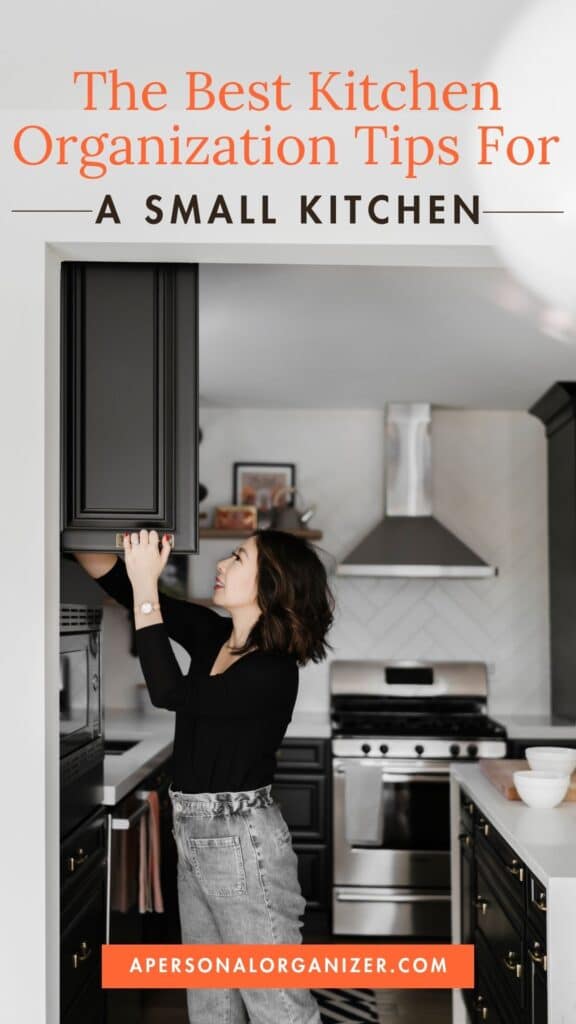 Small Kitchen Tip #1: Find that storage space
Your small kitchen has vertical and horizontal storage spaces that you've probably not noticed before. Here are some excellent storage ideas for small kitchens:
Walls
Corners
Tops of cabinets and cupboards
Top of the fridge
Front and backs of doors (including cupboard doors).
Organizing experts say these are great storage spaces that we often waste but will help you get the clutter off your countertop.
Tip #2: Use hooks wherever you can
Use hooks on the walls to store a variety of items. But don't clutter it by hanging up a lot of articles on your wall.
Instead, consider displaying that gorgeous collection of aprons or chopping boards that you would like to show off but have no place to store.
Tip #3: Make better use of your cupboards and cabinets
Have you noticed how the small items that get pushed back to the back of your kitchen cabinets are forgotten or never used? That is a massive waste of space.
Make better use of all that cabinet space by turning cabinet and pantry shelves into drawers.
If you don't want to do that kind of investment, add large trays to the shelves so you can pull them out to get at what's at the back.
Tip#4: Use clear containers to store items in drawers
Rather than dumping food items into your large drawers, store items that you always keep on hand in clear containers that fit neatly into the drawers.
That way, you know when you are running low on something.
Tip #5: Use space above cabinets
The space above cabinets is the ideal space to store crockery that you take out only on special occasions but we often forgot about it.
You can either neatly stack your dishes or – for a stylish touch – put everything into attractive wicker baskets that sit pretty on the cabinet.
Tip #6: Use a pegboard
Pegboards are excellent kitchen organizers, and you can use them on an empty wall and are available in various sizes. Add on some hooks and hang up all your pans here.
The best bit – you can change the position of the hooks to maximize storage. Here are some more innovative ways and unifying themes for a pegboard:
Spice rack
Baking gear storage
Herb garden
Kitchen pantry
Coffee station
Kitchen gadgets.
Tip #7: Don't overstock on food
When you lack space, it's essential to manage your pantry and fridge well, and the last thing you should be doing is overstocking food products.
Keep a list of what you have (You will find the forms for it on the Home Management Binder. I added a special discount for you here!)
Only buy what you need and keep tabs on what you need to buy.
By managing it well, you'll have plenty of space for your groceries and won't have to stuff your pantry with items you won't need right away.
Tip #8: Add floating shelves at corners
You will make better use of corners that we usually waste by installing floating shelves that are not only useful but trendy and stylish.
They are also the perfect spot to store your everyday plates and dishes. Or, you can use this space to create a stunning display of your special dinner set.
Floating shelves are readily available in the market, but it's more fun when you make it yourself to get that custom look.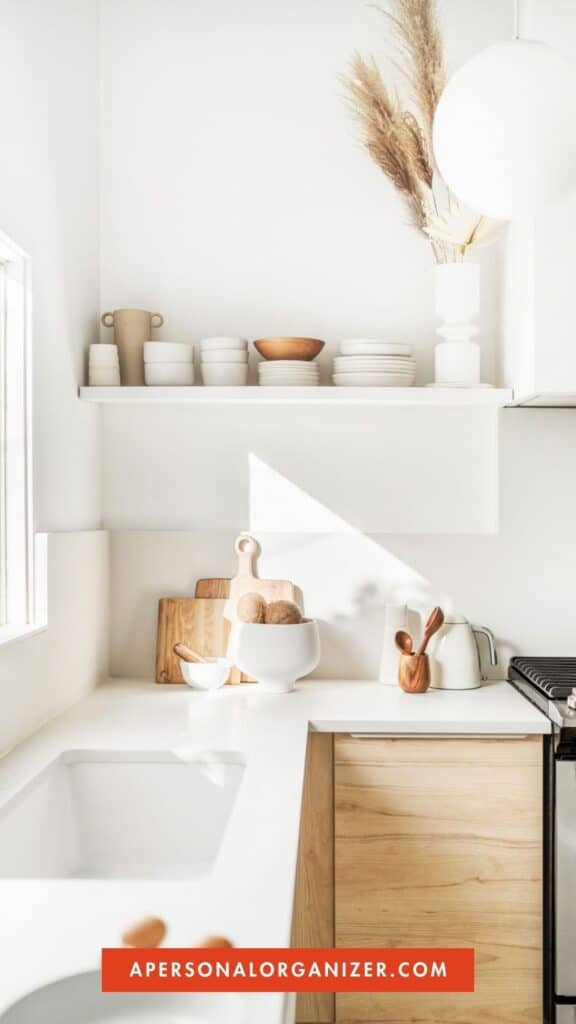 Tip #9: Use one or several lazy Susans
Lazy Susan turntable racks sit pretty on the countertop and store anything from breakfast essentials and small pantry items to oils and vinegar, spices, etc.
They are functional and made excellent decorative pieces as well.
Buy one for that odd corner cabinet that becomes a black hole in your kitchen where everything disappears.
Tip #10: Remove packaging when possible
Have you noticed how much space packaging takes?
Here's an excellent kitchen organization tip: Empty your groceries into neatly labeled containers and get rid of the cartons and plastic bags.
Tip #11: Get a magnetic knife rack
A magnetic knife rack on the wall just above where you usually chop is a time-saver, and you won't have to go rummaging through your cutlery drawer for the knife you want.
Plus, you can hang other items on that same magnetic strip. Win, win!
And there you have it! The best organizing tips for a small kitchen, and I hope you can implement several of them to make the best use and turn your small kitchen into a mighty one!