Description
The Purposeful Life Binder & 2019 Planner
Live your life with clarity, purpose, and intention.
As you create your Purposeful Life Binder, you will get a complete picture of the time and resources needed to care for your family in all areas of life. From daily tasks to annual activities, you'll have a complete view of everything you need to stay on top of your life without rushing through your days.
ThePurposeful Life Binder allows you to determine your big picture goals, define the actions needed to achieve them and set you on the path to a more focused and intentional life.
Much more than a planner with checklists, this will become a central place for everything you do for your family.
The Purposeful Life Binder includes the current year of The Family Planner.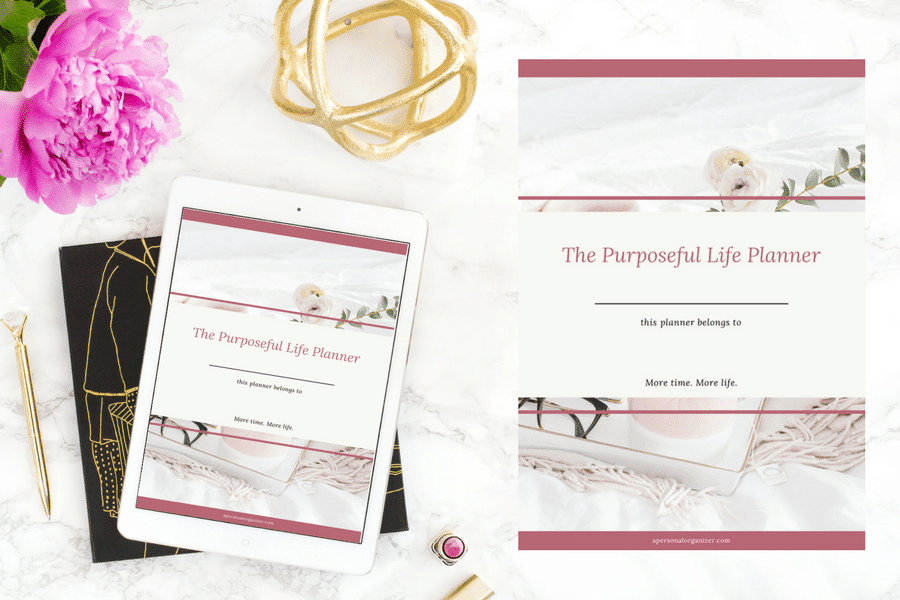 What is Included in Your Home Management Planner?
Over 100 pages of meticulously curated and professionally designed checklists, forms, planning guides, and calendars. Print and assemble it on a 3-ring binder or use it on your computer with the editable PDF files. Bonus content: peace of mind!
Detailed, Step-by-Step Instructions
The why, how and what it's needed to assemble and use your Purposeful Life Planner.
1. Thrive Family Planner which includes:
Yearly Calendar
Monthly Calendar
Weekly perpetual Calendar

with hourly increments
added space each day for notes,
space for you menu planning and
daily tasks
previous and upcoming month view on the sidebar
2. Setting Personal Goals Printables Set
Your Big Picture & Daily practice
Weekly Goal Tracking practice
3. Contacts Editable Printables Set
Family Contacts
Friends Contacts
Neighbors Contacts
Utilities Contacts
Maintenance & Repair Services Contacts
Telecommunication Contacts,
Insurance Companies & Services Contacts
Dates to Celebrate
4. Chores Editable Printables Set
Daily Cleaning & Chores Checklists
Weekly Cleaning & Chores Checklists
Monthly Cleaning & Chores Checklist
Yearly Cleaning & Chores Checklists
5. Menu, Kitchen & Pantry Printables Set
Pantry Inventory
Fridge Inventory
Freezer Inventory
Menu & Grocery Planner
Grocery Shopping List
Favorite Take-out Places
Kids & School Editable Printables Set
6. School Information Central
Sports & After-School Activities
School Lunch Menu Mix&Match
Sitter & Nanny Information
Sitter & Nanny Contacts
Playgroups & Playdates Contacts
School Break & Vacation Camps
7. Medical & Dental Central
Forms to manage the health care of each family member
8. Travel
All-seasons packing travel checklist
Important:
Upon payment, you will receive 

downloadable PDF files

. No physical product is included.
You may print your files for personal use as many times you want or use it on your computer.
Please use the links on your receipt to download the files.
Download your files on a computer.
You have 7 days to download your files. Links will expire after downloading of each file or after 7 days.
Refund Policy: Due to the nature of digital downloads we do not issue refunds once your payment has been processed.