This post may contain affiliate links for your convenience. If you click on the link and purchase the item, A Personal Organizer, LLC. may receive a small commission at no extra cost to you. 
How To Organize And Create A Summer Routine For Kids At Home
Summer break is almost here, and we are all preparing for longer days, more outside time and having our kiddos home. Even though we all love the ease of Summer, it can quickly turn into a household of chaos. From disorganized mealtimes to scheduling conflicts, a lack of a Summer routine can throw the best of us off balance in a cinch if we don't prepare. Here are some great tips on how to create a Summer routine for kids at home.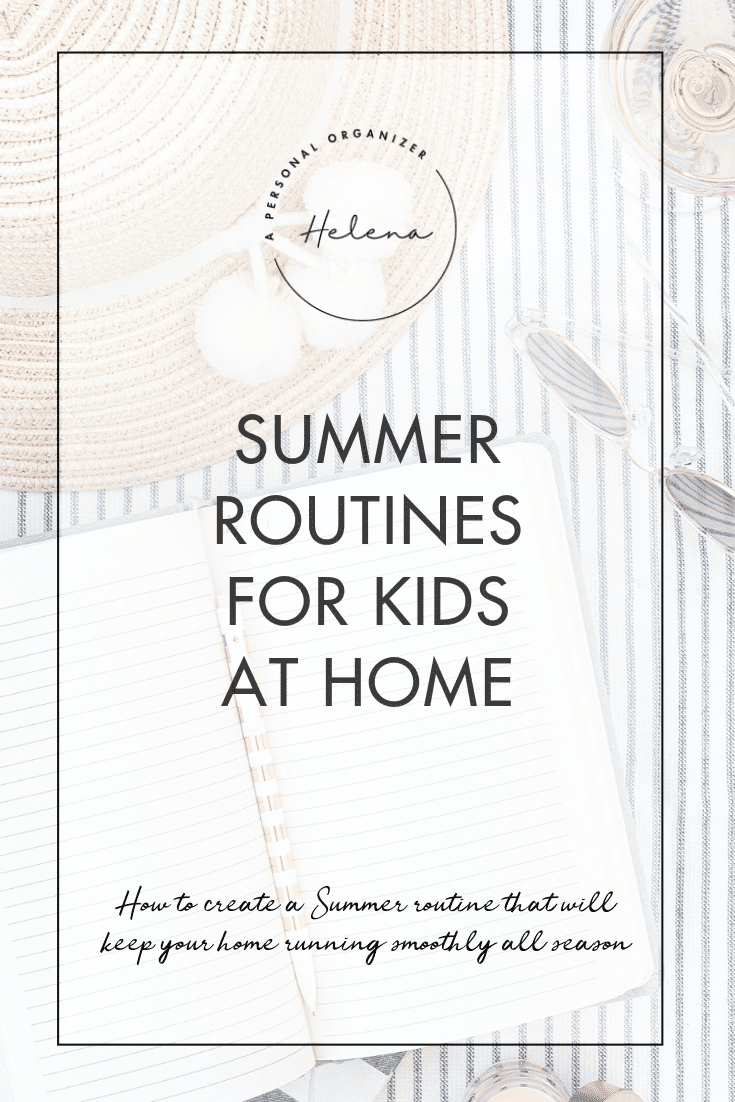 When you start to think about preparing for Summer with kids at home, you'll want to take a look at how certain areas of your home are organized and then rearrange some things to fit the function they will have in your Summer routine. You'll also want to check in on your daily routine and see how this will change, make a note of changes, and adjust.
Let's start with organizing your homes hot zones for a Summer routine with kids at home.
1. Entryways and Mudrooms
In the colder months, our entryway closets and mudrooms are stacked with winter coats, scarves, hats, gloves, and heavy boots. Now that it's warming up, you'll want to switch out what you keep in these high-traffic areas.
Put away everything you don't need and store it for next Winter. A few good ideas for what to keep in your Summer entryway and mudrooms for Summer are: flip flops, light jackets, hats, sunblock, bug spray, outdoor toys, tote bags.
2. The Kitchen
Start by clearing out your pantry, fridge, and freezer. Make room in your refrigerator or more fresh veggies and fruits from those farmer's market trips. Create a space or a bin where you can keep some pre-cut fruits and veggies for grab and go snacks.
Making your kitchen kid-friendly during the Summer months will save you hours in a hot kitchen. To continue your kitchen refresh, check out my top 10 kitchen organizing tips.
3. Your Car
As the weather warms up, everyone gears up for day trips, weekend getaways, and Summer vacation. Your car collects Winter items as well, so take this time to remove snow scrapers, hats, and gloves, etc. If you don't have one, pick up a trunk organizer.
Keep items like sunblock, bug spray, a first aid kit, sun hats, towels, bottles of water, a blanket for those impromptu picnics, and a change of clothes for each child. Here are my tips for getting your car ready for the Summer.
4. Your Garage
In your garage, you will want to move large Winter items, like snow blowers and winter sports gear to the back and move Summer items, like lawnmowers, weed whackers, and other yard care items, as well as outdoor sports and play equipment to a more easily accessible area.
Complete your garage refresh with my 5 best garage organizing tips.
Now let's look at your routine for your Summer with kids at home. Here is a step-by-step method for re-assessing your calendar for the Summer months.
Look at what holidays, birthdays, events, camps, trips you have planned and mark these onto your schedule for June, July, and August.
Assess how much time you have left each week after these commitments are all planned out.
Remember not to overschedule! Always leave more time than you think you will need to guarantee free days to relax and enjoy being home with your family. You will also want to leave space for impromptu items.
Look at your daily routine. Here, you'll want to make any adjustments to mealtimes, bedtimes, and downtime during the day.
Summer days are longer, which means if you have little ones at home, you will need to have a plan for an extra activity or two throughout the days.
Summer daily routines can be looser in structure, but a few "touch points" during the day will keep everyone feeling better.
Mealtimes are a great thing to keep on a schedule to create a nice rhythm to your days and avoid meltdowns.
Keeping a chore chart is also an excellent way to keep your home humming along in the Summer.
As we welcome the carefree days that the Summer brings, having a routine in place will help us avoid a slow slide into disorder and stress. All humans, especially children,  need a little bit of structure or rhythm to our days to keep us balanced, healthy, and happy.
What are your Summer plans? Share them in the comments with me!
Grammarly proofread this post.