This post may contain affiliate links for your convenience. If you click on the link and purchase the item, A Personal Organizer, LLC. may receive a small commission at no extra cost to you. 
When you think of Spring cleaning, your car is probably not the first place that comes to mind. But let's think about it: after a long Winter, your car has seen its fair share of muddy boots, salt residue from snowstorms, and is probably full of winter items that you won't be needing.
Now is the time to declutter, clean, and prep your car for those Spring adventures that are right around the corner!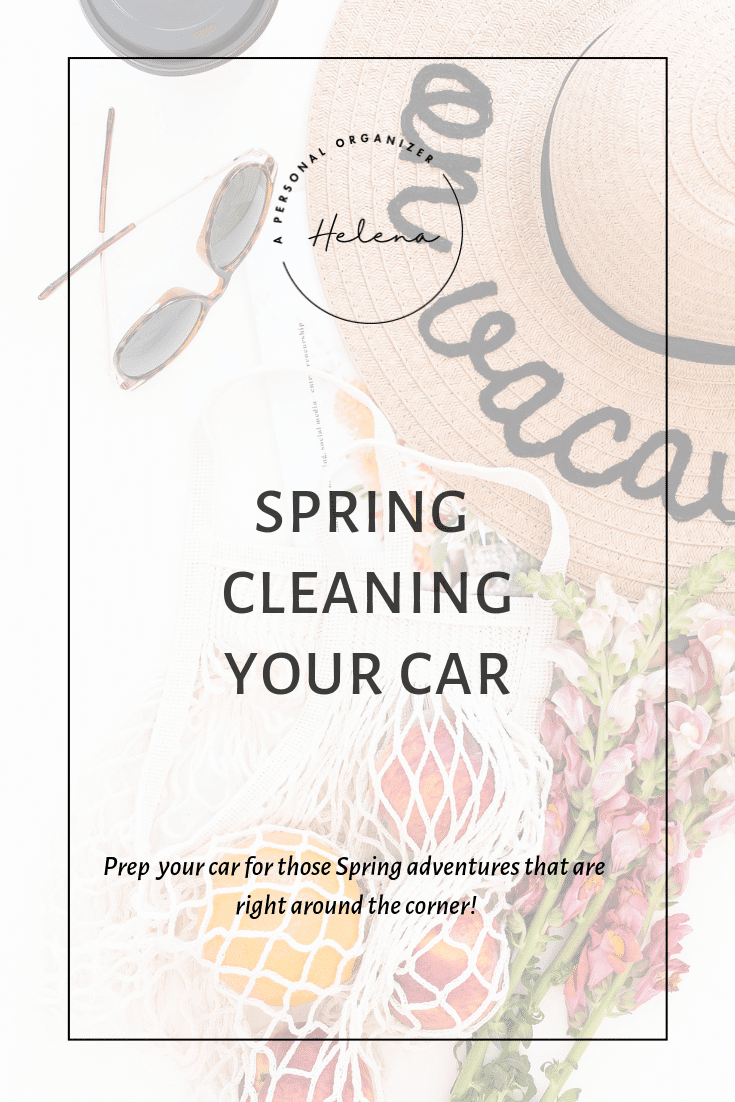 Get started – Every good declutter and organization project begins by, you guessed it, emptying the space you are about to clean and declutter.
So go ahead and take everything out of your car in both the passenger areas as well as the trunk.
Clean it up – You can do this part at a car wash or at home if you have a way to vacuum outside via handheld vacuum or access to an outdoor socket that will allow you to use your vacuum's hose attachment outside.
Remove all of your mats. Give everything a good vacuum (don't forget under and in the car seats or booster seats if you have them!) After you vacuum, clean your mats then replace them.
Wipe down all of your surfaces with a product like Armoral or whatever your car manual suggests. And finally don't forget to do your windows, inside and out, as well as your mirrors.
If weather permits go ahead and leave the windows down for a bit to air it out.
What you need – A great way to get your car ready for spring is to think of what you need when you are on the go and then have that somewhere in your car.
If you have young kids this list might include a change of seasonally appropriate clothes, a light jacket or sweatshirt, a change of socks (hello mud!) a first aid kit, and a few outside toys like balls and a frisbee.
You could also include a picnic blanket, some dry snacks, bottles of water, and light jackets for the adults as well.
Here's a quick list of some items you might want to keep in your car for Spring (or anytime) traveling:
● moist wipes for, well, everything.
● anti-bacterial spray or gel
● Lotion and sunblock
● USB and other chargers cable
● little garbage bags
● Sunglasses
● Jumper cables
● An umbrella
Organize it – Now, let's put all of these things into your car in a way that is organized and also leaves room for a trunk full of groceries.
I love a good cup holder or console organizer for the front of the car.
Trunk organizers also come in all shapes and sizes and will let you pack everything you need to store neatly while leaving room for your everyday errand run items.
Organizers for the back of the front seats are great for younger backseat passengers. The container store has some great options for car and trunk storage.
Now your car is decluttered, organized, and stocked with all of the things you need to be prepared for Spring travel.
An organized car makes road trips and everyday errands so much easier. When you know where everything you need is and can easily access it you will save time every day.
Now, bring on the warm weather and let's hit the road!