This week we are organizing the family room.
We are in the fifth week of the 2020 organizing challenge. How are you feeling so far? So far we have talked about how to prepare for an organizing challenge and organize your kitchen and your pantry.
If you are just joining the challenge, each week we are organizing a specific room in your home on a larger scale, and then breaking down an area within each space as well- a kind of macro and micro organizing as we go along.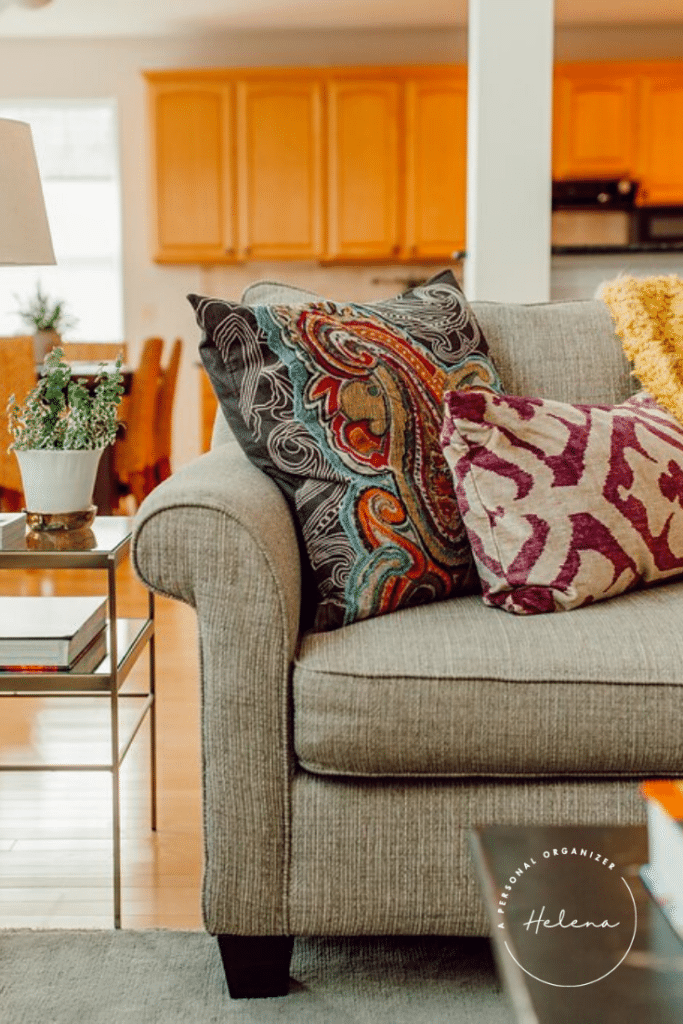 Organizing The Family Room
This is one of those rooms we really live in. Suffice to say it is also one of the places that can become cluttered and messy very fast if everything does not have a designated home.
Rooms that get a lot of use tend to attract things from all other areas of the house because we bring those things with us as we all come together and assemble in these well-loved and live in spaces in our homes.
Today we'll look at how to declutter and organize your family room, as we'll dive deeper into how to keep the rooms you are working so hard on, organized. Let's do this!
Get four tubs or boxes and label them with the "Toss," "Donate," "Keep," and "Relocate" cards you downloaded when you signed up for the Challenge.
"Keep" is for items that will stay in this room, and "Relocate" is for things that need to go somewhere else in the house.
Starting in a corner, work your way around the room. Clear off the top of each horizontal surface and empty out every drawer. Put the items in the appropriate bins.
Be strict with yourself about what you keep.
Do you really need your collection of magazines from 1990? Do you need VHS tapes from when your now tween and children were babies? No, you do not. Donate these items where they will be better used. With today's modern technology and streaming services like Netflix, you can probably watch most of the movies in your collection at no additional charge.
Why not donate them all? Imagine all that extra space.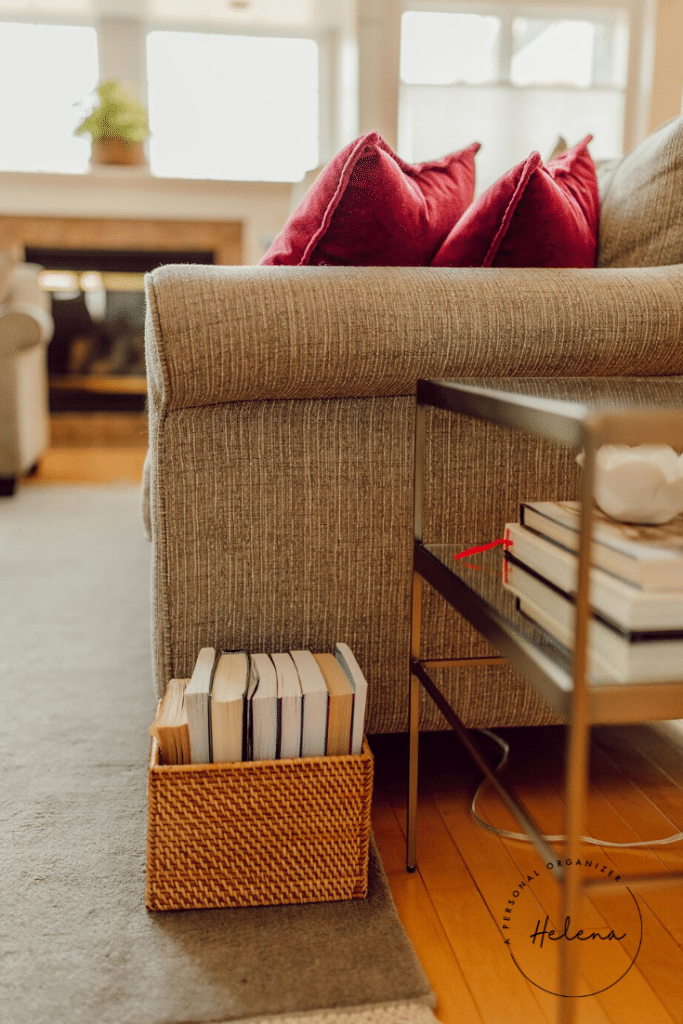 Games are another challenge for the family room. If you can find all the pieces, then make space in a cabinet so your family can easily access the fun. If you are missing too many pieces to make it work, get rid of it. Who wants to play Yahtzee with only 3 die?
Make sure you clean, dust, wipe, whatever before you replace the Keep items. This includes the back of the electronics, the top of the picture frames, everything. You'll thank me when you're done.
Pick up any mess your family has made in the last 24 hours. Run the vacuum in your clean new family room, straighten a pillow or two, or stand back and admire how amazing it looks.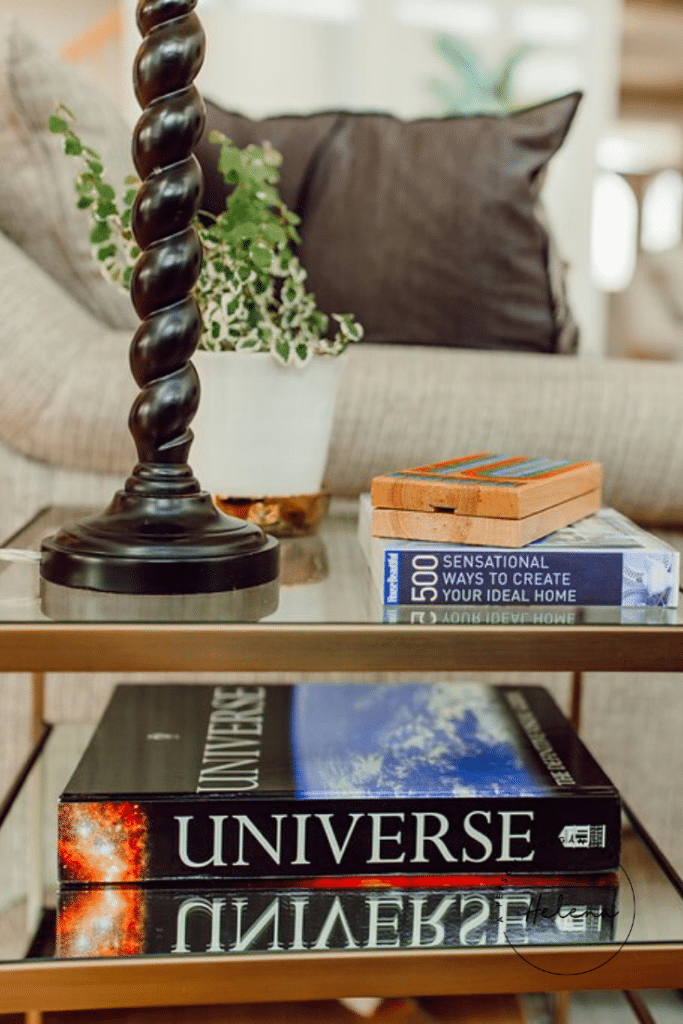 Diving Deeper: Keeping It Organized
Now, we are going to look at a few ways you can keep your family room organized. You've done all the hard work, now make sure you can enjoy that pay off for a long time.
Why not reward yourself for your determination and do a little shopping? Your plan is to stay organized, right?
Here are a few things you may want to pick up to keep your family room organized.
Head to a Super Store, an office supply store, or your favorite storage specialty store and have some fun. Buy a label maker. These useful little things may seem a little Type-A, but Type-A is good in your new, organized home.
The process of discretely labeling boxes and other containers can help you and family members remember what is in them, and make it easier and faster to replace that item properly.
Family rooms can get messy because of toys and games. These things definitely get used in the family room. Finding beautiful storage to keep them out of sight, but close at hand, is vital to keep this space organized.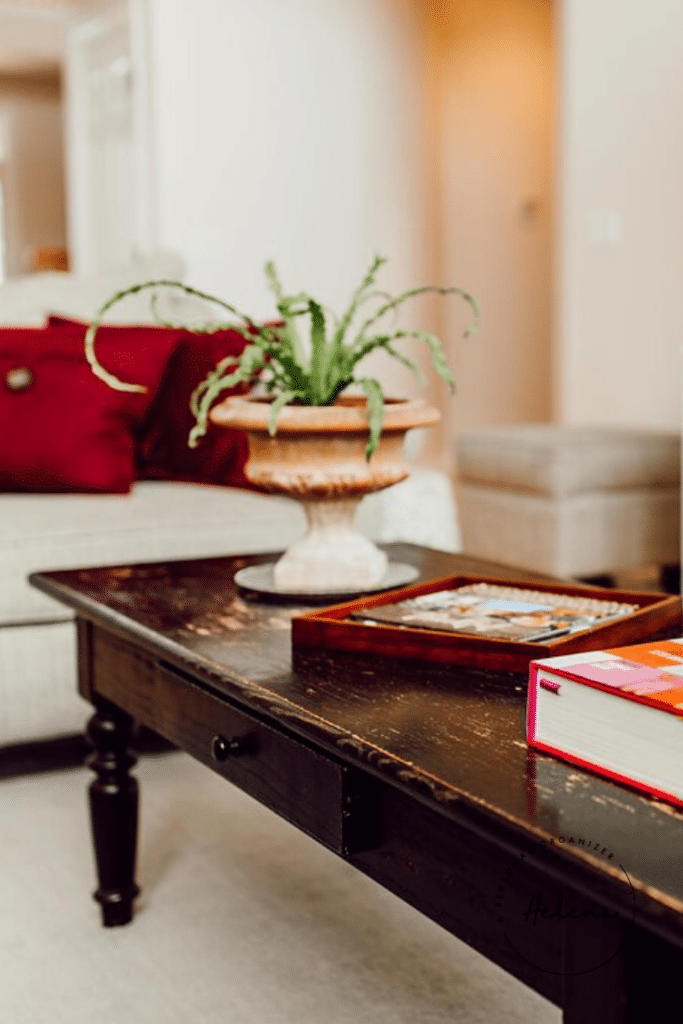 Here are some great items that do double duty as storage and room decor or furniture.
1. Storage ottomans and benches
These are wonderful for storing toys or games and also add extra seating to your room.
2. Bookshelves as room dividers
Add places to store your books. Also, add bookshelves or cubbies to hold smaller items while creating extra space in a larger family room by using it as a room divider.
3. Baskets that can easily slide under tables
Baskets are always useful, and the choices are endless when it comes to finding beautiful baskets. Be sure to measure the area you want to add baskets before making a purchase.
While you are shopping for organizing items, you can also investigate beautiful storage tubs, pretty file folders, and unique baskets. They do not have to be expensive to be effective.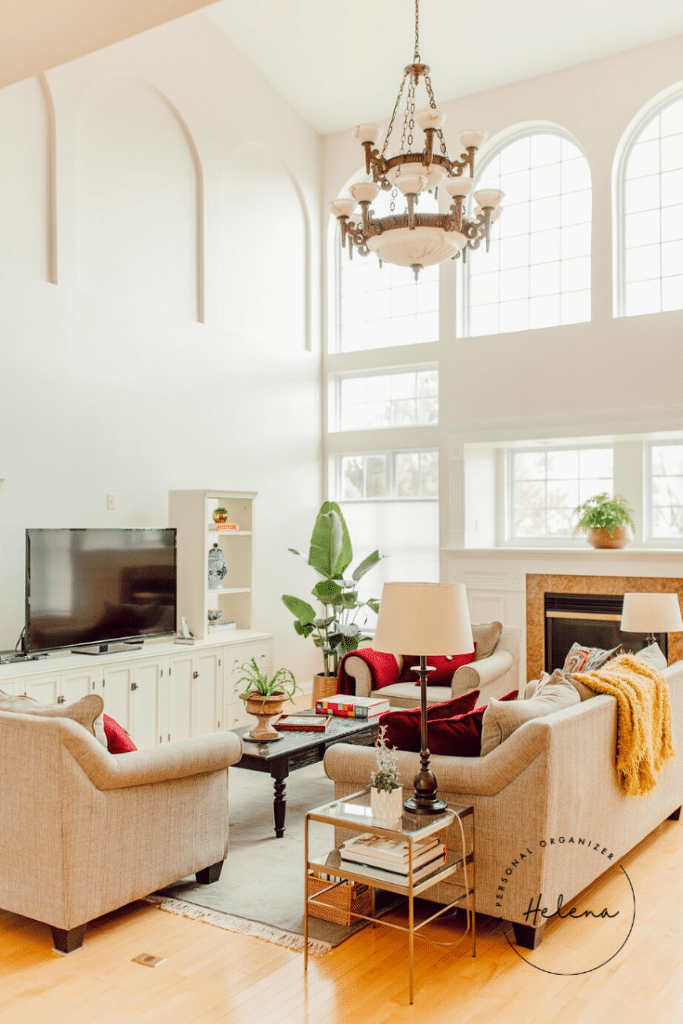 Wrapping it up
Now that you have your family room decluttered and organized enjoy your new space by hosting a game night or a family movie night. Take the time to appreciate how beautiful and cozy everything is now that you are finished with this part of the organizing challenge.

While you are organizing share your before and after photos with our community with #apochallenge
Before you go, don't forget to subscribe to the challenge, so you don't miss a post! If you know a friend who would love to do the 2020 organizing challenge with you, please share it with them!
Want more inspiration to organize your family room? Check out these reader favorites:
Creating a decluttering strategy
Declutter Your Home: 10 Things To Throw Out Right Now