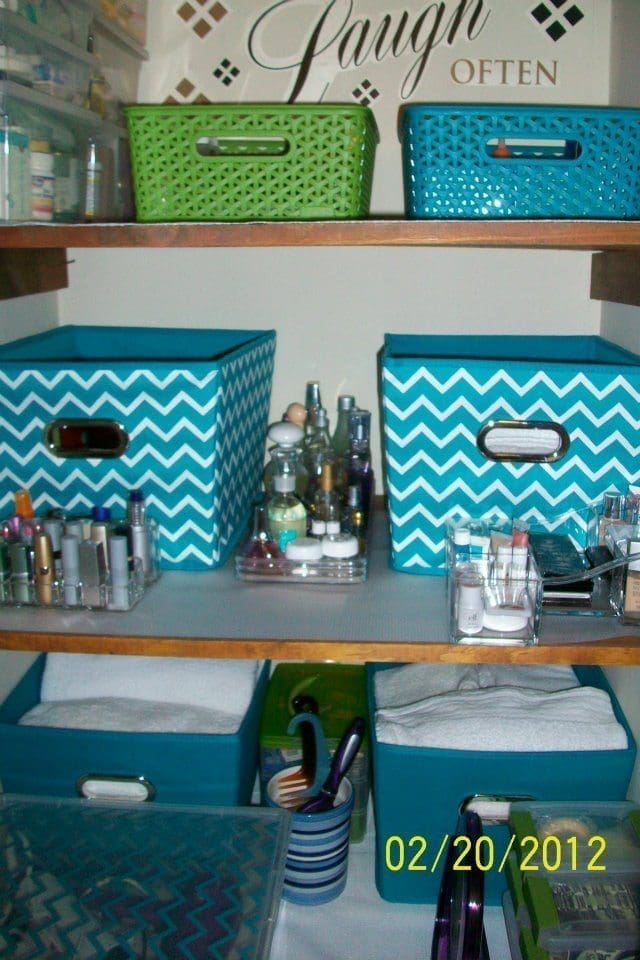 Here is a question from a Facebook Fan on our page:
"I have a question…how would you best organize a bathroom that is shared by three girls? (Don't laugh–:)) It has a 1/2 a cabinet on each side of the vanity, four square drawers in the middle and one medicine cabinet. There is a relatively good amount of space, but it's vague, kind of narrow and deep I guess. It's mostly the drawers that stump me. Not sure if I should fill one with headbands, another with brushes, etc. or if I should give each girl a drawer. Any suggestions?"
Our reply:
Hello, Distracted Mamma!
Three girls and one bathroom, oh boy! No worries, we'll get that organized.
I think that even if the girls share their hair supplies, on the long run they probably won't, so I think it's smart to give each one a drawer where you can keep the small, essential items each one uses: elastic/headbands, brush, combs and the like.
On the larger (half-cabinet) area, you could use long and narrow boxes (you can try Itso boxes from Target) or even kitchen utensils organizers, to have a tray you can pull in and out for easy access and that will make better use of a deep and narrow cabinet. Here you can have extra soaps, shampoos, body wash, toothpaste, Q-tips and items like these.
On the other side you can store paper towels and hand towels (I'm assuming you have a linen closet and towels go there?)
On the medicine cabinet, I love to use a Medicine Cabinet Organizer in at least one of the shelves. You can keep everything medicine in there.
When buying your organizing supplies always buy the same colors you decide to use in the space for everything, or if you prefer to organize the girls by color (I have twins and that's how people tell them apart!:-)) go for coordinating colors.
If you have space under the sink, use one of these under the sink organizing gadgets: but my preferred arrangement here really is a shelf riser with 2-3 Itso bins underneath.
I hope this helps you and simplifies the girls (and yours!) daily routine. If this doesn't help, send me pictures! I'll make sure you get an answer. 🙂