Getting Back To Basics: Learning Life Skills 
You may be asking yourself why I am talking about life skills. Read on.
On my last vacation in Rio, one of my Brazilian friends called me in real distress. She was very anxious and started to cry as she told me what was going on. "I feel miserable, inadequate, like a real failure as a mother and wife." I paused to listen, and she eventually asked me if I could help her as a professional organizer.
"I need to get this 'housewife' thing together. My house is a mess. I feel like a machine that leaves the house at 7 a.m. and comes back to put my kids in bed. I have no control over what's going on and have no time for anything."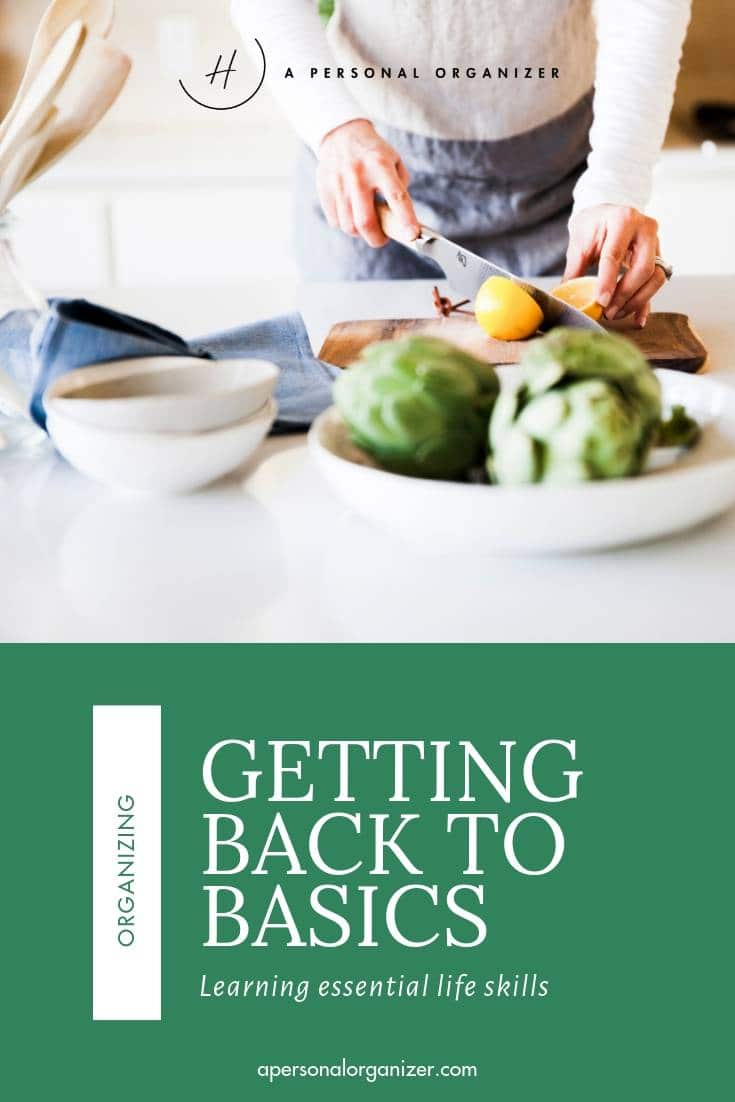 Mind you that my friend is an upper-middle-class professional, married to a professional, living in an upscale neighborhood and has not only one, but three people helping around the house: a full-time housekeeper, a part-time house cleaner and a part-time nanny.
Please, don't laugh. It may sound absurd, but it's not. Because it's not the first time, I've heard this story from a friend.
You may think my friend is crazy. You may think she's a slob or that she's lazy. But that's not the case. I've known her for well over 20 years, and I can tell you, she's none of those things.
You may also think that this is characteristic of the Brazilian/South American culture where domestic workers are still so prevalent.
But the sad truth is that when I'm hired as a professional organizer and go into the "deep" corners of many, many homes, I observe the same happening with us here in the US.
Overworked, over-scheduled couples (and kids!) living day in and day out in homes that are in a constant state of disarray.
Why is it happening?
The Lost Art of Basic Life Skills
The passing of life skills from generation to generation is being lost.
We are losing the old art, previously taught by our ancestors, of taking care of ourselves and our houses, of making them into a home.
In the past all the necessary life skills needed to run a house, manage a family and live in a clean place, wearing clean clothes and eating home-cooked meals were passed from the older women in the family to the younger ones.
That all changed when women started to enter the workforce and demanded to be treated as equals. The result was a vacuum.
Let me pause here.
I think women have the right to have careers and pursue their professional goals. I'm not saying we should stay home and dedicate our (marvelous!) brains solely to raising our children or caring for our homes. I'd become depressed if I did that! There's no denying that equality created a major positive social shift.
Now, I have no nostalgic ideas of the "Leave It to Beaver," America where the men go out and develop themselves intellectually and professionally while we tend for the daily doings of the home.
However, because both parents work in the majority of families, moms aren't around to teach girls necessary life skills — and boys aren't being taught because well, they never were!
So, now we have this vast vacuum where we see adults of all walks of life, rich and poor, getting dressed out of the laundry basket, scrambling to keep their daily routines together, unable to get their bills paid — not for lack of money, but because the mail never gets opened — and almost never eating homemade meals.
We have professional organizers being hired by parents of young adults who just can get their life together. We even have a modern word for it: adulting.
I Also Cried Those Tears
My interest in life skills started when I got married and moved out of my parents' home in Brazil.
It dawned on me that I knew nothing I needed for my new role in life. As a middle-class girl in Brazil, the daughter of two professionals, I was sent to school every day and was cared for by maids at home.
I had never touched a cleaning product, washed a single item from my closet, or cooked one meal.
So, when I married an American and landed at a military base in Japan, I had, for the first time in my life, to clean a toilet, shop for groceries, cook meals and do all "that stuff." I didn't know how to turn the washing machine on, just to give you an idea.
During the first few months, I destroyed more garments than I dare to admit, including my husband's favorite sweatshirt, and we ate bland and boring food for quite some time. Addie is a great cook and he taught me a lot.
I resorted to all Martha Stewart's books available at the library to learn everything I could about housekeeping and learned on the job; and like my friend, I felt inadequate and incapable of getting "this housewife thing" many, many times.
A Matter of Equal Need
I believe we ALL need to know these skills — boys and girls, men and women. Learning the basics gives us a head start for a thriving life.
And that's what I will be covering to help you get things in control once and for all: the necessary life skills.
Now it's your turn. I'd love to hear what you think about this topic.
Leave your comments below!